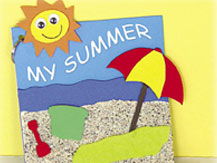 Parenting
,
Resources
82 Summer Activities for Families with Special Needs
Between June and September my kids have 82 days of summer vacation, and I've promised them something fun every single day.  That means I need 82 fun summer activities for one child with a developmental disability and one child who refuses to participate in most activities.  It'll be a piece of cake, right? Borrowing the weekday "Summer Schedule For Kids" at
somewhatsimple.com
, scouring the internet for more ideas and adding some of my own activities, here are 82 days of summer fun and learning:
Safety Sunday
1. Teach your child his or her full name. 2. Teach your child your full name. 3. Have your child memorize your home address - show where the house number is located outside and show where the street name. 4. Have your child memorize your phone number. Practice reciting key information. 5. Learn how to cross the street safely. 6. Practice an escape route in case of fire. 7. Practice saying "no:" make it a game in which you take turns asking each other to do increasingly absurd things. 8. Play hide-and-go-seek to teach your child how to remain calm while looking for you. 9. Teach your child the buddy system. 10. Teach your child what an emergency is and how to call 911. 11. Practice asking for help with things that are hot, sharp, dangerous or too high to reach. 12. Start swimming lessons.
Make Something Monday
13. Arrange 5 or 6 photos to make a poster or scrapbook page. 14. Sweetened condensed milk makes a beautiful, edible fingerpaint. 15. Plant a seedling outdoors. 16. Dig for worms - it's a great exercise for fine motor skills and tactile defensiveness.  Re-home the worms next to that seedling you planted. 17.
Bubble snakes
. 18. Make a leaf scrapbook. 19. Color the sidewalk with chalk.  Wash it all away with water. 20. Paint using different types of paintbrushes: a fly swatter, a flower, a cotton swab, a sponge, a leaf, etc. 21. Build an obstacle course with hula hoops, lawn furniture and empty boxes. 22. Tie-dye some t-shirts. 23. Make a magic wand using all available materials. 24. Build a "fairy house" outdoors with sticks, pebbles, pine cones, bark, leaves and other natural materials found outdoors.
Time to Read Tuesday
25. Sign up for your local library's summer reading program. 26. Read a book under a tree. 27. Read all but the last page of a storybook and ask your children to suggest an ending. 28. Have your child dictate and illustrate a story, and read it together.  It's OK if the story is 1 or 2 sentences long. 29. Make a home video of your child reading a story aloud, or of you reading aloud to your child. 30. After you finish reading a book such as The Lorax, go see the movie. 31. Read some books on a specific topic, such as insects, then do a related activity such as a bug hunt or catching fireflies. 32. Have your child create a summer schedule for the family and read off the schedule every morning. 33. Check out a book of simple science experiments and try some of them at home. 34. Check out a book about a historical figure and play dress-up at home. 35. Have your child write out a checklist for a scavenger hunt, and find everything on the list together. 36. Swap favorite books with your friends.
What's Cooking?  Wednesday
37. Fruit smoothies in the blender. 38. No-bake oatmeal cookies on the stove. 39. Pizza. 40. Spinach-artichoke dip in the blender. 41. Banana muffins. 42. Roll-up sandwiches. 43. Fruit kebabs. 44. Chicken soup in the crock-pot (plug it in on the porch so that it doesn't heat up the house). 45. Roasted marshmallows. 46. Scrambled eggs and pancakes for dinner. 47. Lemonade from scratch. 48. Guacamole.
Thoughtful Thursday
49. Wash the car together.  No driveway and no car?  Then wash the toy cars. 50. Call someone just to say hello. 51. Pick some flowers (dandelions and clovers are OK) and give the bouquet to someone who isn't expecting them. 52. Write a top ten list of a person's best attributes and give the list as a gift to that person. 53. Write a thank-you letter to someone and mail it. 54. Donate clothing, books and toys to charity. 55. Teach your child to do one
chore
. 56. Give someone a homemade art project. 57. Volunteer at a food bank. 58. Collect bottles and cans, and donate the money to charity. 59. Pray for someone who needs a prayer. 60. Hug someone who needs a hug.
Somewhere Fun Friday
61. Petting farm or petting zoo. 62. A playground in a different neighborhood. 63. An art museum - check first to see when general admission is free! 64. The beach. 65. Pick fresh fruit at a local farm or visit the farmer's market. 66. Ride a train. 67. Find a carnival or a street fair. 68. Ice cream shop. 69. Waterpark or sprayground. 70. Visit a friend. 71. Nature trail or botanical garden. 72. A skyscraper or another high place with a grand view of the world.
Social Skills Saturday
73. Tell a story from your own childhood. Have your child tell a related story from his or her life experience - yes, even if your child is nonverbal. 74. Lie in the grass and take turns looking for shapes or pictures in the clouds. 75. Go around and ask every family member at home the same silly question, and share the answers. 76. Look at some old family photos and name all the people in them. 77. Practice making emotional facial expressions on cue with your child: neutral, happy, sad, fearful, angry, disgusted, surprised.  Take turns and make it fun. 78. Practice listening skills by responding only with nonverbal communication for 1 to 5 minutes - then switch roles. 79. Be someone's mirror: imitate a person's actions as if you are that person's reflection in a mirror for 1 minute.  Then switch roles. 80. Play Follow the Leader.  Match the leader's pace for as long as possible, then let a new leader take over. 81. Play the statue game: one person freezes like a statue and the other person has to make the statue laugh.  Take turns. 82. Develop family traditions: sing a song together, recite a poem, say a prayer that has special meaning to your family. Have summer activities to share? Tell us in the comments section below. Looking for more summer ideas? Check out
How to get through 82 Days of Summer Vacation