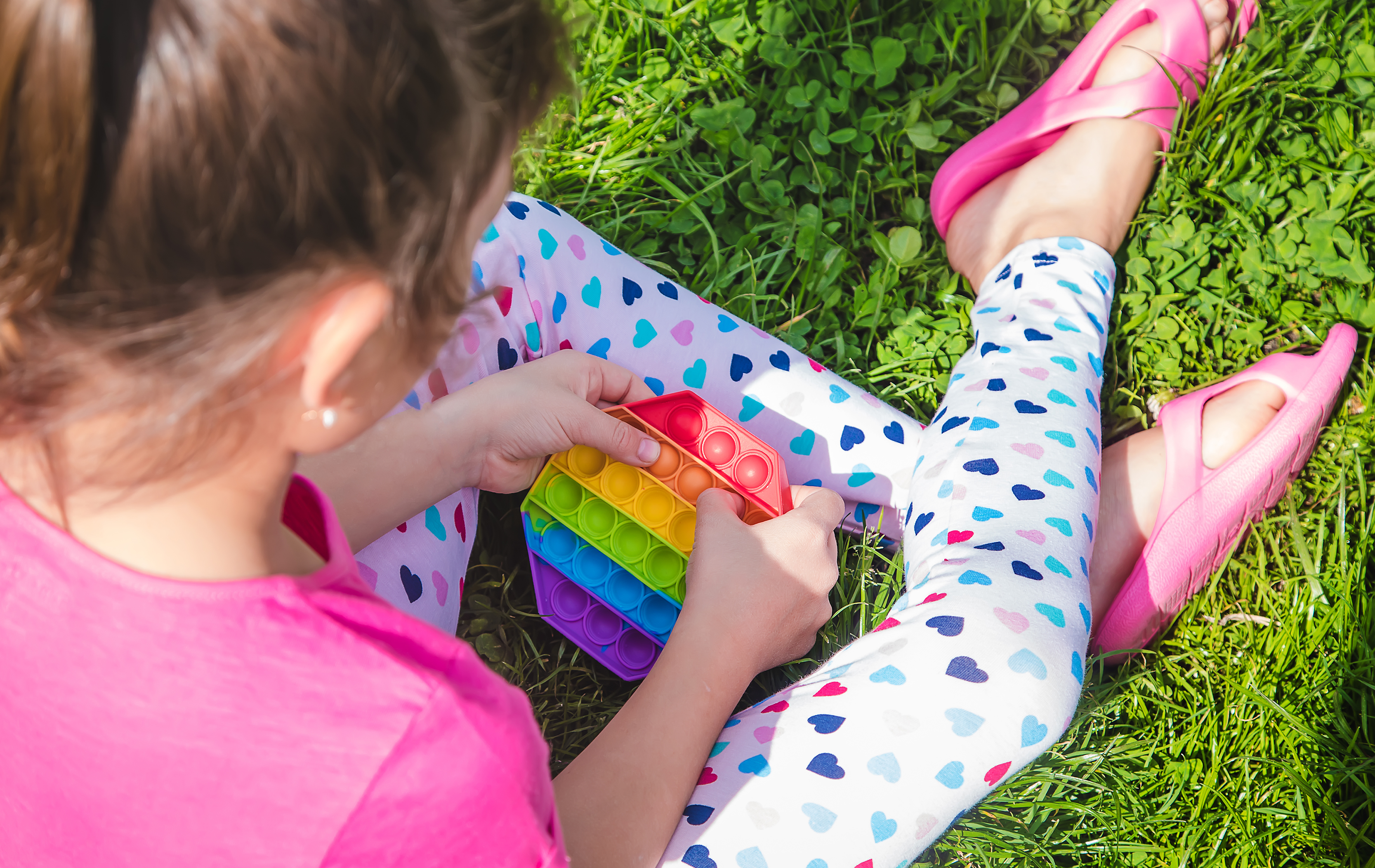 Products
9 Top-Rated Special Needs Products for Summer
While summer means fun in the sun and more time to play with friends, it also means loud outdoor noises, intense heat and other triggers for individuals with special needs. Allow your child to have the best summer possible with products designed to anticipate triggers and anxiety inducers.
Check out these toys, clothes and other products to help prevent meltdowns and keep your child occupied this summer.
1. Keep it Chill with Cooling Vests
Heat stress can become a major risk factor for individuals with special needs during the warmer months, but cooling vests could help. Cooling vets can help keep you cool by maintaining your core body temperature in heat and humidity. Read more about cooling vests.
Glacier Tek Children's Cool Vest with Nontoxic Cooling Packs
"This cooling vest features side elastic straps and over-the-shoulder adjustability to fit children who approximately 30-90 pounds. GlacierPacks keep the vest a cool 59 degrees Fahrenheit or 15 degrees Celcius for up to two and a half hours in 100 degrees Fahrenheit or 38 degrees Celsius. The vest weighs less than 3 pounds with the GlacierPacks and stays dry."
2. Fidget Toys to Keep Fingers Occupied
Fidget toys can help when kids or adults with special needs feel the urge to fidget or need a distraction to calm down. On outings or while at home, having a fidget toy can help keep fingers and attention occupied.
Tangle Relax Therapy by Tangle Creations
"The Tangle Therapy sensory toy works for relaxation, fine motor development and play. The toy can help with keeping attention focused at home or school. Tangle Therapy can fit in a pocket or purse and works for varying ability levels."
3. Play Tunnel for Indoor and Outdoor Adventures
You don't need to spend hundreds of dollars on play structures for your child — this play tunnel will awaken your child's imagination for under $30.00. This play tunnel is transparent, allowing parents to monitor their child's safety while playing.
Pacific Play Tents The Fun Tube 6FT Tunnel
"This 6 feet by 19 inch tunnel collapses for easy storage. Interior padding covers its steel wire structure for safety playtime comfort. Crawling and tunnel play are excellent for muscle and motor skill development in toddlers and children."
4. Bandana Bibs for Easy Cleanup On the Go
Avoid food stains on your child's clothes without having to wear a bib. Bandana bibs are fashionable solutions for eating messy foods on the go.
Large Bandana Bibs for Kids 4+ Years / Special Needs Bibs / Kids, Teens & Adults
"Lovjoy's large bandana bibs are made for children 4 years and older and fit teens and young adults as well. Our 100% Jersey cotton front and micro-fleece backing bibs are super absorbent and totally waterproof. These large bandana bibs are designed to look fashionable for everyday use and to protect clothing from drooling as well as spills and stains while eating."
5. Hearing Protectors for Blocking Noise and Reducing Anxiety
For individuals with special needs, loud noises can be triggers. This is especially true in the summer with larger crowds gathering, lawnmowers and loud garden tools, dogs barking and other loud noises outdoors. If you don't already have a sturdy set of hearing protectors, getting a pair can ease your child's anxieties during activities this summer.
Snug Kids Earmuffs/Hearing Protectors - Adjustable Headband Ear Defenders for Children and Adults
"These earmuffs are ideal for blocking noise caused by large crowds, airports, sporting events, garden and household tools or other troublesome noise. Perfect for kids on the autism spectrum for blocking out crowds and other triggers. Lightweight and comfortable."
6. Sensory Body Sack for Stress Relief and Play
A sensory body sack could be helpful for parents seeking solutions for when their child is overwhelmed. The deep pressure stimulation can promote a sense of calm, relaxation and focus for individuals with special needs of all ages.
Special Supplies Green Sensory Full-Body Wrap to Relieve Stress
"This stretchable body wrap carefully and comfortably covers your child's arms, shoulders, legs and feet in a calming fabric that provides deep pressure stimulation. Ideal for kids with ADHD, autism or other spatial sensory challenges, the Special Supplies sensory body socks can help your child regain a sense of balance and clarity when overwhelmed."
7. Misting Fan for Cooling Down on Hot Summer Days
Keeping cool in the summer can be difficult, but this portable hand-held fan makes it a little easier. Add ice to your fan's water tank for an even cooler misting effect.
O2COOL Deluxe Misting Purple Personal Fan, Universal

"Beat the heat with a personal cooling system. This portable handheld misting fan offers a fine mist of cold water and a powerful fan. This battery-operated fan is perfect for travel and it's a great way for kids to get some chill. It's compact and lightweight so you can easily throw it in your tote bag or luggage."
8. Therapy Swing to Cocoon Comfortably with a Sense of Calmness
Give your child a positive sensory experience with a therapy swing, a teardrop-shaped hammock meant to serve as a safe space for your child. Playing in the swing can soothe your child's overstimulated senses when they are stressed.
Therapy Swing for Kids with Special Needs (Hardware Included)
"Kids can sit and cocoon comfortably in the hammock with a sense of calmness. Ideal for kids and teens who have sensory processing disorder, Asperger's syndrome, ADHD or those on the autism spectrum. The raindrop swing helps children learn body awareness, balance, motor planning and spatial skills. It also provides sensory pressure all over and creates a fun space to bounce, swing, spin or lie down enjoying the movement of the swing."
9. Push Pop Fidget Toy to Hold Attention and Improve Mood
A fidget toy can be a useful tool to keep your child entertained anywhere and help improve their bad mood. Push pop fidget toys are a favorite for many kids and adults alike.
Charminer 4PCS Push Pop Bubble Fidget Sensory Toy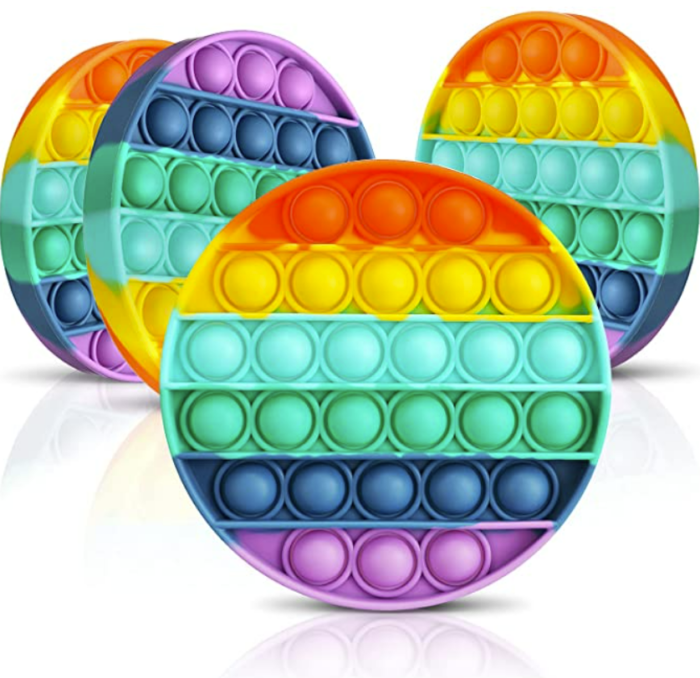 "This is an effective pressure-relieving toy for autism special needs stress relief. Press the bubble, colorful pop bubble fidget can bring us pleasant moods during play. Sensory fidget toy is a children's educational toy, which can exercise kids thinking and logic and focus, and bring unlimited fun to kids."