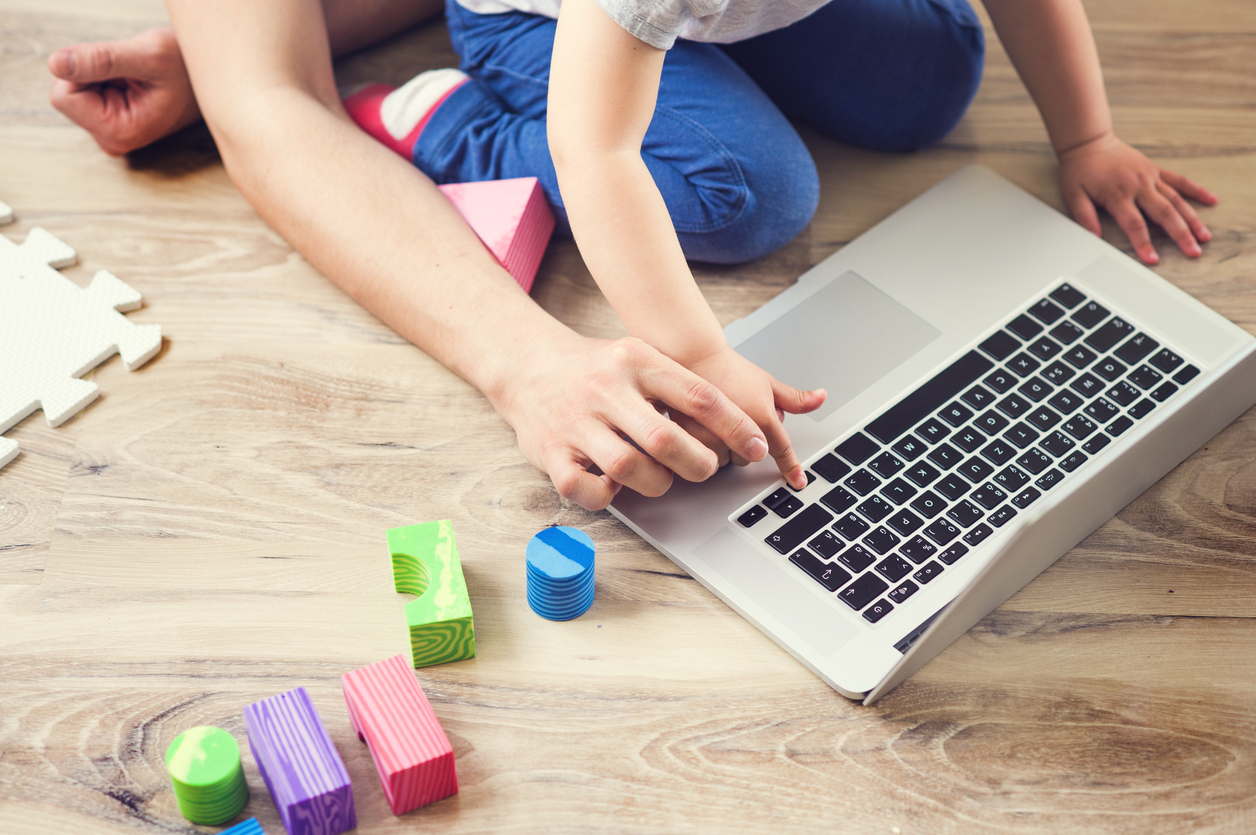 Parenting
,
Resources
,
Special Education
12 Educational Sites to Keep Your Child Learning All Summer
Websites and online services can be a great resource when trying to keep your child learning over the summer and other breaks from school. But it can be hard for parents to know which ones pack a lot of educational content and which are just flashy fun. To help, I've selected a dozen of my favorite educational sites for either engaging with online or downloading worksheets to do with your child. Some of these sites are intended for teachers but will be useful to parents looking for enrichment activities. Most are aligned to common core standards, appeal to different learning styles, and offer high-quality content. A few will cost you, but if you're seeking good instructional content, the expense may be worth it.
1. Do2Learn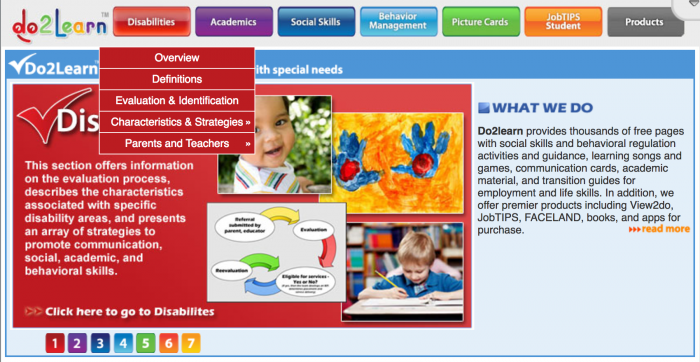 Find it at:
www.do2learn.com
About:
"Do2learn provides thousands of free pages with social skills and behavioral regulation activities and guidance, learning songs and games, communication cards, academic material, and transition guides for employment and life skills."
Categories:
Disabilities
|
Academics
|
Social Skills
|
Behavior Management
|
Picture Cards
2. IXL Learning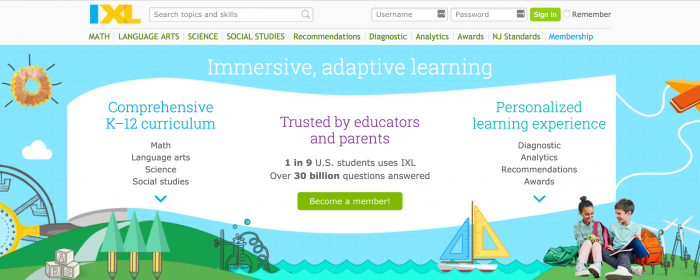 Find it at:
www.ixl.com
About: 
"IXL is an immersive K-12 learning experience that provides comprehensive, standards-aligned content for math, language arts, science, and social studies."
Categories:
Math
|
Language Arts
|
Science
|
Social Studies
 | Grades
Pre-K
K
1
2
3
4
5
6
7
8
9
10
11
12
Pricing:
For 
families,
$9.95–$19.95/month
3. Apps in Education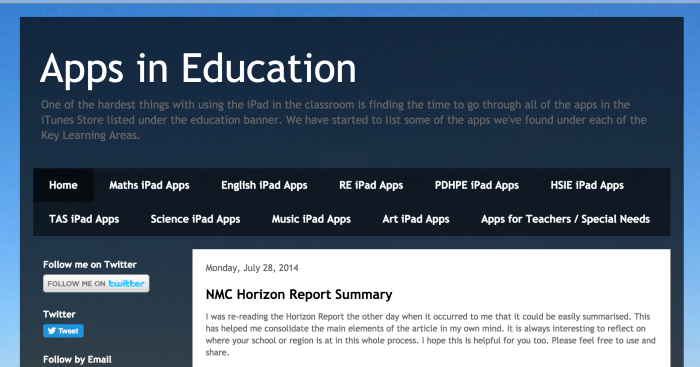 Find it at:
appsineducation.blogspot.com
About:
"One of the hardest things with using the iPad in the classroom is finding the time to go through all of the apps in the iTunes Store listed under the education banner. We have started to list some of the apps we've found under each of the Key Learning Areas."
Categories: 
Maths iPad Apps
|
English iPad Apps
|
RE iPad Apps
|
PDHPE iPad Apps
|
HSIE iPad Apps
|
TAS iPad Apps
|
Science iPad Apps
|
Music iPad Apps
|
Art iPad Apps
|
Apps for Teachers / Special Needs
Pricing: 
Site and reviews are free, but if you want to go from there you'll have to pay for some apps.
4. SET-BC Student and Classroom Resources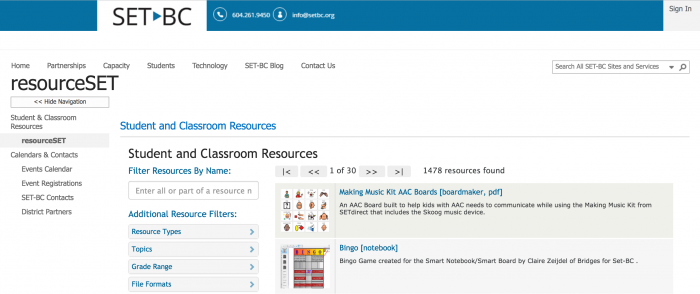 Find it at:
w3.setbc.org/students/Pages/Student-Resources-Library.aspx
About: 
"SET-BC is a Ministry of Education Provincial Resource Program. SET-BC was established in 1989 to provide assistive technology services for students with physical disabilities. Our program has grown and evolved over the years to meet the changing needs of BC school districts."
Categories (select on site):
 Science | Mathematics | Social Studies | Applied Design, Skills and Technology | English Language Arts | Physical and Health Education | Arts Education | Career Education | Languages | Personal and Social
5. Newsela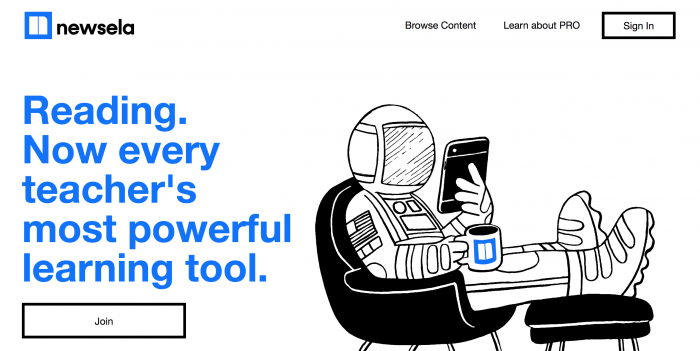 Find it at:
www.newsea.com
About:
"Bringing the written word to life is our jam. So we created the Newsela Instructional Content Platform. It's the only platform purpose-built to get students not just reading but truly engaged with every word. Students and teachers rejoice."
Categories:
ELA
|
Science
|
Elementary
|
Math
|
Social Studies
Pricing:
Free, but you will have to create an account for yourself and your kids. See
Quick Start Guide for Parents
.
6. Literacy Center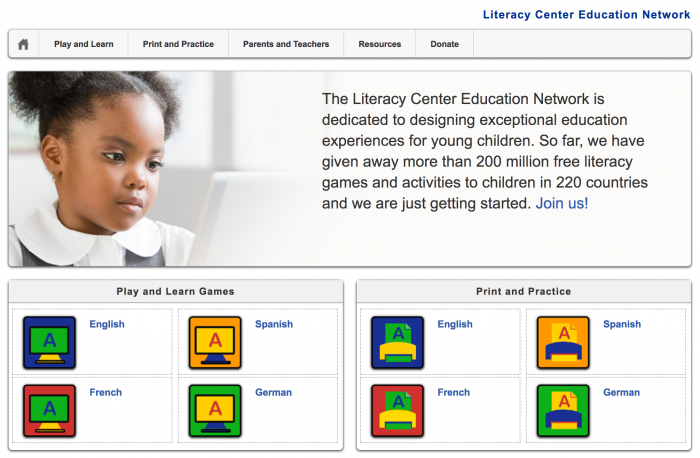 Find it at:
www.literacycenter.net
About:
"The Literacy Center Education Network provides trusted resources for Preschool, Kindergarten, and First-Grade English Language Learners (ELLs) and Dual Language Learners (DLLs). Our site is designed for use in busy classrooms, computer laboratories, and at home. We offer interactive Play and Learn games and Print and Practice activities for parents and teachers to share with children."
Categories: 
Play and Learn
|
Print and Practice
|
Parents and Teachers
Pricing: 
Games and activities are free, but there's an opportunity to
donate
once or monthly.
7. PBS Kids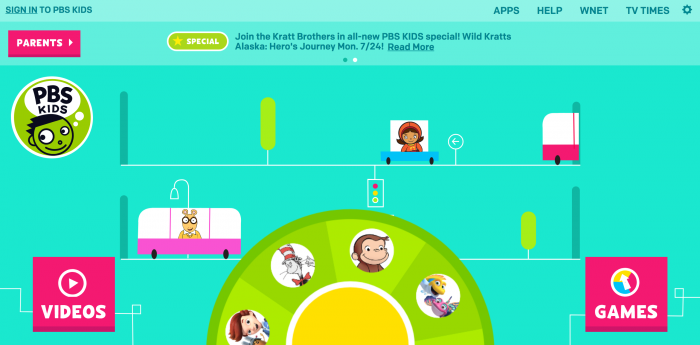 Find it at:
www.pbskids.org
About: 
"PBS KIDS is committed to making a positive impact on the lives of children through curriculum-based entertainment. With a 360-degree approach towards learning and reaching children, PBS KIDS leverages the full spectrum of media and technology to build knowledge, critical thinking, imagination and curiosity. By involving parents, teachers, caregivers and communities as learning partners, PBS KIDS helps to empower children for success in school and in life."
Categories: 
Videos
|
Games
|
Parents
8. Fun Brain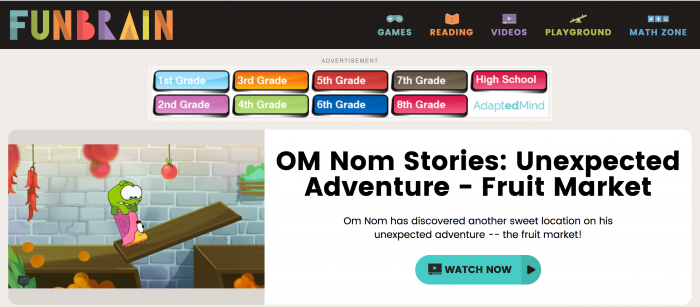 Find it at:
www.funbrain.com
About: 
"Funbrain, created for kids in grades Pre-K through 8, offers hundreds of free interactive games, books, videos, and printables that help kids develop skills in math, reading, problem-solving, and literacy. Our new site makes it easier than ever to find what you're looking for. We've created a unique landing page for each grade, Pre-K through 8, so kids can find the content that's right for them. Each game, book, and video is tagged with key subject areas and skills, such as Addition, Fractions, Vowel Sounds, and Shapes."
Categories: 
Pre-K & Kindergarten
|
1st Grade
|
2nd Grade
|
3rd Grade
|
4th Grade
|
5th Grade
|
6th Grade
|
7th Grade
|
8th Grade
Pricing:
Funbrain is free, but it's full of ads for another educational site that does charge after a free month and requires registering to play.
9. Ed Helper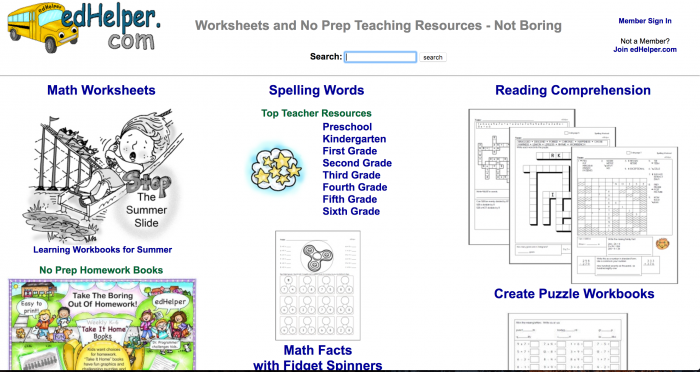 Find it at:
www.edhelper.com
About:
 "Worksheets and No Prep Teaching Resources - Not Boring"
Categories include:
Math Worksheets
|
Learning Workbooks for Summer
|
Spelling Words
|
Reading Comprehension
|
Grammar
|
Leveled Reading Books
Pricing:
 Basic
subscription
, $19.99/year; everything subscription, $39.98/year. You may be able to get a free pass for single items.
10. Common Core Worksheets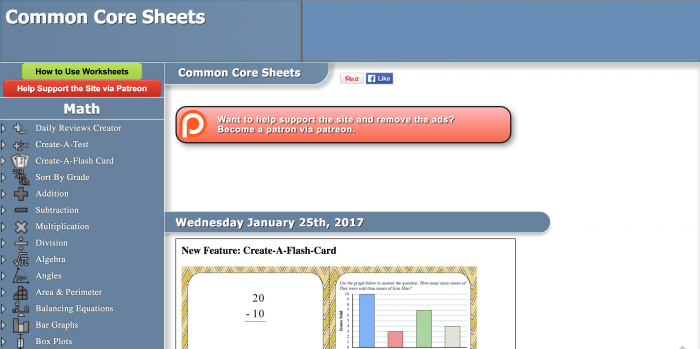 Find it at:
www.commoncoresheets.com
About the author: 
"Hey, I'm Robert. My background is in webpage design, art and elementary education. My degrees are in Elementary ed, Secondary Math and English/Secondary Ed Language Arts, though my entire teaching career I only ever taught Math, Science & Social Studies. After leaving teaching I then went on to create state level test prep, before starting up this website."
Categories (find links on site):
Math
| Social Studies | Science | Language Arts | Writing | Spelling | Languages | Other Stuff
Pricing:
The worksheets are free to download, but you can remove ads from the pages or just support the site by making a donation through its 
Patreon page
.
11. National Geographic Kids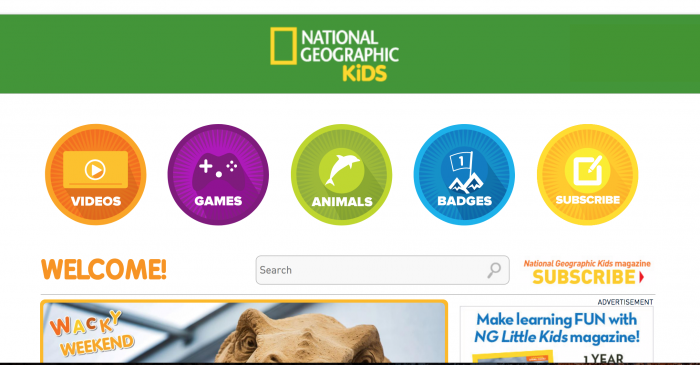 Find it at:
kids.nationalgeographic.com
About: 
"Nat Geo Kids inspires young adventurers to explore the world through award-winning magazines, books, apps, games, toys, videos, events, and a website, and is the only kids brand with a world-class scientific organization at its core."
Categories:
Videos
|
Games
|
Animals
|
Badges
Pricing: 
Site is free, but you'll need to register to use it fully.
12. Art Projects for Kids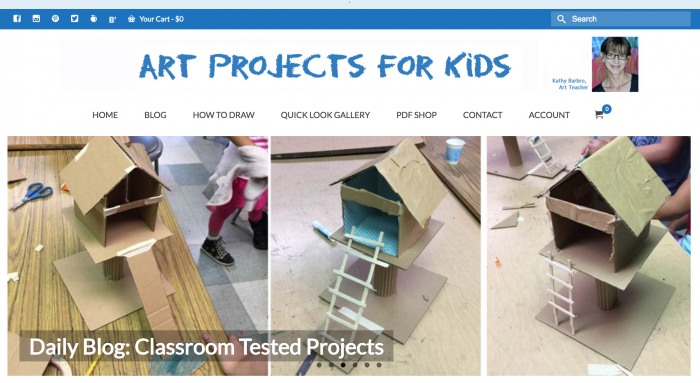 Find it at:
artprojectsforkids.org
About the Author: 
"After receiving my BFA from the Minneapolis College of Art & Design, I got my foot in the door of graphic design and gained valuable work experience with several newspapers and graphic design firms in California. Starting a family brought the desire to work from home, which I did until my son started school. There I found the school had no art teacher, so I began to volunteer. This led to a PTA parent-funded position and later an after school program as well. Teaching led to blogging, which has opened up a world of possibilities, including fulfilling my dream of one day writing an art book.
Sharpie Art Workshop for Kids
is my first. It features more than 30 arts and craft project specifically designed to do what the markers do best."
Categories: 
Blog
|
How to Draw
|
Quick Look Gallery
|
PDF Shop
Pricing: 
Blog projects are free, but some downloads may require subscription or payment.