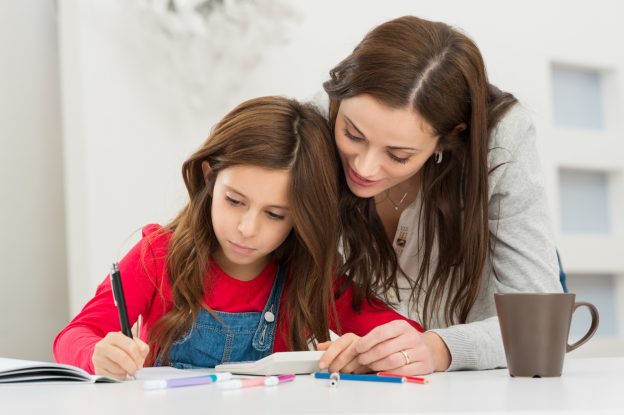 Therapy Tips
Try This Technique for Helping Your Child with Description and Written Expression
Does your child have a
learning disability
in oral expression or written expression? Perhaps a
language impairment
affects your child's ability to describe things in an organized way? Maybe your child is just a reluctant writer who struggles with how to get started? The expanding expression tool may be helpful for you.
Meet the Expanding Expression Tool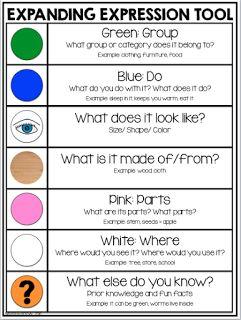 The expanding expression tool (EET) is a kit developed by a speech-language pathologist from Michigan. It is a multi-functional, tactile tool to help with language and writing development. It can be used for oral expression
and
 written expression. The tool uses a color-coded chart to help a student describe an object by the group it belongs in, what it does, what it looks like, what it is made of, what its parts are, where you find it, and what else you know about it. This can be a verbal or written activity. This tool is great for tactile learners, who can benefit from using a string of beads to represent each different dot on the chart. It also offers a great visual layout for children who benefit from graphic organizers and structured activities.
Who Will Benefit?
The EET is particularly helpful for struggling/reluctant writers, but it can be differentiated for different ages, abilities, and needs. I've used the tool one on one, in small groups, and in whole-class instruction, which may include students with or without disabilities. The school's SLP and I recently presented the EET tool as a professional development opportunity for our whole staff, so general education teachers can use it in the classroom.
How It Works
At the very basic level, the EET tool helps learners describe an object. Often, students can label an object but can't tell about it. This affects their ability to categorize, make connections and associations, comprehend, compare/contrast, etc.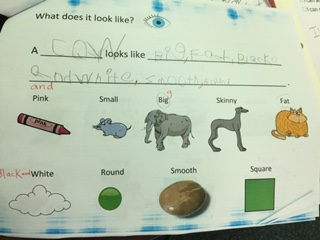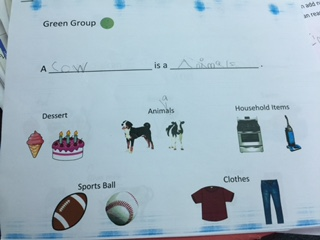 The EET can be used for descriptive writing, personal narratives, informative writing, and opinion writing. I've even done it specifically for animal research projects. Once students can describe an object in seven sentences, you can easily move on to stretching it to seven paragraphs. For kids who need to write a personal narrative, for example, simply change the colors to represent what group they were with, what they did, what the setting looked like, what the characters are made of (character traits, attributes, how they feel), the parts of the story (sequence of events — great place to add dialogue!), changes to make (this is an editing step for writing), and the moral of the story/lesson learned.
Watch It in Action
There are
numerous videos on YouTube
showing therapists and teachers using the EET that should give you an idea of how you might use it with your child or student. Here are a few to start with.
How to Get It
The official Expanding Expression kit is a great resource that has lots of ideas and the actual tools. You can view and purchase this product at:
https://www.expandingexpression.com/thekit/
.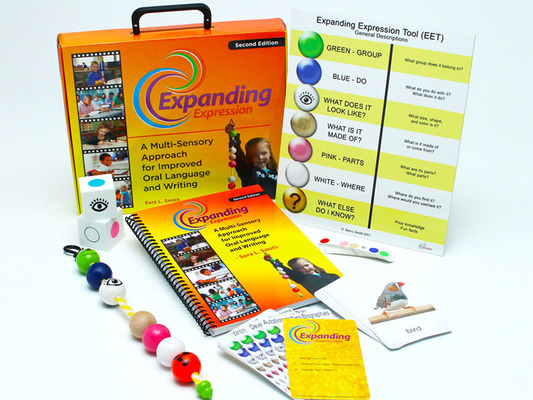 The kit is priced for professional use, and may not be practical for parents. Often, my students and I make our own EET tool using beads and a pipe cleaner. I've made graphic organizers to help students that I post in my classroom. So, if purchasing the kit isn't an option, there are definitely ways to still use EET. It's great to modify using visual choices, word choices, or asking students to describe on their own (the ultimate goal). You can also check out
Pinterest
for some great free ideas that are super cute and creative.