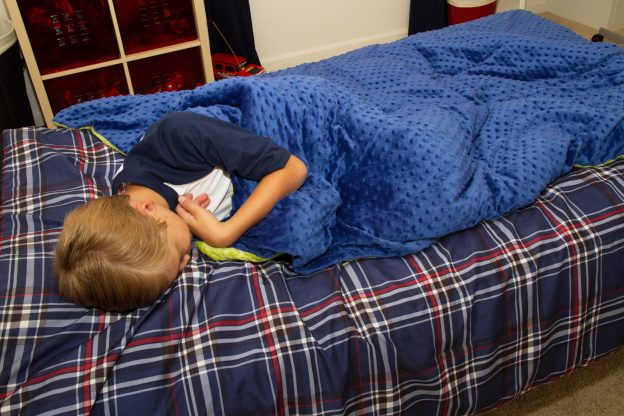 Resources
What You Need to Know Before You Buy a Weighted Blanket
You may have heard about the benefits of weighted blankets from an occupational therapist or another parent or even a
post on this blog
. If you've never actually seen or owned one, though, you may have some questions about what exactly a weighted blanket is and what you should look for when buying one.
What Is a "Weighted Blanket"?
A weighted blanket is pretty much what it sounds like: a heavy blanket. However, there is more to a weighted blanket than just being thick and heavy. The weight should be specific for the person who will be using it. Weighted blankets can weigh anywhere from five to twenty-five pounds. The rule of thumb for choosing weight is for it to be 10 percent of the user's body weight, plus a pound or two. So for an 80-pound child, the blanket should be 10 pounds. For an 180-pound adult, you'd need a 20-pound blanket. The size should change with the weight. A 20-pound blanket will be longer than a 5-pound blanket. Most places that sell weighted blankets will list out the sizes and weights for you to choose from.
What Should You Look For When Buying a Weighted Blanket?
The main things that vary between different weighted blankets on the market are type of fabric and what is used to weigh down the blankets. When it comes to fabric, it's really up to your preference. Some blankets are made with soft cotton, while others are made with a minky dotted fabric. When looking at reviews of blankets, make sure to look at what people say about the fabric. Especially if you are buying the blanket for someone who has sensory issues, the type of fabric can make or break the experience. As for weighing down the blankets, most companies at this point use very safe materials for the weight. Often you'll see poly-pellets, glass beads, or steel shot beads. You can even find blankets that use rice or barley to weigh them down. Another factor you'll want to look for is how the blanket maintains an even distribution of weight. If the beads are allowed to move throughout the blanket, all the weight can end up at one side. This is typically solved through stitching pockets into the blankets and distributing the weight evenly in those pockets. The last thing to look for is if the blanket is machine washable or not. Because blankets can vary in what fabric they use and what weights they use, you'll want to check with the seller to see if their blankets can be washed at home or need to be taken to a dry cleaner.
Benefits of Weighted Blankets
There are many
research-backed benefits
of weighted blankets, including improved sleep, greater focus in the classroom, reduction of self-stimulatory behaviors, and easing of anxiety. As weighted blankets become more popular, more and more people are using them simply as a way to wind down from typical day-to-day stress and to help improve sleep. How can you get those benefits for your child? There are
many companies that sell weighted blankets online
. Your child's occupational therapist may have catalogs you can order from as well; while you're at it, seek the therapist's advice as to whether a weighted blanket is a good choice for your child and how much weight would be appropriate. If you're crafty, you may even be able to make a blanket using an
online tutorial
.
Pictured at the top of this post is a weighted blanket from Harkla.