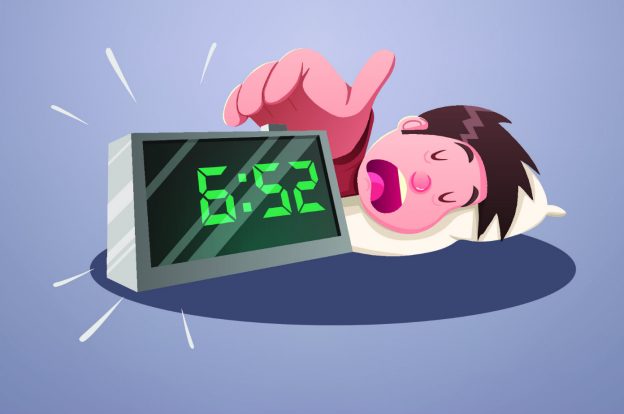 Products
10 Alarm Clocks for Children with Sensory Challenges
Is waking your child up in the morning a battle that gets everybody's day off on the wrong foot? Maybe a better wake-up method would help. Kids with sensory challnenges may have particular problems with the standard alarm-clock signal of a loud blaring noise. If you're under-sensitive to sound, that's not going to rouse you, and if you're over-sensitive, it's an upsetting way to awaken. The alarm clocks gathered here use different senses to beckon sleepers from their slumber, and the ones that still use sound offer variations that can make them a better option than what you've been trying and failing with. (Please note: Prices are as listed at time of publication and may vary.)
Alarm Clocks That Wake with Light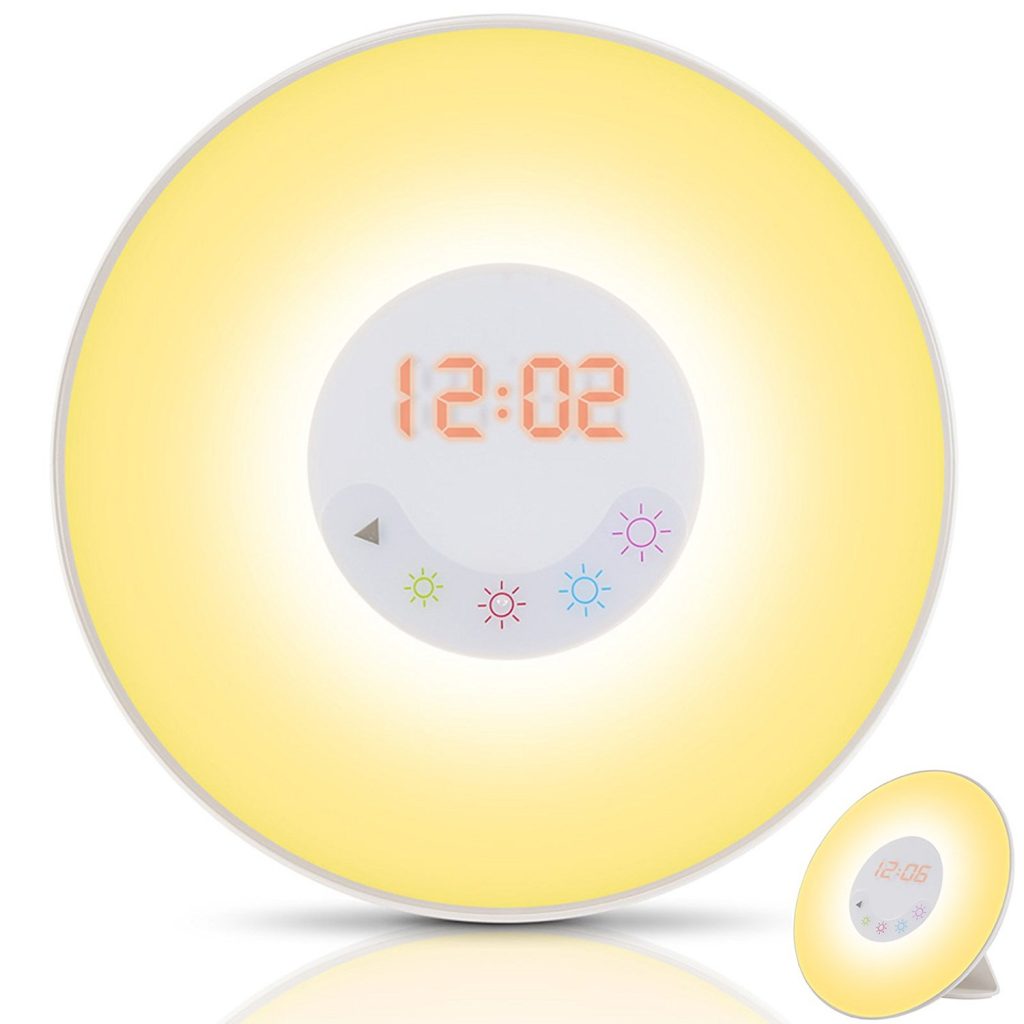 Alarm:
 Increasingly strong light, in your choice of five colors, accompanied by either nature sounds or FM radio
Manufacturer's description: 
"The wake-up light gradually brightens from 1% to 100% at the set time to gently bring you out of a deep sleep, refreshed and ready for a new day. [Choose from among] 6 realistic nature sounds including ocean waves, river, birds, farm, rain forest, bubbling brook. Or choose to wake up to your favorite FM radio station. Choose your favorite color for the light from warm white- green- red- blue- purple or have them fade from one to the other. You can easily adjust the brightness of the light to suit your needs as a lamp or night light or in between."
Cost:
$29.99 on 
Amazon
Consider it for:
Kids who are sensitive to sounds or who respond more to visual cues than sound cues.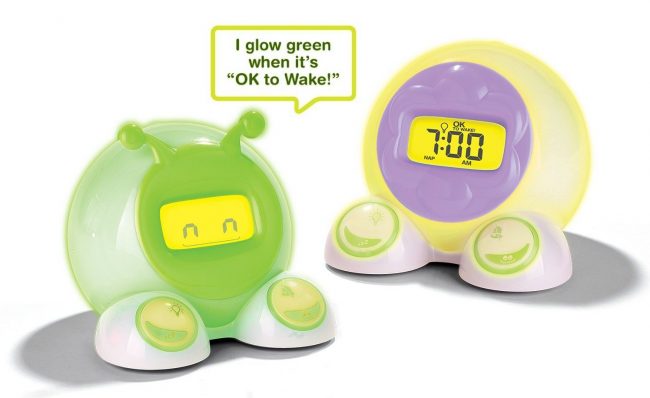 Alarm: 
A green glow when it's OK for your child to get out of bed
Manufacturer's description: "
At bedtime, a soothing yellow night-light comforts children as they fall asleep. In the morning, it glows green when it's OK for children to get out of bed! If children wake up before the green light comes on, they know to go back to sleep or quietly play in their room until 'green means go'! Why does it work? Well, children enjoy the feeling of accomplishment that comes with completing a job well done. And, Ok to Wake! is something that can be completed successfully every day! The clock also features a convenient nap timer and alarm clock with snooze!"
Cost: 
$22.00 on
Amazon
Consider it for: 
Kids who may wake up early and need a prompt for when it's time to get up. May be particularly useful for young children or those who enjoy cute characters and animations.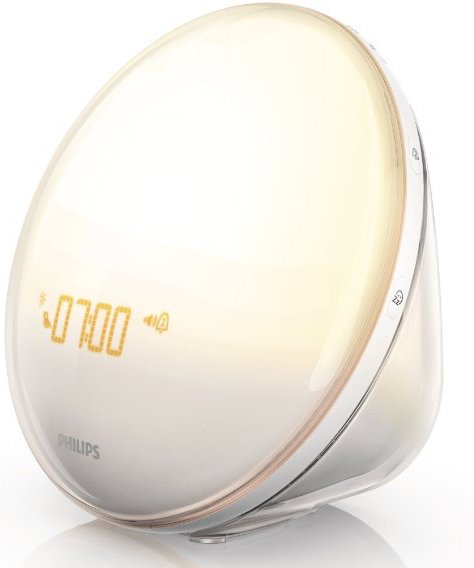 Alarm: 
Colored sunrise simulation, along with natural sounds or FM radio. Also provides dimming lights to ease into sleep at night.
Manufacturer's description: 
"Select the time you want to wake up, and let a gentle sunrise ease you into your day. 30 minutes before your chosen wake-up time, the light will come on, very gently at first, and getting gradually brighter and brighter. By the time the 30 minutes is up, you should be fully awake, gently and naturally. You can adjust the brightness to a level that suits you. Why choose a Philips Wake-up light: easier to get up in the morning with colored sunrise simulation; no replacement light bulb needed; cool to touch — safe for children; simply plug and go — no assembly required; large, easy to read LED display, FM radio and tap snooze function; pleasant, natural bird song alarm; sleek, modern design."
Cost: 
$117.73 on
Amazon
Consider it for: 
Kids who don't react well to changes in time and light, or those who respond to visual cues and may be upset by loud sounds.
Alarm Clocks That Wake with Smell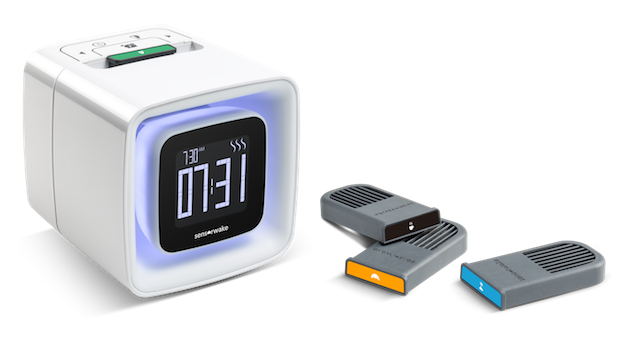 Alarm:
 Scents like Seaside, Espresso, Croissant, Chocolate, Cut grass, Toast, and Peppermint, from capsules you stick in the top.
Manufacturer's description: "
Progressively, within 2 minutes, your sense of smell will get you out of dreamland. A capsule lasts for 30 awakenings. 100% recyclable. The perfume molecules detach and are transported by the air flow from the capsule (dry-air diffusion); a process without heating, keeping the molecules unchanged. [Capsules] comply with the highest air quality standards (REACH certified, CARB certified and IFRA certified)."
Cost:
$109 (with 1 free capsule for 30 wake-ups; additional capsules are $5.45) on the
Sensorwake
 website
Consider it for:
Kids who are sensitive to sounds or who respond more to smells than sounds.
Alarm Clocks That Wake with Motion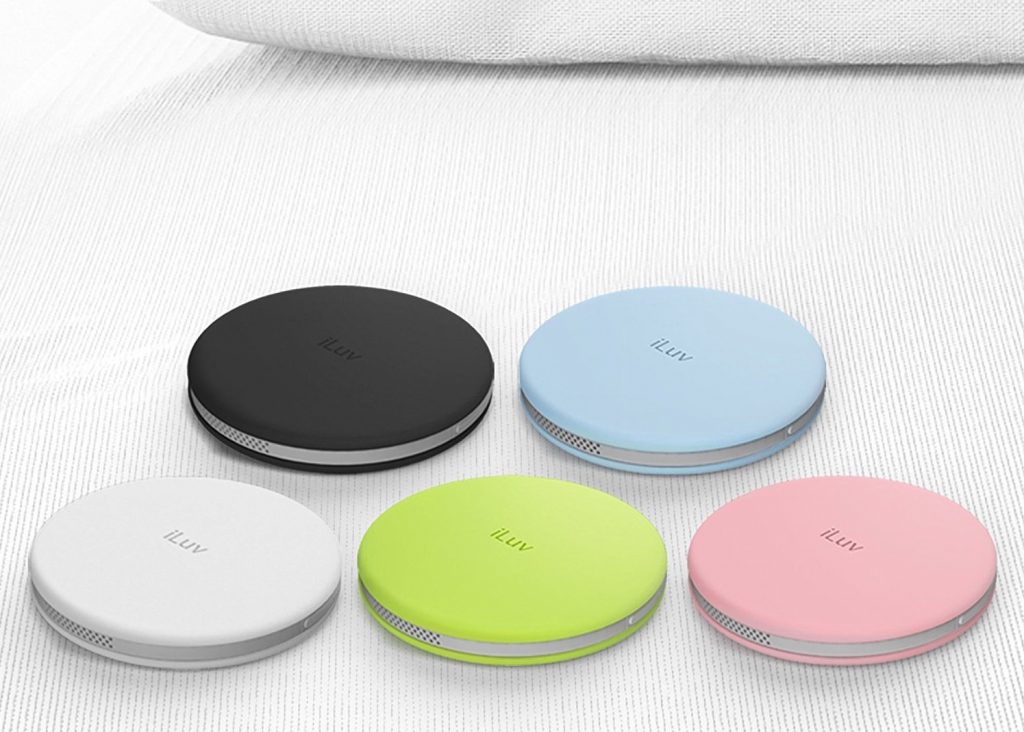 Alarm: 
Vibration under pillow
Manufacturer's description:
 "The SmartShaker is an award winning app-enabled wireless smart wake up alarm. Place this thin alarm pod under your pillow and schedule it to wake you up through vibration subtly ... Waking up to a vibrating alarm is way more soothing than waking up to the standard audio alarm. ... If you have hearing loss or are deaf, a heavy sleeper, senior citizen, someone who does not like a traditional alarm clock or someone who wants to wake up without disturbing [others], then the SmartShaker is the alarm for you."
Costs: 
$19.99 on
Amazon
Consider it for: 
Kids who respond well to tactile or vestibular stimuli rather than sound, but will not be freaked out by something big and hard under their pillow. Also helpful for kids with hearing or vision impairments.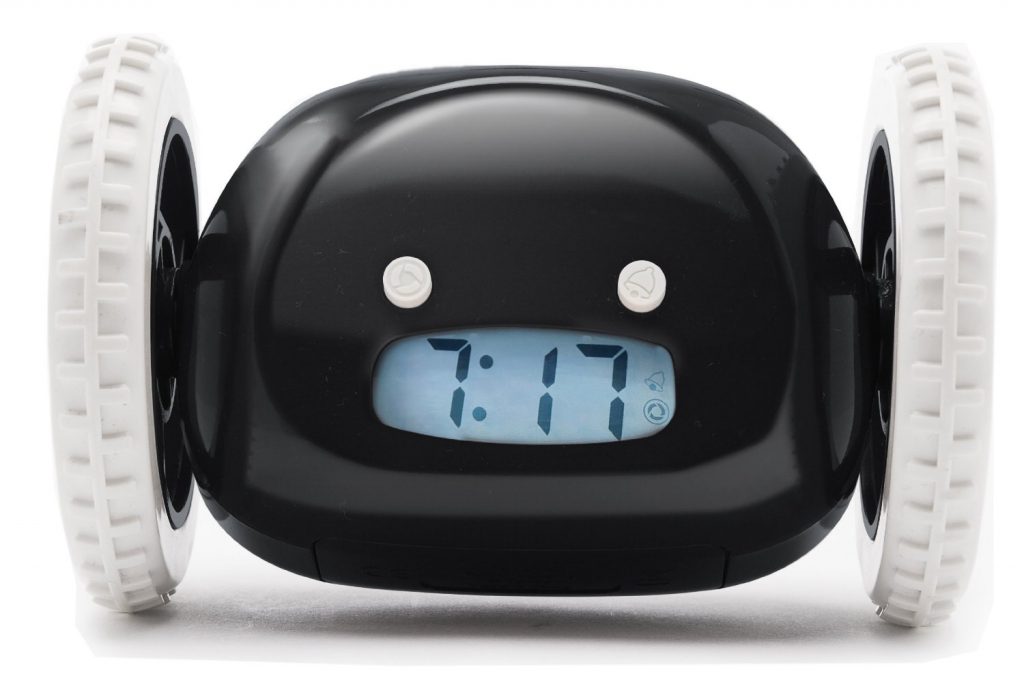 Alarm: 
Beeps and frenetic movement — if you don't turn it off, it jumps in the air and rolls around the room, demanding that sleepyheads get out of bed and chase it.
Manufacturer's description: 
"Clocky is the alarm clock on wheels that runs away beeping! You can snooze one time, but if you don't get up, Clocky will jump off of your nightstand up to 3 feet high, and run around your room as if looking for a place to hide. You'll have to get out of bed to silence Clocky's alarm. Clocky beeps in an R2D2-like robotic pattern so that you are sure to hear him. He's kind of like a pet, only he will get you up at the right time! Clocky is perfect for those of us who have trouble waking up in the morning! He is compact, clever, and playful."
Costs: 
$39.99 on
Amazon
Consider it for:
Kids who respond well to humor and games and situations that catch their imagination, especially when you're tired of being the one who has to provide that over and over every sleepy morning.
Alarm Clocks That Wake with Sound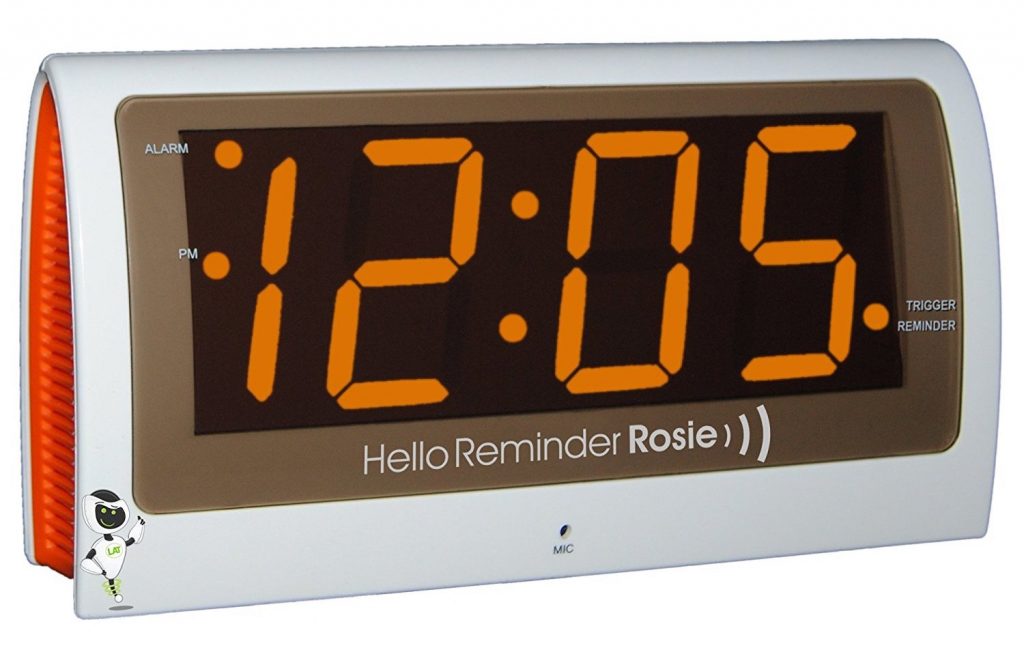 Alarm:
Personalized voice messages
Manufacturer's description: "
Reminder Rosie is a 100% Hands Free Digital Alarm Clock Memory Aid with Revolutionary Speech Recognition; Records & Announces Multiple Loud Personalized Voice Alarms at a Specific Time and Date; Everyday, Weekly, Monthly & Annually. ... The reminder keeps being repeated intermittently for up to 30 minutes. Rosie can also announce loud (you control the volume) personal messages preset to go off when you want: daily, weekly or at a certain date during the year. This is done in your own voice so it can be in any language. This is truly a talking reminder clock!"
Cost:
$99.95 on 
Amazon
Consider it for: 
Kids who could benefit from a gentler sound, a personalized wakeup you don't have to run in and deliver, or a reminder prompt for morning routines. Since it can be turned off by a vocal command, it may also be helpful for those for whom turning an alarm off may be a fine-motor challenge.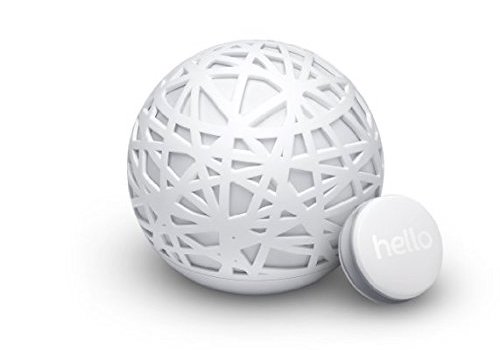 Alarm: 
Sounds based on a system that analyzes sleep throughout the night, masks noises that might be disturbing, and wakes during periods of light sleep.
Manufacturer's description: 
"Being woken up from deep sleep leaves you feeling groggy and tired. Smart Alarm can wake you up during the lightest phase of your sleep, leaving you feeling refreshed and ready to take on your day. Get the most out of your sleep with personalized Insights tailored to your sleep patterns. Find your optimal sleeping environment, and learn how your daily routine impacts the quality of your sleep. Ambient sounds can mask disruptive noise, helping you fall asleep and stay slumbering through the night. Drift off to sleep with a selection of calming Sleep Sounds like White Noise, Fireside, and more."
Cost:
$149.00 on
Amazon
Consider it for: 
Kids who have trouble falling asleep, staying asleep, and waking up. Information gathered by app may be useful in finding solutions beyond a better alarm clock.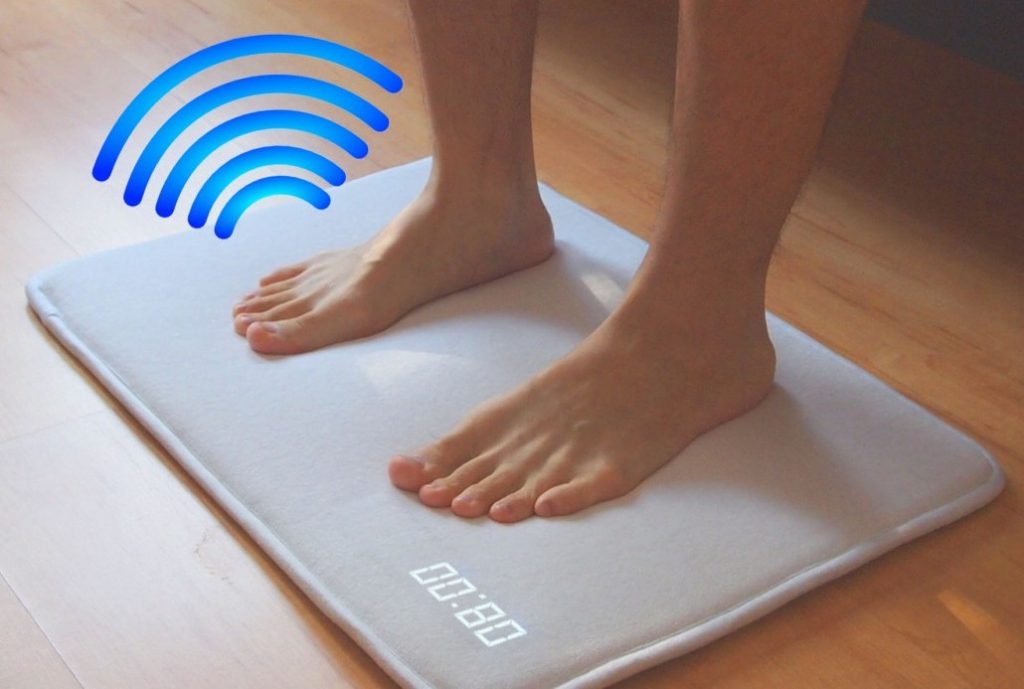 Alarm:
A pep talk — and you have to get out of bed to make it stop.
Manufacturer's description: 
"Ruggie's alarm needs to sense your pressure for at least 3 seconds before it shuts off! By then, you would have accomplished what millions struggle to do, getting out of bed! Need more than 3 seconds? No worries! The time is programmable to suit user preference! ... Ruggie can play any custom sound you wish it to play. Simply connect it to your computer via USB, and then drag in the sound files you desire! Have it Say positive affirmations, daily motivation, goal reminders, your favorite song, a funny recording... the possibilities are endless! Ruggie's bright LED display activates to your touch, it works also as a night light! Perfect for when you need to get up late at night for a trip to the bathroom."
Cost:
$79 on
Indiegogo
Consider it for: 
Kids who have trouble self-motivating in the morning and making the transition from bed to starting the day. Pretty much everyone could use some positive thoughts right from the start.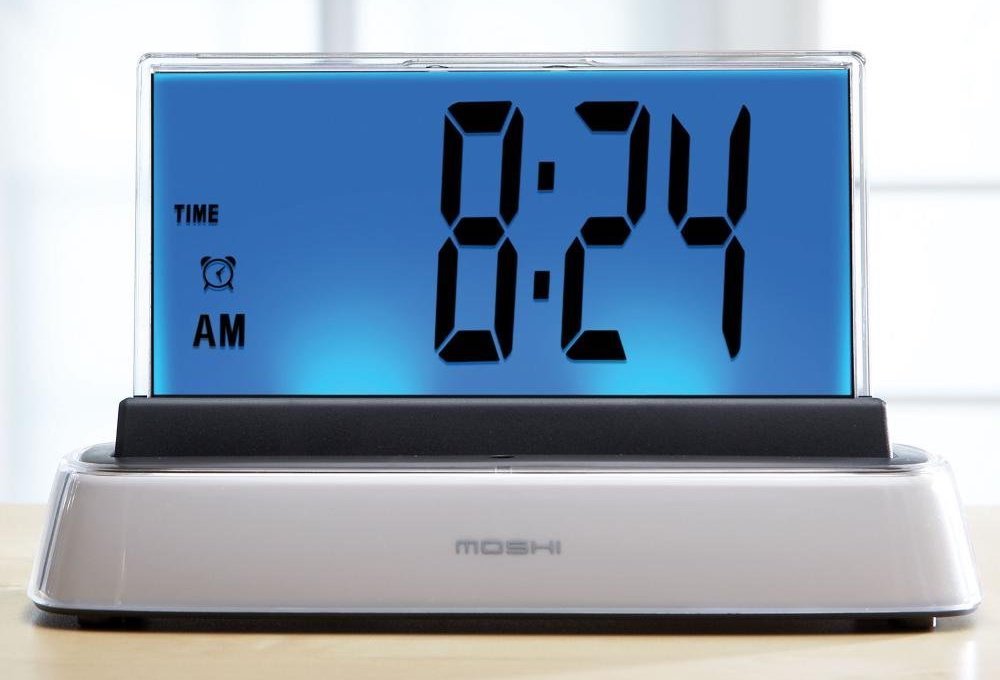 Alarm:
Normal alarm sounds, but it can be set by voice instead of pushing little buttons.
Manufacturer's description: 
"The Moshi VC Alarm Clock is the first 'listening clock' that allows you set the time and alarm by your voice alone. No more small buttons and no more impossible programming. Just speak, and Moshi listens. Moshi works so well that it is recognized by the World Blind Union and was awarded the VisionFree Award by the Stevie Wonder Foundation at the Consumer Electronics Show in 2009. Features 3 Alarm Sounds, 3 Sleep Sounds, Temperature."
Costs:
$45.90 on
Amazon
Consider it for:
Kids who want to be in charge of their own alarm clock but lack the fine-motor dexterity, motor planning abilities, or vision to do that on a regular alarm clock.