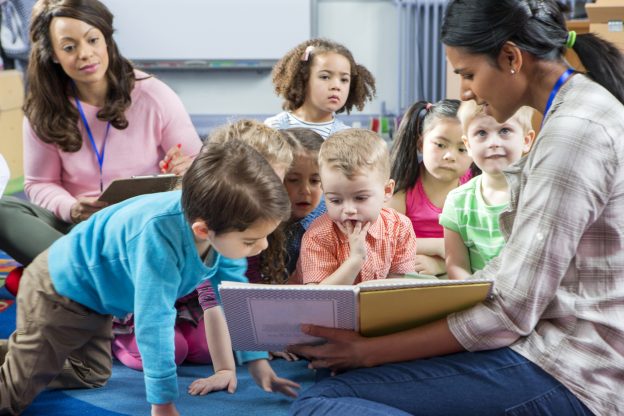 Products
Five Children's Book Series on Special Needs and Disabilities
Parents and teachers, are you looking for resources to make inclusion work in your school or community activities? The five books I want to tell you about come from book series on special needs and disabilities.
Special Needs Book Review
has been a fan of these books since the publication of the first entry in each series. Learning to make and keep
friends
is a popular topic in children's books, and these books fall under that category. The stories about children with special needs benefit young readers in similar situations and also help friends and classmates understand the challenges they face. Children with special needs are able to relate to the characters. Empowerment, giving kids with special needs a voice, and helping them feel they are not alone and that others understand their unique situations are a few of the goals the authors of these books hope to accomplish. All these books should be used as learning tools in our classrooms to promote
inclusion
. Kids will learn to see beyond the wheelchair or braces. They will learn not to be afraid or shy about forming friendships with classmates who are
autistic
, have
Down syndrome
, or have other special needs. Showing friendships between typically developing children and those with "unique abilities" will help foster understanding, compassion, and acceptance.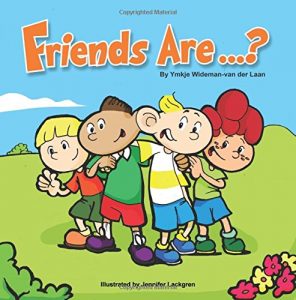 By Ymkje Wideman-van der Laan Illustrated by Jennifer Lackgren
Friends Are…?
is
volume 6 in the delightful
Autism Is ...? 
series. It was written by a grandmother for her autistic grandson. This fabulous, educational kids' book teaches a child how to be a good friend. Its "fantastic friendship rules" are perfect for ALL children. It can be a springboard for conversations about such friendship topics as bullying, giving compliments, making conversation, and respecting personal space. We see many children's books but few have the bells and whistles the 
Autism Is…?
 series has. Readers will enjoy the rhyming text, beautiful illustrations, immediately useful information, and supporting adult pages. If I were still teaching students age 7 to 9 years, I know I would use this book while teaching social skills. I would reread it often to make sure the valuable lessons on how to make and keep friends were understood.
Read complete review.
By Penelope Anne Cole Illustrated by Kevin Scott Collier
This is the fifth and final book of a fun, engaging series of children's books. It closes out this delightful series on a very positive note. It is an excellent "first chapter book" for readers ages 6 to 8. The children who have been reading this series will feel a little sadness knowing this is the final book of the series. However, Ms. Cole's readers will be very pleased to know that their beloved characters, who are now finishing university, have woven their strengths, interests, and good intentions of helping others to set themselves up for a good life. The reason we have been writing about the
Magical Series
is that Lily, one of the characters, is in a wheelchair. Ms. Cole has created a role model for all other children with special needs, and the other children in her stories show by example how to accept others who have a disability or special need. It brought a smile to my face when I read that Lily had been studying in Europe!
Read complete review.
By Jewel Kats Illustrated by Claudia Marie Lenart
It was with a heavy heart that I undertook the research to write this review. Jewel Kats was the pen name of Michelle Meera Katyal, who passed away in 2016 as the result of complications of surgery. The pen was a powerful tool in the hands of Jewel Kats. The author of 11 children's books, she wrote the kinds of stories that she never read growing up, ones that featured people with disabilities like her. We have reviewed some of her other books and we highly recommend every one! She crafted characters that were heroes of their own stories and featured people who were empowered by their disability and not limited by it. Disabilities were something to be celebrated. Kats called her stories "fairy ability tales." In this book, Jenny, a young girl undergoing treatment for cancer, discovers that her best friend, Dolly, also has cancer. Dolly is the family's dog, who has always been at Jenny's side through trying times, and Jenny vows to support Dolly as well. This bittersweet tale is a story of mutual devotion and loyalty. While the prognosis is not good for dogs with cancer, Dolly's love provides enduring hope and support for Jenny on her healing journey. A book to bring a message of hope when a friend has cancer, 
Jenny and Her Dog Both Fight Cancer 
is intended for children age 4 to 8 years, from preschool age to about third grade.
Read complete review.
By Kristi O'Callahan Illustrated by James Corless
Jacob and Sam
 is a beautiful story for anyone who would like to learn more about interaction with autistic children. This book is highly recommended for any parent, friend, or relative of someone with autism or special needs. It is a heartwarming story about Jacob and a new student in an inclusion classroom who truly wants to befriend Sam, an autistic boy. Jacob does not understand why Sam isolates himself, why he doesn't speak or look at others, why he wears headphones, and why all he wants to do is rip up white paper. When Jacob discovers what Sam does at home with the ripped-up paper, everything changes. With the help of his teacher, Jacob finds a way to enter Sam's world. The author, a special-education teacher, says: "My goal is to create a series of books for children with disabilities to relate to but to also educate our general education children. The purpose of these books is to create awareness, gain acceptance, and promote inclusion." This book is intended for children from preschool age to about second or third grade.
Read complete review.
By Margie Harding Illustrated by Jennifer Phipps
The author says she wrote these books because our children with special needs need to know it's okay to be different! And our children who interact with their friends who are different from themselves need to understand to some extent what's going on—but also to know that everyone is different and it's totally okay! The first book of the series does
not
 have a character with a special need, but it introduces some of the consistent characters found throughout the series. The other seven books each feature a character with one of the following specific challenges:
premature births
asthma
hearing problems
Down syndrome
autism spectrum disorder
reading difficulties
muscular dystrophy
The books are situational and therefore very readable for children with special needs or a child who asks, "What's wrong with my friend?" They are a great addition to a classroom, library, or home. The books are written at a second-grade level but are very readable to kindergarten and up.
Read complete review.