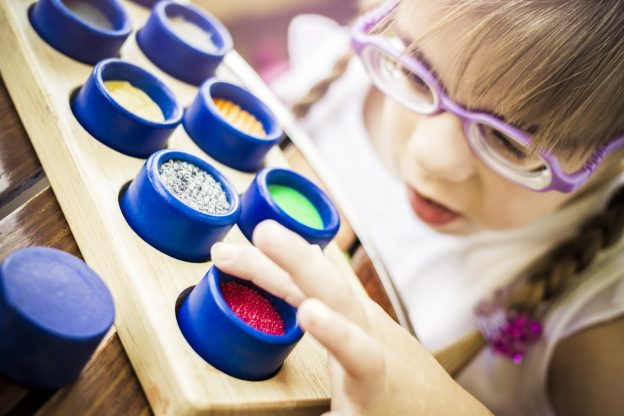 Products
5 Books for Those Supporting Individuals with Autism and Sensory Issues
Are you raising, teaching, or working with a child with special needs? This post introduces you to five wonderful books written by experts who work with individuals of all ages and abilities with various special needs, particularly autism and sensory issues. To succeed in school, young people must be supported and receive the services they need to reach their potential. Students with special needs to flourish when they have a team of committed and well-informed people working on their behalf. Parents, teachers, administrators, and therapists often make up these teams. Parents may feel intimidated when they must advocate for their child with challenges. The books I recommend in this post will inform parents and give them a boost of confidence. Educators will find a wealth of information and strategies to help their students with challenges succeed and reach their potential. These five books are valuable resources for a wide range of people who support individuals with autism or other special needs. Family members, respite providers, babysitters,
adapted physical education
specialists, therapists, residential staff, and others are among those who will find them helpful.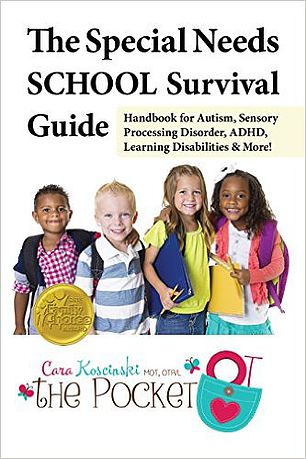 By Cara Koscinski MOT OTR/L
Packed with ideas for all things school-related, this is
the
 handbook that will answer your questions about school accommodations, working with school personnel for government-assisted programs, autism, sensory processing disorder (SPD), learning disabilities, ADHD, individual education programs (IEPs), behavioral concerns, fine motor delays, trouble with transitions, homework concerns, dyslexia, dysgraphia, and more. In her introduction, Koscinski explains that she hopes this book give readers a feeling of empowerment. She provides up-to-date and comprehensive information and a lot of strategies, always explaining the
why
 behind each technique. This book is a resource you will refer to frequently as your student with special needs progresses through school or as new needs arise or behavior issues crop up.
Read the complete review.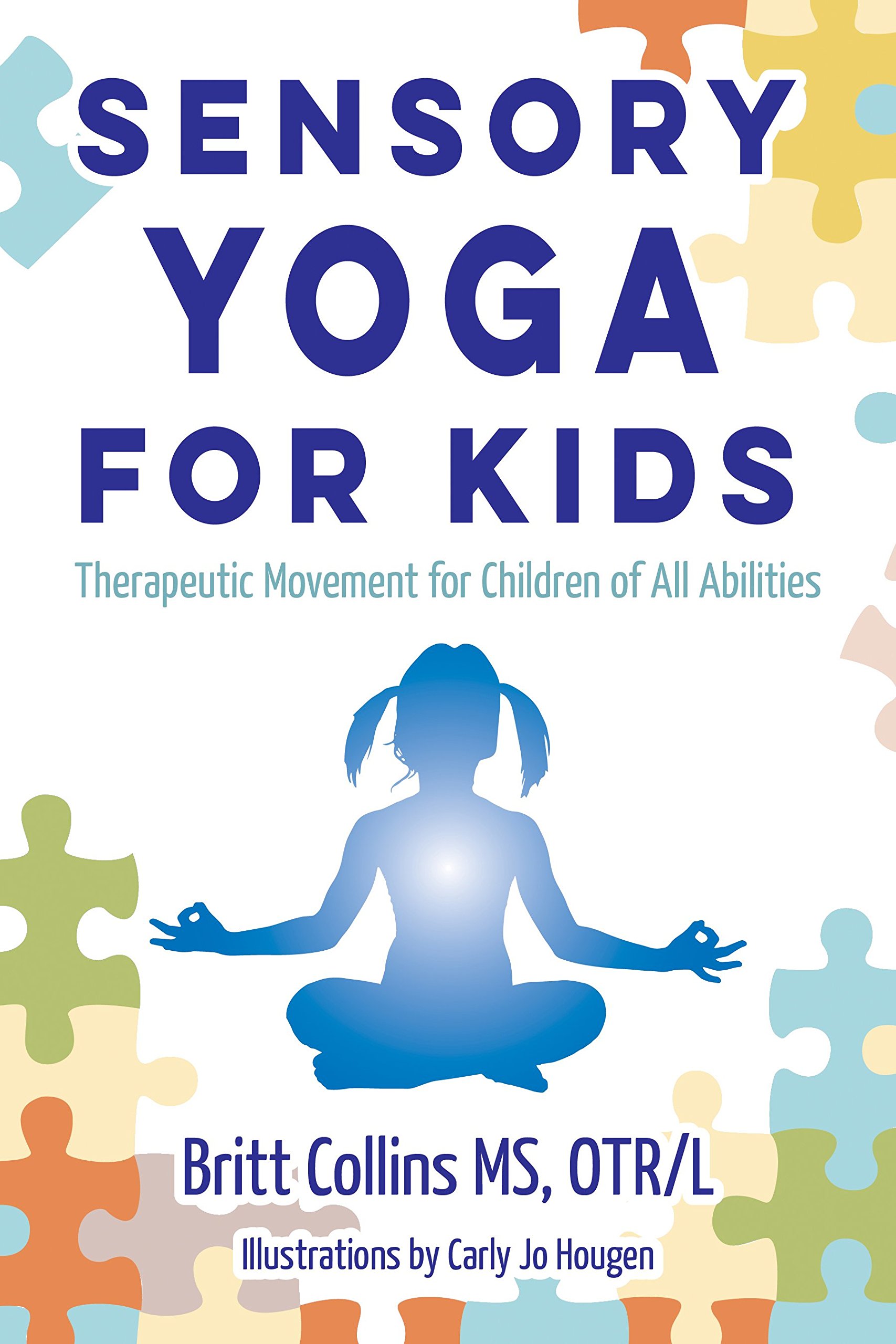 By Britt Collins, MS, OTR/L; Illustrated by Carly Jo Hougen
It is said that yoga practice is a "practice for life" — a tool that a child can turn to on the playground, in the classroom, or in any stressful situation. Everyone who reads 
Sensory Yoga for Kids 
can take away something to do immediately with the children in their lives. It can be as simple as three- to five-minute movement breaks, sensory breaks, or brain breaks that give kids a chance to improve attention and focus; chair activities; therapeutic movements; or the yoga sequences. Why is yoga so popular? It could be because it does not require equipment, tools, or a uniform. You don't need a certain number of "players" as with team sports.  It can be carried out in the home or in a classroom any time of the year, and it is inclusive. Friends, classmates, and siblings can all join in.
Sensory Yoga for Kids
is an excellent resource that will help all who are trying to make the lives of children better now and for the future. The author's professional specialties include working with children with
sensory processing disorder
,
autism spectrum disorder
,
ADHD
,
Down syndrome
, and feeding disorders. She is certified to teach yoga to children with special needs from infancy through age 12.
Read the complete review.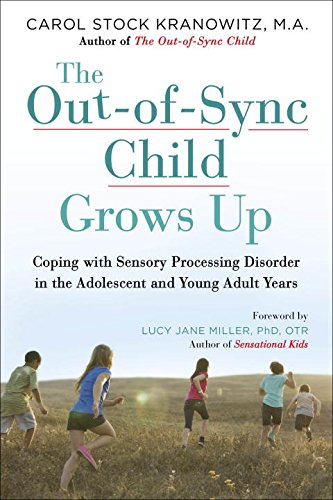 The Out-of-Sync Child Grows Up 
is the long-awaited follow-up to the million-copy bestseller 
The Out-of-Sync Child. This book
 presents information and advice for tweens, teens, and young adults living with SPD and their parents. This book picks up where 
The Out-of-Sync Child
 left off, offering practical advice on living with SPD. It covers everyday challenges as well as the social and emotional issues many young people with SPD face. Everyone dealing with SPD in the post-childhood years should read this book. Keep it handy to reread sections when you are facing particularly sensory issues. It addresses common concerns such as: • Dealing with daily activities: grooming dressing, eating, driving, sleeping • Coping with relationships: family, friends, dating, daily social interactions • Living an in-sync live: treating SPD, gaining self-acceptance, finding an OT
Read the complete review.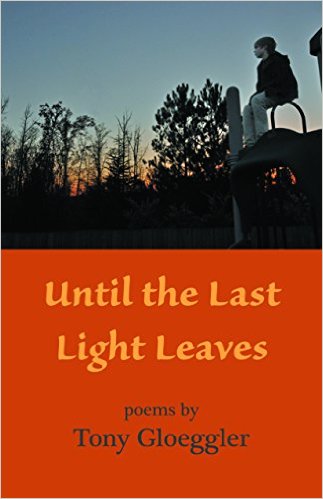 By Tony Gloeggler
Tony Gloeggler combines up his experience working in group homes for the developmentally disabled and his relationship with his ex-girlfriend's autistic son to write this collection of poems. The author explains that each poem can stand on its own; together, I believe they grow more evocative, more powerful. He feels the poems give a realistic depiction of a population that is often ignored or misunderstood. In his own way, he wanted to set the record straight, and get it down right and true. The primary audience for this book of poetry is people who live and work with, love and care for autistic and developmentally challenged folks. A secondary audience is people who read and want to be moved by what they read. Both poetry lovers and those who never imagined reading poetry might go for it too.
Read the complete review.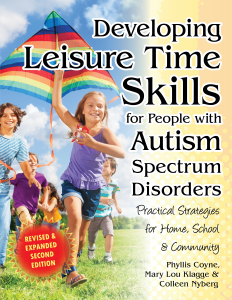 By Colleen Nyberg, Mary Lou Klagge, and Phyllis Coyne
Did you know that unstructured or "leisure" time is challenging for many individuals on the autism spectrum and those who support them? Where to turn to for help? I highly recommend this detailed guidebook. This resource should be on the bookshelves of all who love or work with ASD children and adults. It's a well-written, user-friendly guide full of structured strategies to make leisure time fun instead of anxiety-provoking. If you are the parent of an autistic child who requires your constant presence and you find even attending to your personal needs (like taking a shower) difficult, you will value the time when your child learns to enjoy activities to entertain himself safely with minimal supervision. This is a resource to be used again and again. It has practical and comprehensive information to increase the quality of life of autistics and their families by guiding them to find personally meaningful and satisfying leisure pursuits. Because of its importance to quality of life, leisure is being included more and more in individual support plans (ISPs), individualized educational plans (IEPs), and other formal plans for those with ASD. The understanding of ASD and leisure engagement has grown since the first edition of this book was published in 2000. The revised and expanded edition provides the most up-to-date information on ASD and leisure pursuits and reflects some of the major changes in the field.
Read the complete review.