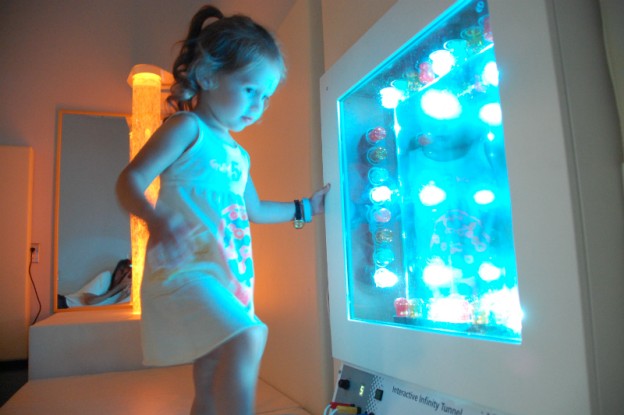 Therapy Tips
5 Things To Consider When Planning a Sensory Room
Walk into a
sensory room
 or multisensory environment and witness the effect on an individual with special or differing needs. Orienting, soothing, organizing and calming are just a few benefits of sensory room interaction. Special populations, such as those with Alzheimer's, anxiety, ADHD or ADD, Autism or Sensory Processing Disorder, may benefit from regularly scheduled sensory room time. A gym, classroom, closet, basement or office can all be used to create a sensory space that will serve your children and adults. Keep the following in mind when you get ready to set up your room:
Who and Why?
Questions you need you answer before developing your plan: What is the purpose of your room? Are you trying to create a room for alerting? A calm room?
Time-out space
? Office waiting area? Or an
action room
? Do you need assistance selecting equipment to meet the goals of your room? Is the purpose of your room to engage or do you have specific goals in mind? What age are your clients?
Where?
Look around. Do you have a space allocated for your sensory room? What is its current condition? Are there enough outlets? What about windows? Sensory rooms work best without windows and using
controlled lighting
. Is it a quiet location? It's best if your room is not near a lot of loud noises. Can users access the room easily?
Keep it Small
How many people will be using your room? A calming room works best with no more than 2-3 users at a time, though individual time is even better. In general, sensory rooms are not intended to be like gyms. They are interactive rooms that encourage engagement.
Supervise it!
Who will be in charge of your space, checking up on equipment maintenance and keeping it in order? Do they understand the purpose of the room and how to monitor or make adjustments? An orientation to those using and supervising the room is a great idea.
Budget for Your Room
Sensory rooms can range from a couple hundred to several thousands of dollars. It really depends on your environment and your goals. If you're building a budget, keep in mind that quality equipment and a company to back it up matters. A sensory room can open up a whole new world for individuals of all ages and provide your facility or home for a new way of engaging with the environment and the outside world.