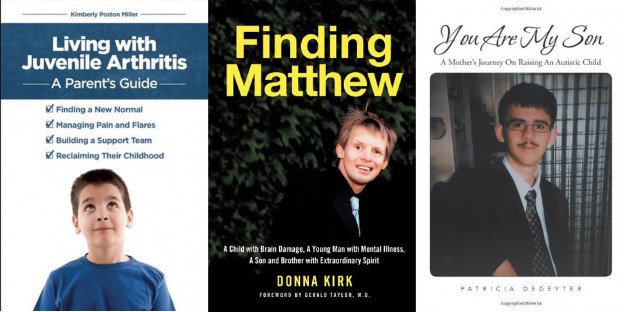 Products
Three Special Needs Books They Wished They Had Years Ago
How often do you hear an author say, "I wrote the book I wished I had when my child was first diagnosed"? The three books I recommend this month are written by mothers who raised children with special needs and thankfully, for all the other parents like them, they have channelled their hard-earned knowledge and experience into parenting guide books. These books are motivational, inspirational, and each tells a moving story of raising a child with special needs to adulthood. The authors hope that their journeys  will help others chart their own path with an easier route. Despite your child's diagnosis, each author has tips on making your child's life and your family life better. Their messages inspire others to maintain a positive attitude despite their struggles and hardships. Parents will find advice how to manage the day-to-day issues, how to navigate the healthcare system, the education system, and the insurance systems.  Most of all they will find hope knowing they have a resource that will guide them to find support and services.  They will find strength knowing others travelled this route and that they can also.
-By Patricia DeGeyter The author describes their family's sometimes challenging journey raising an autistic child to adulthood. Matthew is now a high functioning autistic young man who was on his high school spell bowl team for all four years. During those years he helped them win three state championships but during his childhood it did not seem possible that all this would happen.
Patricia DeGeyter explained in our interview
, "It was very difficult when Matthew was a young child. He was non-verbal and screamed and cried on a constant basis, mainly if things did not go his way. He never wanted to be held, he always pushed us away and preferred solitary play. At this point, we were also seeing very odd playing behavior. I knew in my gut that something was seriously wrong but we could not pinpoint what it was. I just knew that we were living in two different worlds and immediately had him evaluated. When my Matthew was diagnosed in 1995, we had never heard of autism. That is when my journey started. " Readers with autistic teens in high school will be able to relate to Matthew's challenges to fit in. Matthew's high school years were difficult because of the large size of the high school and the crowded hallways with too much noise.  He felt lonely and isolated with no friends. He was made fun of and it appeared that hardly anyone wanted to accept him. Learning how to communicate appropriately with others was still challenging to Matthew. If you are raising a child with autism, you will appreciate this book.
Read the complete review.
-By Kimberly Poston Miller Kimberly Poston Miller offers hard-earned wisdom seasoned with hope and encouragement to parents and caregivers of children with pediatric rheumatic conditions everywhere.  She is the mother of two children who live with juvenile arthritis (JA) and other related autoimmune conditions. She wanted parents to have a compiled resource  with valuable information and support to families all in one place. She wanted a go-to parent's guide for all the things your doctor doesn't tell you, from how to travel with medically necessary liquids to dealing with family members and friends who do not understand what your family is going through. Her book shows how JA affected her children's lives, what it was like living with the disease and does not only address the medical condition. While some of the information is very specific to JA, some of the topics and discussions covered in the book easily translate for other chronic childhood illnesses. Coping with grief, maintaining healthy family relationships, navigating the insurance system, how to perform effective medical Internet searches, securing a solid education despite medically related absences, and raising a well-adjusted child are all topics that parents of any chronically ill child can appreciate.
Living with Juvenile Arthritis
can also be a tool to educate friends and family about the challenges special needs families are facing, a difficult concept to convey when some children often "don't look sick." The book also has sections about what TO say and what NOT to say to give families a non-confrontational way to express these sentiments to those close to them. When extended family and friends have a true picture of what families raising children with special needs are facing, they can become a much better support system, which is essential for maintaining healthy relationships.
Read the complete review.
-By Donna Kirk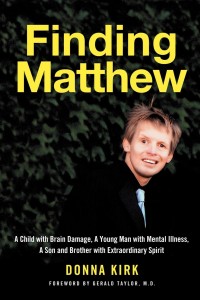 Finding Matthew
will appeal to families and friends of children with disabilities and to anyone who loves children and loves to see how, despite overwhelming odds, one child thrives and finds a place of respect and admiration in a world where brains, money and social position are the gold standard. Donna's son Matthew was born brain-damaged as a result of oxygen deprivation. At the time (1970) Donna and her husband were advised by doctors to put Matthew in an institution, have another baby as soon as possible, and get on with their life. Needless to say Donna and her husband did not take that advice. Donna's book,
"Finding Matthew"
tells the story of Matthew's life from birth to age 40 (Matthew passed away in 2010). Despite the physical and developmental challenges he faced, Matthew became an inspiring young man who achieved much (including learning to swim aged two, and eventually holding down a paid job delivering newspapers), and brought delight to those who knew him. Matthew never learned to speak. He communicated his needs and wishes by using some universal signs and by employing signs that he improvised himself. Matthew had a severe
pica disorder
. Pica disorder, a compulsion to ingest inedible objects, held Matthew and his caregivers hostage. His particular affliction seemed to follow rage episodes which occurred randomly throughout the year, the cause, unknown. Matthew required many surgeries to remove pens, pencils, whole toothbrushes and pocket combs from his stomach. Countless medications were tried to alleviate this compulsion to no avail.
Finding Matthew
is an emotional book and yet at times it is laugh out loud funny. It is filled with deep resolve and hope in the face of adversity.
Donna Kirk stated in our interview with her
, "Matthew was the inspiration of my life. He made me think deeply about the plight of people whose circumstances are beyond their control. He changed my perspective of what's important. He added a value to my life that I would never been able to learn through reading a book, buy in a store, or imagine. In fact, I believe people with differences are the only ones who can change the world."
Read the complete review.