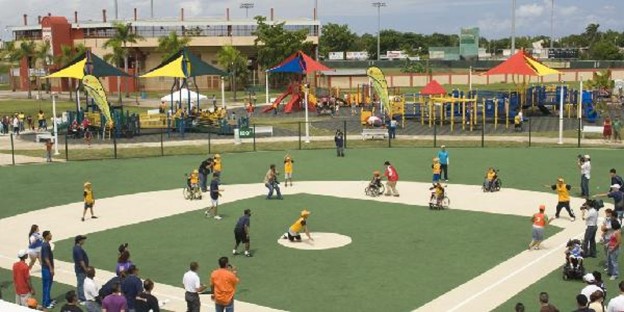 Therapy Tips
10 Types of Recreational Therapy to Help Your Child with Special Needs
If you've been singing the therapy blues, maybe it's time to try a different tactic.  Maybe it's time for therapy to become fun. Recreational therapy is based on the idea of increasing a person's independence and ability to function through participation in creative arts, dance, sports, adventure programs and puzzles or logic games.  It is a holistic approach to wellness. According to the
American Therapeutic Recreation Association
, recreational therapy "aims to improve an individual's functioning and keep them as active, healthy and independent as possible in their chosen life pursuits."  In most cases, these goals are accomplished by combining a person's speech, fine motor or gross motor goals with community involvement, while engaging in the person's preferred interests.
Here are 10 types of recreational therapy that can improve the quality of life for you or someone you love.
1. Therapeutic horseback riding
Learning how to ride a horse challenges multiple muscle groups, provides tactile and vestibular sensory input and increases a person's awareness of social and environmental cues. Therapeutic horseback riding involves individualized riding instruction with specific therapeutic goals, along with lessons in safety and grooming to nurture the relationship between a person and a horse. Because some therapeutic riding centers are non-profit organizations, the cost is often subsidized.
Life Horse
in Michigan offers lessons for $25 and
Rainbow Riders
in Illinois charges $20 per lesson, with scholarships available. Hippotherapy is another type of equine therapy with a specially trained horse and rehabilitation therapist. The therapy sessions use the natural movements of the horse as a treatment for physical therapy, occupational therapy and speech therapy goals. A physician's prescription is usually required for hippotherapy, and hippotherapists are licensed in another field such as psychology, social work, speech pathology, occupational therapy or physical therapy.  For more information, contact the
American Hippotherapy Association
.
2. Adaptive swimming
Swimming is probably the most popular form of recreational therapy, because of the emphasis on safety, benefits for sensory integration, accessibility and opportunity for a vigorous, low-impact workout.  Many cities offer adaptive swimming lessons through the parks and recreation department, and private one-on-one lessons for all abilities are available at most public pools.  Expect to pay about $25-$30 for a 30 minute private lesson. I recommend visiting the pool before signing up for lessons to find out if it has a wheelchair lift or zero-depth entrance and what the typical pool temperature is.
3. Miracle League
The
Miracle League
gives children and young adults with disabilities the chance to learn how to play baseball. There are more than 250 Miracle League organizations in the USA, Puerto Rico, Canada and Australia.  Many local organizations have accessible fields for both competitive and non-competitive leagues. 
Here's a photoessay
that highlights the success of the Friendship Circle's Miracle League. Another option for baseball is the
Little League Challenger Division
.
4. Special Olympics
The
Special Olympics
is an international sports organization for children and adults with intellectual disabilities.  Each local organization has volunteer coaches for several seasonal sports leading up to regional and national competitions in the winter and summer.
5. Art therapy
An art therapist is a mental health professional who uses an individual's innate creativity, usually in the visual arts, to develop social skills and self awareness and to manage behavior and emotional conflicts. The
American Art Therapy Association
explains, "A goal in art therapy is to improve or restore a client's functioning and his or her sense of personal well-being. During individual and/or group sessions art therapists elicit their clients' inherent capacity for art making to enhance their physical, mental, and emotional well-being."
6. Music therapy
When my son was in music therapy several years ago, his therapist incorporated his speech, OT and social-adaptive goals into every session, at about half the cost of OT.  Some of the goals they successfully achieved included eye contact and visual tracking, verbal requests, conversational exchanges, singing, matching rhythms and patterns, turn-taking, and fine motor manipulation of musical instruments.  Sometimes music is just the right motivator!  The
American Music Therapy Association
can help you find a local music therapist.
7. Pet therapy
If you have a disability or medical condition, then you are eligible for
free home visits
from a certified therapy dog and trained volunteer handler.  Each visit will be tailored to your unique needs. Alternatively, you may wish to choose a pet for therapeutic purposes.  Caring for a pet is a great way to develop memory skills, life skills and social skills.  Here is a guide to choosing a pet for therapeutic needs. 
How to choose the right pet for a family with special needs
8. Vision therapy
Vision is a complex process that coordinates muscles, cognition and perception. Difficulty with visual motor control can lead to problems with reading, learning and executive function skills.  
Vision therapy
, under the guidance of a developmental optometrist, can help remediate visual motor skills. Vision therapy exercises include mazes, red/green glasses, prism glasses, logic games, reading comprehension exercises, optical illusions and brain teaser games and other activities that challenge a person to understand and follow what they are seeing.
9. Dance
Dance and creative movement provide physical challenges in a structured, supportive environment for sensory integration.  The intimate connection with music often makes dance feel less like exercise or physical therapy and more like leisure.  Some dance studios are non-profit organizations that offer low-cost lessons for students with disabilities, such as 
Kennedy Dance Theatre
in Texas.
10. Adventure programs
Last summer I took my children to a high ropes course, and I learned firsthand the therapeutic value of adventure programs for physical therapy, communication skills and emotional development. When you're on a rope 20 feet in the air, self-awareness is all you've got! The
Tikvah Program
at Ramah Outdoor Adventure in Colorado is a 2 week overnight adventure camp for children and teens with mild to moderate disabilities. Campers learn survival skills, rock climbing, horseback riding, mountain biking, ropes course and traditional camp activities. Tikvah aims to help campers build their Jewish identity while also building independence.
Adam's Camp
, also in Colorado has both day and overnight adventure programs for children with disabilities.  The programs have a therapeutic focus in all activities, such as rock climbing, horseback riding, swimming and canoeing.
Many other types of recreational therapy are not listed here.  What is your favorite recreational therapy?