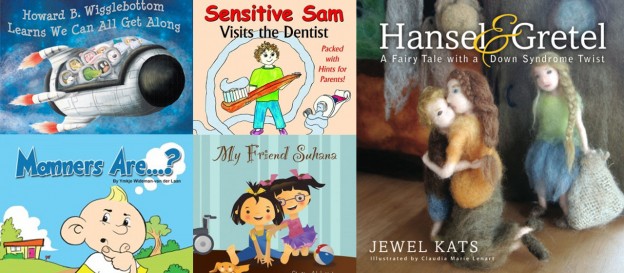 Products
5 Beautiful Picture Books That Educate Children About Special Needs
Are you a teacher or a parent looking for a resource to help foster understanding and acceptance of children with disabilities? Books are a wonderful tool for parents to use to teach their children about the world around them and the many different children they might meet in their neighborhood, school, or community. The children's books I recommend this month are books that entertain and educate. When children are having fun sharing a book with a caring adult, what they learn is most apt to be remembered. Caregivers should take the time to carefully choose children's books that address a need in their child's life or a lesson they want them to learn. Sharing a book with a child opens the doors to great discussions on topics that would be difficult to approach any other way. Parenting is often difficult; therefore, harness the power of storytelling to help improve your children's behavior. Children often identify with the main characters in books, so what better way to learn how it is growing up in some other child's shoes, or wheel chair, or in a home with a sibling who has special needs?
-by Howard Binknow and Reverend Ana This is the 14th book in the Howard B. Wigglebottom series of children's books. These picture books help 4-8 year olds be better listeners, learn important life lessons and feel good about themselves. Each book teaches a lesson that children need to become good friends with siblings, friends, and classmates.
Howard B. Wigglebottom Learns We Can All Get Along
is a picture book that shows young children how to live in harmony. This book teaches that to be a good friend and get along with others one must follow these rules:
Everyone has a chance to have a say.
Everyone needs to have a turn.
Everyone gets a chance to be right.
Everyone must apologize when needed.
Tips and lessons are included on the last pages of the book where readers are also invited to visit
The We Do Listen Foundation
 web site. Here, children can enjoy the hardcover/paperback stories once more on a different medium by watching the animated books and listening to the lively songs that go with each book. Every book in this series is educator and grandmother approved!
Read the complete review.
-by Marla Roth-Fisch Kids with sensory issues have many hurdles in life. For children with sensory processing disorder (SPD), going to the dentist is particularly daunting. Marla Roth-Fisch, a mom of a child with SPD, has just written and illustrated a second children's book about her character, Sensitive Sam. By reading the interactive story describing Sam's visit to his dentist with their children prior to the appointment, children know what to expect and remain calmer during their own appointments. It is a wonderful book to be read and discussed with kids at home or at school and it is also a resource for parents and other caregivers with practical advice from dentists and orthodontists specializing in children with special needs, and stories and tips from parents who have kids with sensory issues.
Read the complete review.
-by Ymkje Wideman-van der Laan The author is the grandmother of a young child with autism and her target audience is children on the autism spectrum but all children can benefit from the lessons found in this wonderful series of children's books. A
Good Manners Chart
and a
Good Manners Certificate
are found at the end of the book. These are good incentives and a visual way to reinforce particular manners that you and your child are focusing on. Here are the other books in this series:
Read the complete review.
-by Shaila and Aanyah Abdullah The authors, a mother and daughter, want to encourage friendships between mainstream children and children with special needs. This book also provides tips and tools for both children and parents of children with special needs who often find it hard to explain their children's disability to other children. The story is about a little girl who forms a close bond with a girl who has cerebral palsy. The little girl finds that through her art, she can reach her special friend Suhana.
My Friend Suhana
is targeted for children ages 6-8 years. The team behind this book has to be congratulated not only on their wonderful book but also for their eye-catching and informative web site
Read the complete review.
-by Jewel Kats This adaptation of the classic Grimms' tale includes the wicked witch and the poor siblings in search of food; but in this version Jewel Kats' main character, Hansel, is a mischievous, yet courageous, five-year-old boy with Down syndrome. Young readers will learn that:
 Children with Down syndrome are capable and can achieve extraordinary success with determination.
  An act of kindness can transform people and the world.
  Treating people like family can create a miracle.
  People cannot be judged by appearance; a princess or a hero can be hidden within.
  Facing a challenge can lead to unimaginable rewards.
Read complete review here.