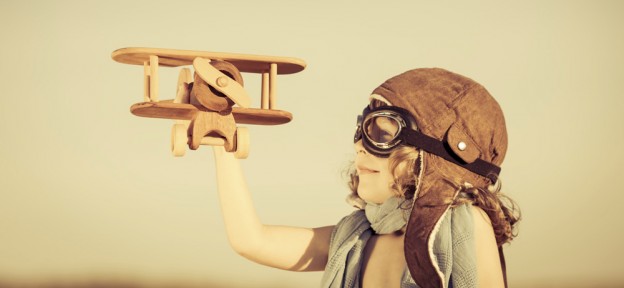 Resources
15 Airports That Offer "Rehearsal Programs" for Individuals With Autism
Flying. It's something we take for granted these days. 40 or 50 years ago flying was an experience. You prepared for it, you wore nice clothes, you told all your friends that you would flying on an airplane, It was an event. Today... Not so much. Flying is almost as pedestrian as taking a bus ride. No more fun or excitement, just part of the routine. For children with autism and other special needs Flying is still an event. The change in routine, the noise, the unfamiliar surroundings, the crowds all contribute to an overwhelming and overstimulating experience that can cause some major meltdowns.
Flying Rehearsal Programs
Taking a child with autism on a plane requires some
advanced planning and preparation
. Thankfully there are now programs in place at many airports that
that provide children with autism a flying experience without ever lifting off the ground. Participants pack their bags, ride to the airport, pass through security, and continue through the whole flying process including boarding, "flying" and deplaning. 
These "dress rehearsals" help to prepare individuals with autism for
flying
. When the time comes children with autism will know what to expect and the environment will not be as foreign to them. Hopefully over time the experience of flying will become as pedestrian as it currently is for most of us. Here are 15 airports currently offering a Airport Rehearsal Program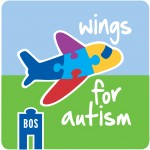 The Wings for Autism program at the Boston Logan International Airport is designed to help ease the stress of families that are flying alongside children with special needs. This program sets up a "dress rehearsal", in order to help families sample what their traveling experience will be like before the actual trip. This event is held twice a year.
The Arc of King County, the Port of Seattle and Alaska Airlines are teaming up for another Wings for Autism event. The program provides families with the opportunity to practice entering the airport, obtain boarding passes, go through security and board a plane. Wings for Autism is an airport "rehearsal" specially designed for individuals with autism spectrum disorders, their families and aviation professionals.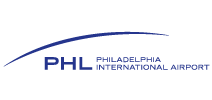 Philadelphia International Airport (PHL) has collaborated with autism specialists to develop the Autism Access Program. 
This program provides opportunities for children with autism and their families to become familiar with traveling through PHL, and includes 
Social Stories™
  by Carol Gray  and a simulated airport experience. Family members with children with autism and airlines interested in participating in this Program may contact the following for more information: 

[email protected]

.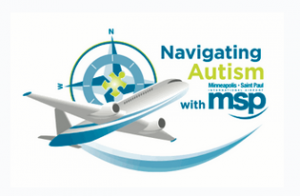 Many families who have children with autism avoid flying because they are unsure how their children will respond. In an effort to ease the anxiety associated with an airport visit and flying, the Metropolitan Airports Commission (MAC), Fraser and the Autism Society of Minnesota (AuSM) have teamed up to create the Navigating Autism program.
The program includes monthly events, all designed specifically for individuals with autism, that guide families through the steps 
of an airport visit, from walking in the door to finding their seats on a plane.
Blue Horizons for Autism provides families the opportunity to practice each part of the airport experience, in order to help individuals with special needs adjust to air travel. Families first began by checking into the airport and picking up their boarding passes with departure times and gate numbers. They are then led through TSA security and have the option to either sit at their gate or explore the terminal. Once all passengers have boarded the plane, the plane departs from the gate and circles the airport before "landing" and returning back to the gate.
The Newark International Airport offers an Autism Training Program, which allows kids with autism to transition into becoming more comfortable with air travel. The training program allows kids to explore each step of the traveling process, beginning with checking in and receiving their boarding pass.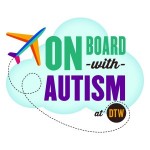 The Autism Alliance of Michigan has partnered with the Wayne County Airport Authority and Delta Airlines in creating the program "On-Board with Autism". The program offers a simulation program for families and their kids with special needs to experience, in order to become more comfortable with air travel and the social encounters that are entwined with it.
On Friday, October 10, Wings of Autism is coming to the Phoenix Sky Harbor International Airport, in partnership with Southwest Airlines, American Airlines and Arc of Arizona.
Through a collaboration with Emory University's Autism Center, Hartsfield-Jackson and AirTran Airways, Hartsfield-Jackson International Airport has created a program in order to assist individuals with special needs with becoming comfortable with flying. Although the project is still in it's "Pilot Phase", the airport helps to make this a regular program to help more people become comfortable with both the airport and aircraft experiences.
On Saturday, November 1, Wings for All is coming to the Dulles International Airport.
On, November 8, Wings of Autism is coming to the Washington D.C. Ronald Reagan National Airport, in partnership with American Airlines.
Wings for Autism is now in partnership with the Tulsa International Airport, Southwest Airlines, Transportation Security Administration, BlueStone National Resources and TARC
On October 25, Wings of Autism is coming to the Piedmont Triad International Airport, in partnership with The Arc of Greensboro, The Enrichment Center, Arc of High Point, the Autism Society of North Carolina and Delta Airlines.
Wings For Autism launched their program at the Manchester Boston Regional Airport in partnership with The Charles River Center, Southwest Airlines and the Transportation Security Administration. The training program allows kids with Autism and their families to explore each step of the traveling process,beginning with checking in and receiving their boarding pass, and ending with a landing simulation on an aircraft.