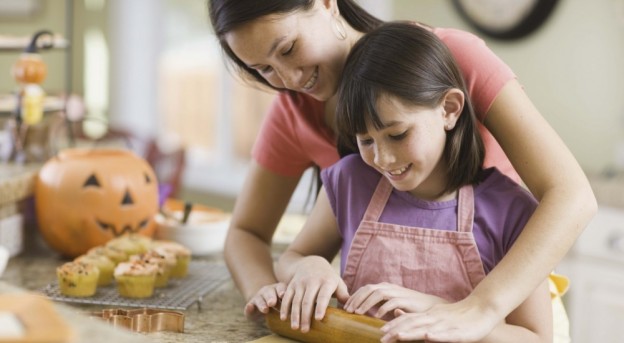 Resources
5 Ways to Make the Fall Baking Season a Language Rich Sensory Experience
The Fall Season is my favorite time of the year to bake. When September arrives, it makes me think of apples, pumpkins and the smell of fresh cider. There is nothing like bringing home fresh apples ready to eat or baked into a delicious
pie
,
muffin
,
granola
 or batch of
applesauce
. Pumpkins are delicious cooked into a soup, baked into a bread,
added in doughnut holes
 or added to
muffins.
Picking Apples
When going apple picking with your child, teach them the different types of apples such as Granny Smith, Fuji, Gala, etc. If you don't have the opportunity to go apple picking, visit the local supermarket and talk about the different types of apples and how they are same, different, etc. Discuss how apples grow and how they are different from pumpkins. Read a carryover picture book such as
Apple Pie Tree by Zoe Hall
, or
Apple Farmer Annie by Monica Wellington
.
Picking Pumpkins
If you are able to go pumpkin picking, discuss the different sizes, textures and shapes of the pumpkins and gourds. Some questions to bring up with your child can include:
Which pumpkin is the heaviest?
How do pumpkins grow?
What do they taste like?
What color are they?
Which pumpkin is your favorite and why?
Below are some ways in bringing these foods home and making it a language rich experience with some sensory exploration!
1. Make applesauce!
After peeling and cutting up the apples and letting them cook with some cider, have your child mash up the apples with a masher. With clean hands, let your child feel the texture of the applesauce and describe it to you. If your child likes a chunky applesauce, leave it as is. If they like a smoother applesauce, puree it in the blender with some water or apple cider.
2. Have Playtime!
When cutting a pumpkin up to either use for baking or making a jack o lantern, let your child play with the pulp and seeds. Clean off the seeds and roast them with some added salt and your own spices. Encourage language by counting the seeds, describing the texture of the pulp and seeds, etc.
3. Encourage discussion!
Buy some gourds at the grove at your local market. Let your child experience the different textures, colors and sizes of the gourds. Gourds are all different colors and textures which makes them an ideal activity for commenting, labeling, and conversation. Encourage language by commenting and asking your child to describe their gourd. Many gourds are not edible but can be a great table decoration for a Fall meal including Thanksgiving.
4. Play with Fall Smells!
Experience the different spices by having your child smell the cinnamon, ground allspice, ginger and all of the typical spices of the season. Encourage your child to describe the smell of the spices (e.g. spicy, sweet, warm, etc). If your child likes a particular spice, have them add it to their favorite baked good. Add a stick of cinnamon to apple cider or applesauce.
5. Make apple prints!
To see how to make apple prints,
follow directions here
. Encourage language by having your child comment what color they are using, the size of the apples, etc. Be creative with this activity by using a variety of paint colors, variety of apples, etc. To make the apple prints edible, 
check out this article here
.