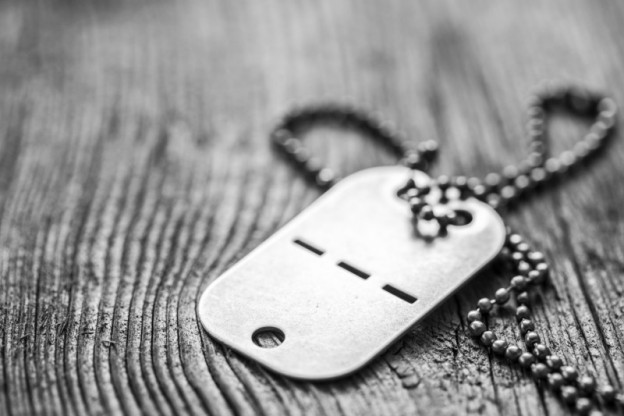 Products
10 Medical Alert Options For Families With Special Needs
First responders know that every second counts. But in an emergency situation, a person with a disability may be unable to speak for him or herself, and the caregiver may become incapacitated, too.
A person's behavior or presentation of symptoms can easily be misinterpreted by first responders. A medical alert bracelet or necklace can provide crucial information for first responders to make sure that the right care is delivered at the very moment when it's needed the most.
An increasing number of physicians now recommend medical alert jewelry to patients of all ages with all types of disabilities.But there are so many different medical alert choices - some come with added services, such as contacting the primary care physician and family members. Others are engraved with minimal information for privacy reasons. Here are ten different options to consider when purchasing a medical alert bracelet or necklace.
MedicAlert is a non-profit membership organization that coordinates medical information and emergency support in 10 countries. Members may simply purchase a medical ID tag or choose a subscription to a medical information service or even purchase the Lifeline, an emergency call button that can be worn as a necklace.
Basic medical information is engraved on the ID tag, and more detailed information is stored at the MedicAlert database, which can be accessed 24/7 by healthcare providers. Memberships start at $40 per year, but if a person with special needs cannot afford a subscription, he or she can apply to receive a subscription at no charge.
Recommended by my son's physician, Bodyguard ID has stainless steel, sterling silver and gold-plated tags engraved with relevant medical information. These tags are designed to be worn at all times, even in the shower and at the beach. Prices start at $27.
3. Handcrafted
[caption id="attachment_19228" align="alignright" width="200"]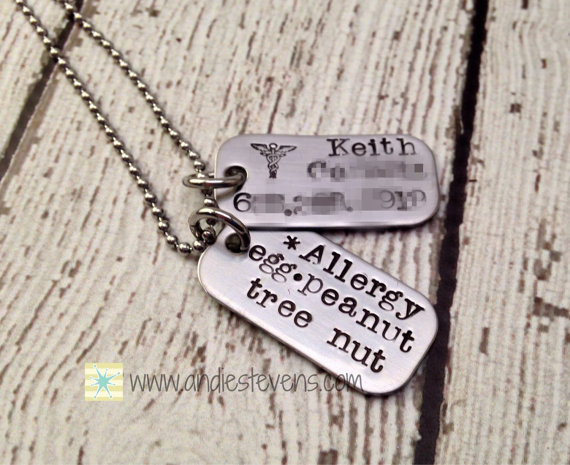 Photo used with permission from Andie Stevens Designs[/caption]
Many handcrafters offer a personal, artistic touch to medical identification tags.For example, Andie Stevens Designs makes customized, hand-stamped stainless steel tags starting at $24 for a pair of tags on a chain.
4. QR code
If you prefer not to make personal information readily visible, MyID Band have a QR code that can be scanned by a smart phone. The code links to an online medical profile with detailed information for first responders. The bracelets start at $20.
5. Fabric bracelet
Some people have an aversion to wearing something around the neck, so a fabric bracelet with an engraved metal tag is a more comfortable choice. For $13, I selected a nylon bracelet for each of my children with an engraved aluminum tag from www.make-a-tag.com. The tags have all the necessary information, but there is no information storage service.
6. USB bracelet
Some bracelets have a built-in USB drive that contains relevant medical documents. This can be plugged into any computer so that the information can be shared immediately with health care providers. The USB bracelets at Universal Medical Data cost about $45.
7. ID on Me
A few bracelets have a waterproof compartment for private medical information. ID on Me bracelets come with a slip of waterproof paper that fits perfectly inside the bracelet's compartment for just $14.
8. Silicon bracelet
Starting at $8, silicon medical alert bracelets are an inexpensive choice. Some bracelets, like these at Lauren's Hope, come with a white space inside the bracelet for writing additional information. Silicon bracelets may need to be replaced once a year due to wear and tear.
9. Temporary Tattoo
Tattoos With A Purpose offers several different types of temporary tattoos for $1.29 each, including allergy alert, in case of emergency and lost-and-found. The tattoos have to be replaced every few days, but may be ideal for a vacation or summer camp.
10. Keychain or wallet card
A keychain or wallet card with medical information is less likely to be forgotten when away from home, but they're not as easily visible as jewelry. But wallet cards can be printed for free from sites like Hope Paige, and keychains are available for as little as $4.50.
What is your preferred medical alert option? Has it worked well for you?