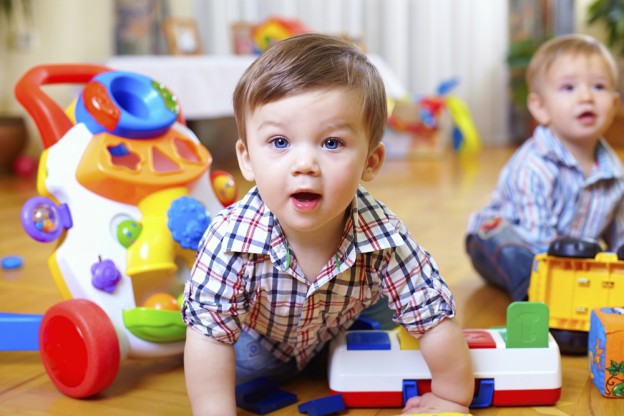 Products
5 Books that can Teach New Parents about Child Development
The five books I recommend this month are great for parents, caretakers, and educators working with infants to children aged ten. These resources were written by autism specialists, and occupational therapists who are experts in their field. Most of the games and activities are easy-to-do, enjoyable, and require only simple things that are found in many homes with children. Many parents of infants and young children are probably doing a lot of what the authors of these books and activity cards suggest. However, reading about it will give them a boost of confidence and a sure path to follow for the rest of their child's formative years. In her book,
Your Child's Motor Development Story
, Jill Howlett Mays MS, OTR/L writes, "Equipped with the knowledge of how to stimulate your infant and enhance his development, you will find ample supplies in your current household environment… When simple activities are coupled with actual time that you spend together engaged in play, a very happy and proficient child emerges, and the bond between you will strengthen."
By  Barbara A. Smith, OTR/L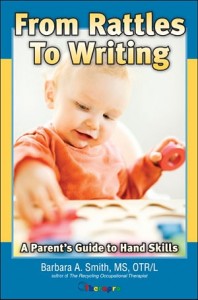 This parenting guide has all parents need to do, how to do it, when to do it, and why do it. Barbara Smith's fun sensorimotor activities that get your child moving and touching helps your child's brain to organize sensory information and learn. The gross motor skills and fine motor skills your child learns in the first five years will promote the visual-motor skills necessary for writing and reading. Barbara's parenting guide to hand skills takes you from birth to 5 years. We could say from cradle to kindergarten, from cooing and babbling to reading and writing. The activities were created for typically developing children but with the many suggestions on how to simplify or adapt the activities, it is also good for children with learning delays. If your child has delays in his development, going back to activities in this book for children of a younger age would be good. Throughout the book there are four different headings with symbols to indicate one of the following learning opportunities.
Suggested Toys—will promote visual, sensory, and/or motor skills.
Make Your Own—making your own toys increases the opportunity to adapt the toy to your child's needs.
Fun Activities—teach specific skills but in a fun way.
Music—indicates a song or dance to teach movement and language concepts. The lyrics are also provided.
Read complete review of From Rattles to Writing
By Joye Newman and Carol Kranowitz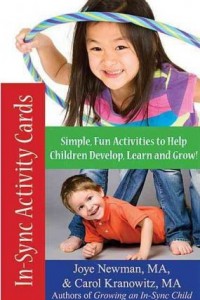 Based on their book
, Growing an In-Sync Child: Simple, Fun Activities to Help Every Child Develop, Learn, and Grow
, these cards are also for ALL children of all abilities. And the same high quality standard you are accustomed to find in other Newman and Kranowitz  products is found in this small box of activity cards. Each card is a complete lesson plan and tells you why and how the activity works, what you need for it, ways to make it more challenging, and what to look for.
Customizable activities:
The authors have included in each activity ways to adapt the movement experience to suit your child's specific needs.  They invite parents to be creative and invent  more activities to help children develop the particular skills they need. The activities do not have to be done in a certain sequence and the three skill levels are just flexible guidelines. You can jump from one level to another.  Just keep in mind your child's abilities, preferences, and needs. Be sure it is FUN! The first five cards have a Table of Contents, an explanation of how to get started, helpful hints to make the activities more successful, and an awesome card,
Get In Sync—in Seconds
! This last card lets YOU design different and FUN activities in an instant using their well thought out plan. You just change one word from one of their seven columns and your child has a new, challenging activity. The combinations are numerous assuring days and days of well planned activities by two experts. This is only the bonus card and you have fifty others to choose from! Joye Newman and Carol Kranowitz motivate parents to play with their children by saying, "Remember—it takes only a few minutes each day to give your child moving experiences that will last a lifetime."
Read complete review of In-Sync Activity Cards.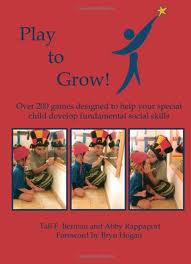 By Tali Field Berman and Abby Rappaport
The authors have left nothing to chance in this simple, user-friendly, spiral –bound manual.  The manual is very well designed with games and activities that are easy to prepare and that are to be played in your own home. The supplies required are not expensive and can be reused. The goal is to make your interaction with your child fun and exciting so your child is asking for more play time with you.  The purposefully designed games will help your child grow to his fullest capacity in the area of social development. The authors write, 
"Above all else, make your play fun. Use your play to create a deep and meaningful connection with your child, because ultimately, there is no skill more important than your child's desire and ability to connect with another person. Achieving this close connection will open many doors, and it is from this desire that all other skills will grow.
The games are fun for any child. Adaptions/variations are given so you can customize the games to fit your child's needs and interests. For example you will find many useful tips for children who are easily distracted. The most common motivators used are slapstick, anticipation, music, and physical stimulation. The games focus on the four fundamentals, eye contact, communication, interactive attention span, and flexibility.
Read complete review of Play to Grow!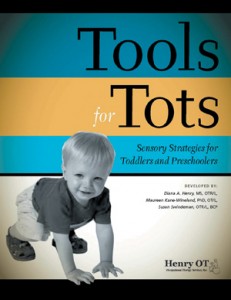 By Diana A. Henry, MS, OTR/L, Maureen Kane-Wineland, Ph.D., OT/L, and Susan Swindeman, OTR/L
Be a proactive parent and learn strategies you can use throughout the day to facilitate life skills all children need.
Tools for Tots
addresses dressing, eating, grooming, using the potty, bathing, socializing, and more. You'll find activities to help young children who are sensitive to noise or touch, prone to meltdowns, anxious about transitions, overwhelmed by crowds, and for those sensory seekers who are always "on the go". Their two page
Introduction
answers what, why, where, when, and how to use
Tools for Tots
. The sensory strategies suggested are not meant to replace private therapy with an occupational therapist but to supplement and enhance the help your child requires to overcome his inability to feel "just right" in his environment and his difficulty to participate in day-to-day activities. Sensory challenges can co-exist with many diagnoses such as autism spectrum disorders, Down syndrome, cerebral palsy, attention deficit disorders, etc. therefore, the suggestions in
Tools for Tots
can be beneficial to many families. Individuals differ in their sensory preferences for calming, waking, focusing, etc.
Tools for Tots
has a page that can be reproduced called "
My Tot's Tool Chest
" which parents fill out to give to others who care for their child. This list will identify the activities called "TOOLS " that your child prefers to get him engaged, play, and learn most effectively.
Read complete review of Tools for Tots.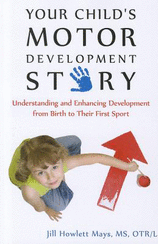 By Jill Howlett Mays MS, OTR/L
Ms. Mays' parenting advice on  motor development helps children in various ways. They will be calmer, happier, and confident. This feeling of well being will show itself at home, in preschool, on the playground, and at school in the classroom and gym. Jill H. Mays guides you through each developmental stage of your child. She focuses on the appropriate forms of play that are most beneficial to your youngster's sensorimotor development.
Your Child's Motor Development Story
is for all parents! It serves as a guide for normally developing children, as well as those who struggle with sensorimotor development. For the parents of special needs children, Mays' case studies and well explained
Recommended Activities
will give them encouragement and a road map to help get their child on track. They will read what can be accomplished and if their child has missed out on early intervention strategies they will know the value of seeking professional help. From the moment you hold 
Your Child's Motor Development Story
, you are impressed with its high gloss, quality paper for the cover and each page. Flip the pages and the color coded chapters, tables, photo captions, and charts stand out.  Over eighty bold color photographs of children highlight and bring added clarity to many topics. Each long photo caption supports and adds valuable tips. Throughout the book, the author has used well organized tables for summarizing content.  Every few pages, as each topic ends, you find 
Recommended Activities
 in bullet form. Jill Howlett Mays has made this book so user friendly that after reading it once it becomes a resource book busy parents can easily refer to for years to come.
Read complete review of Your Child's Motor Development Story.