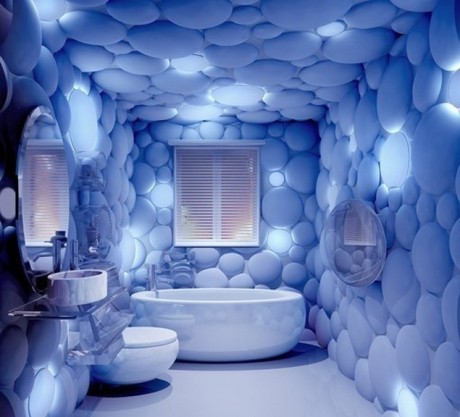 Resources
31 Sensory Friendly Upgrades For Your Bathroom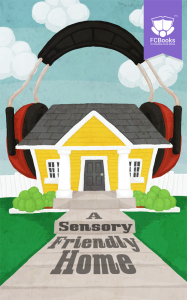 If this post interests you, check out our newest E-book: A Sensory Friendly Home. 
This e-book is full of the ideas that were researched, experimented and dreamed of a sensory-friendly home – some are small changes and some are large projects.  But everything has the same purpose: to make sure that a family grows together.  That's what makes a house a home.
How to make your bathroom sensory friendly
Bathrooms can be a terrifying place for a highly sensitive person for many reasons:
the sharp echo of sounds on tile surfaces
bright lights reflected on mirrors
the cold floor
the shock of water touching the skin
the sense of instability while stepping in and out of the bath
the physical discomfort and mess of using the toilet
the hard toilet seat and hard bathtub pressing against skin
loud toilets and running water
disorientation from shivering while trying to dry off
I think that bathrooms are the type of room most likely to cause total sensory meltdowns.  But the bathroom is also the ideal place to practice self-care and life skills.  It is also ideal for working toward sensory integration, because of access to water and ease of clean-up.  But how is it possible to turn an anxiety-provoking environment into a welcoming one?
Important Changes to Your Bathroom
If you love someone who resists bathing or brushing teeth or using the toilet, it may be time to consider changes to the bathroom's sensory features.  Here are 29 sensory upgrades to make any bathroom more comfortable.
Safety First 
Consider safety upgrades to make the bathroom more welcoming.  Some upgrades are under $15, while others involve a major remodeling project.
1. 
Bath rail and a rail next to toilet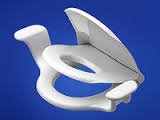 2.
Toilet lock
3. 
Non-slip surfaces in tub
4. 
Non-slip stool
5. 
Level access shower tray
6. 
Walk-in bathtub
7. 
Nolbi Toilet Seat cover with arm grips
Comfort
The bathroom has many hard surfaces that cause harsh echoes.  Tile floors can be painfully cold on the feet, especially after a bath.  My family was able to improve the sensory environment by adding inexpensive, washable soft surfaces that absorb sound.
8. 
Non-slip, machine washable bathroom rugs and mats in front of the sink, next to the tub and around the toilet.
9. 
Cushioned potty seat cover that fits on top of the regular toilet seat.
10. 
Shelving and hooks to stack towels around the bathroom to absorb echoes.
Lighting  
[caption id="attachment_17546" align="alignright" width="300"]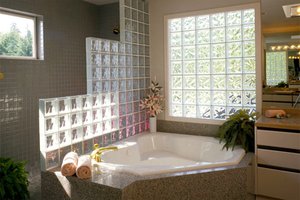 Photo credit: Seattle Glass Block[/caption]
Most bathrooms feature very bright lighting, but soft, natural light is generally more calming.
11. Window films, frosted window sprays and glass block windows let in natural light while providing privacy.
12. My husband and I simply don't replace some of the light bulbs in the bathroom after they burn out, so that it's not too bright in the evening.  At night, the bathroom has a night light.
13. The "bubble wall" look at the heading of this chapter was created by attaching to the wall dozens of battery-powered "touch lights" of various sizes.  Some of the lights in the photo have been painted over.  The lights have low wattage for a soft lighting effect.
14. Experia created a low-voltage sensory package for bathrooms with a light projector and sound system for a customized audio-visual experience. This allows a person to select the type of sensory input that is appropriate for that day.
15. Essential oils
Many families already use a few drops of lavender oil to make an evening bath more relaxing. Chamomile and Ylang Ylang essential oils may also aid in relaxation.  Eucalyptus, cinnamon, peppermint can each create different sensory experiences, too, but use them sparingly to avoid irritation.  Essential oils are available at health food stores.
16. Reading material
Disposable magazines and toddler board books that wipe clean help a person feel at home during long visits to the bathroom.
17. Bath Crayons
I learned from experience that most brands of bath crayons do not wash off the tile completely - they leave faint permanent marks.  Crayola Bath Dropz will color the water without leaving stains, and homemade bath crayons are less likely to leave marks.
Water toys
Because water play is a major part of any sensory-friendly bathroom, it's important to have an assortment of safe toys for sensory exploration:
18. 
Sponges
19. 
Scrubbers
20. 
Bath brushes
21. 
Water mill (same as a sand mill)
22. 
Empty squeeze bottles (hold it underwtaer and point up to make a fountain)
23. 
Boats
24. 
Ducks
25. 
Cups
26. 
Shaving cream
27. 
Liquid soap or shampoo
28. Removable shower head  
For many sensitive individuals, a removable shower head is the only thing that makes a shower tolerable.  Hand-held shower heads come in several styles in a wide range of prices from $10 up to $400.  One inexpensive sensory option is a shower head with colored LED lights that are activated when water flows down.
29. Bath jet
Portable bath jets can be installed on any tub and range in price from $30 up to $180.  Most jet spas allow for control over the force of the water, from gentle bubbles to powerful streaming.  The massaging jets can help reduce pain and increase relaxation.  Complete the experience with a bath pillow or waterproof tub mat.
30. Safe cleaners
When developing self-care and life skills, it is important to learn how to clean using non-toxic cleaning agents.  A soft scrub cleaner can be made using equal parts dish soap and baking soda, and white vinegar is safe as a disinfectant.  Hydrogen peroxide not only disinfects, but it can also bleach out stains between tiles.
31. Towel warmer  
If shivering after bathing is causing distress, then consider an electric towel warmer - it works well for bathrobes, too! Towel warmers can stand alone or be wired into the wall.
By tailoring the bathroom to a family's unique sensory diet, it can become both a haven and a great place to learn!