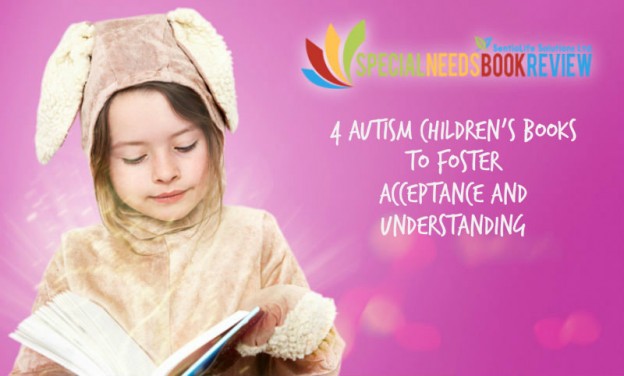 Products
4 Autism Children's Books to Foster Acceptance and Understanding
Autism awareness should not be only talked about in April when we celebrate Autism Awareness Month and Autism Awareness Day. Parents with children on the autism spectrum really wish to see a progressive movement from awareness to understanding to acceptance. No better place to start this process to embrace and cherish differences than with young children. I have four great autism picture books to recommend to make this happen. Sharing these books with your children is the perfect way to open up discussions on children with special needs, accepting differences, respecting and including others.
by Beverly Bishop with illustrations by Craig Bishop Beverly Bishop was determined to help her son with autism fit in with his peers by fostering understanding and acceptance among her son's friends and schoolmates. She wrote this 41 page book for her son's elementary teachers and peers. The author uses a peer narrator to convey her message. This is very effective because her target audience will easily relate to the characters in her book. Congratulations to the team behind this book for winning the About.com Readers' Choice Awards 2012 for Favorite New Special-Needs Children's Book. For teachers, this book in addition to having a teachable theme or message which can be used and reused throughout the year, the students can bring home the coloring pages that reinforce the lessons of the book. Hopefully, parents will also take this opportunity to foster acceptance of differences. Teachers are given permission to make copies of material in the book and on its accompanying CD of coloring pages.
Read the complete review.
by Michelle Garcia Winner and Pamela Crooke with illustrations by Kelly Knopp A book to be enjoyed by all the young Social Detectives who might have School Smarts, Science Smarts, or Music Smarts and need just a little help with their Social Smarts to make a big difference in their daily interactions. A book not only for students who have challenges relating to autism spectrum disorders, Asperger's, ADHD and like challenges but a resource to be used as a way to introduce the concepts of Social Thinking to grandparents, siblings, friends, and peers.
Winner of a 2012 Mom's Choice Award,
2012 National Parenting Publications Award
The 2012 Autism Society Outstanding Literary Work of the Year!
This eye-catching book has 60 glossy, colorful pages 11 inches by 8 ½ inches. The two staple binding allows the book to be folded easily so the adult can present only one page at a time. All pages are green, yellow or blue with a darker shade of that color making frames for the illustrations found on every page. Bravo to the illustrator, Kelly Knopp for the engaging drawings that add so much to the message on each page. These large, clear, crisp drawings with a few word balloons all have a short paragraph underneath in large print with keywords highlighted in bold. The keywords are clearly explained in the Social Thinking Vocabulary Definitions on the last pages.
Read the complete review.
by Tammy Parker Cox with illustrations by Denis Proulx This eight page book is a true story of a big sister telling readers about her little brother who has autism. The author uses questions directed to the reader to draw them in her story. To encourage readers to give answers to the questions in the book, big sister also shares responses to each question. Often she even gives tips to encourage the reader to do things differently to have positive results. Her young audience will be made to see that we are all a little bit different from other people just like her son.Tammy Parker Cox's last words are, "Don't focus so much on the differences because we are all a little different…Focus on the similarities. You two probably have more in common than you think.  It's just expressed a little differently!"
Read the complete review.
by Lori DeMonia with illustrations by  Monique Turchan A fictional story of the problems that arise for a sibling of an autistic sister when a friend comes to their house to play. It shows children how social situations are difficult for many autistic kids and how to explain to others that their brother or sister has autism. The 28 page picture is about a sibling with autism but its important message on the acceptance of differences and treating everyone with kindness is for all children.
Leah's Voice
is a recipient of the prestigious seal of excellence by The Mom's Choice Award, (MCA) Silver Honoree in the children's books category for developing social skills. The Mom's Choice Awards honors excellence in family-friendly media, products and services. Accept - Include - Love - Understand - these are the words that stand out on the author's web site. Another feature that makes this children's book a great buy is their web site. Parents and teachers will find six
Printable Activity Pages
that help children learn the vocabulary to express themselves on these topics (acceptance, differences, respect, feelings, peers, etc.) My favorite page is one all teachers will also like: Discussion Questions to be used with Leah's Voice.
Read the complete review.