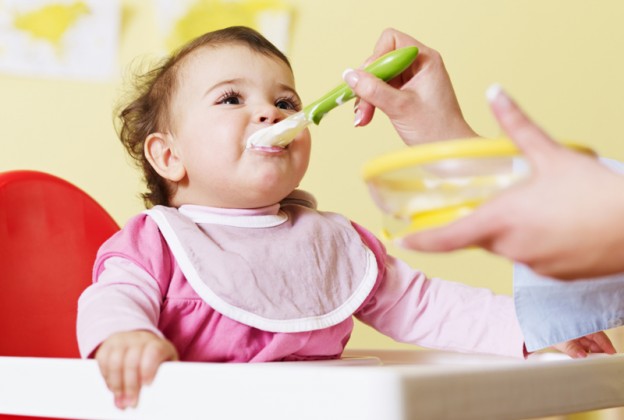 Therapy Tips
10 Things You Should Know about Feeding Therapy
"I never imagined my child would have trouble eating."  Those words are often one of the first comments parents have for
me
when they ask about
feeding therapy
.  As a pediatric speech pathologist who specializes in feeding, I have the joy of being a "food coach" for kids and their families as we progress through the developmental process of learning to eat a variety of foods. Whether working with children with special needs such as Autism Spectrum Disorders (ASD), Down syndrome or Sensory Processing Disorder (SPD) or with a child coined the "picky eater" of the family, the ultimate goal of feeding therapy is to establish regular, nutritious family meals that are joyful for the entire family. Here are the top 10 things I want you to know before starting feeding therapy:
1. It starts with an evaluation
Typically conducted by a speech language pathologist or occupational therapist who
specializes
in feeding and
swallowing difficulties
in children, these evaluations can be done in a variety of settings.  In a hospital setting, the evaluation may include a team of professionals, such as a gastroenterologist, psychologist and more.
2. It may not be the first place to start
Talk to your pediatrician about your concerns.  If it feels like more than typical "picky eating" or  it causes you stress in any way,
insist
on more help.  If you don't get an answer that feels comfortable to you, get a second opinion or even a third
3. Where to find help
Early intervention services
For children birth to age 3.  Call your
local office
and ask if they have experienced therapists to evaluate your child for feeding issues.  Evaluations are free and include gross & fine motor skills, speech and more. If your child qualifies based on that evaluation (regardless of income) treatment is provided for free in the natural environment, often in the home.
Call your state's children's hospital
and request a "feeding evaluation."
Private therapists who sometimes do home visits
can be found via the American Speech Language Association's "find a pro"
link
.  An excellent source of OTs trained in sensory integration, a strong component of feeding therapy, can be found
here
.
should address the whole child.  In my experience, I've rarely met a child that was having difficulty because of just one issue.  For example, kids with chronic acid reflux or GERD quickly learn not to eat, because it hurts.  We can put the child on medication to stop the pain, but the learned behavior (and likely a new sensory component as well) is still there, and needs to be addressed.
5. Family dynamics are part of feeding therapy
Feeding your child is
emotional
: It's about nurturing, bonding, love and responsibility as a parent.  When feeding is challenging, it's stressful and it impacts the entire family on a daily basis.
6. It takes time
First, eating is a
developmental process
.  When a child has difficulty eating, it means they have stalled in the midst of learning a new skill.  Regardless of their age, the therapist will begin to teach the step by step process wherever they are having trouble (e.g. chewing) as a means to reaching the long term goal of independent, healthy eating.
7. I'll say it again, it takes time
That's because your therapist and feeding team will be doing a lot of detective work to learn what factors are impacting your child's resistance to eating.  Then, those elements need to be resolved one at a time.
8. It takes a village
YOU are the most important part of the feeding team.  You spend the most time with your child, know your child and family best and know what feels right.  Good feeding therapists understand and honor that relationship.
9. It doesn't look the same from child to child
You may observe other kids in a feeding group or meet other parents who describe different techniques and strategies that your therapist uses with
their
child.  That's because every child is different and cookie-cutter approaches to therapy are best, well, when making cookies and that's about it.
10. Focus on small steps
Therapists have the advantage of charting every inch of progress and often having some time between appointments with your child.  But, when you are immersed in trying to feed your child 3 meals a day plus snacks, it's not always easy to see progress. Your therapist will give you small goals to work on each week and together, we will celebrate every single accomplishment!
Watch for more articles from Melanie on feeding therapy for infants, toddlers & older children in the near future!