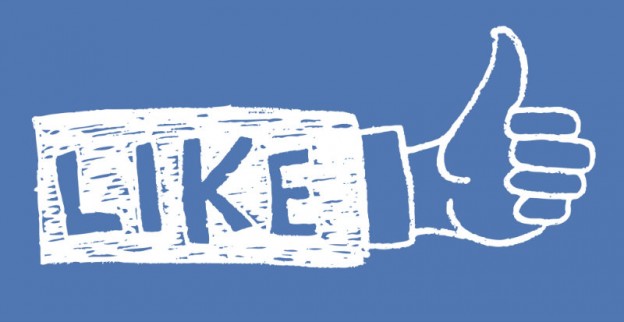 Resources
36 Autism Facebook Pages You Should Like!
According to 
Ipsos Open Thinking Exchange (OTX)
, Americans spend over 3 hours on social media everyday. Most of this time is used catching up with friends, sharing funny videos, and reading up on current events. However, social media can also provide a great support community, especially for parents of individuals with special needs and the individuals themselves. Imagine a safe place where you can share personal stories, get advice for behavioral issues, and maybe find a bit of inspiration or a glimmer of hope when you are having a rough day. Who better to talk to than someone going through the same struggles and triumphs as yourself. We have compiled a list of some great Facebook pages that deal directly with ASD. From support to news to encouraging messages, these pages will provide you with the latest topics in the Autism community. Please share your favorite ASD Facebook pages in the comments below.
Danny & Hayden, both diagnosed with Aspergers, help people affected by Aspergers to understand themselves & the top success strategies in the world, so that they can change their behavior, thinking, and ultimately live the life they want to, not the life that they are limited to.
Asperger's Support Network provides a platform for those living with Aspergers to share their experiences. Awareness is needed. Awareness breeds better understanding. Join in the discussions, post questions, and share your stories.
AWA's mission is to offer Education and support to Autistic and Asperger Women, children, and Seniors, and parents/caregivers across the globe. "The greatest source of support and guidance for women who have Asperger's syndrome or an Autism Spectrum Disorder is not from clinicians or the research literature, but from each other."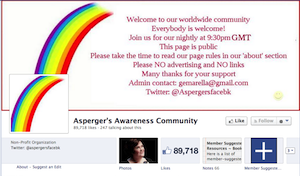 The main purpose of the page is for those who live with Aspergers to share their experiences and offer answers, advice and support to those who need it.   The main source of information comes from the wonderful members of this page. However, it is very important to remember that every single person is different. Individuality is greatly respected here.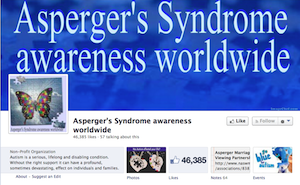 Autism is a serious, lifelong and disabling condition. Without the right support it can have a profound, sometimes devastating, effect on individuals and families. This site aims to provide a link to all people with Asperger's around the world.
Autism Alliance of Michigan is a source for comprehensive information about autism events, news, research, and much more in Michigan. The facebook page focuses on current events all over the world, news stories, and personal triumphs.
This page discusses 'autism' the good, the bad and the ugly; revealing truths that autism presents. Bright Tots' postings are uplifting in general but this page is not just on glorifying autism. There are people who are going to have problems & be closed minded, when in actuality, demonstrating true respect for individuals with autism requires one to be conscious & aware of the entire autism spectrum. The perception, confusion, & ignorance surrounding autism are equal to, if not more problematic than, autism itself.
The Autism Awareness page is here to do 1 thing: Spread Autism Awareness! Through the sharing of information, news & resources, we hope to empower our fans with more knowledge and the ability to help spread Autism Awareness to their friends and families. Together, we can solve the Autism Puzzle!
A one-stop source for parents, caregivers, service providers, professionals, advocates and family members of people with Autism to learn, share and access vital resources around the corner and around the world.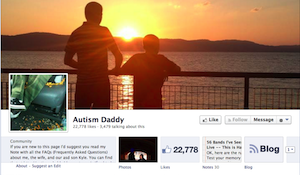 All people are welcome on this page regardless of their backgrounds or beliefs. And you are welcome here if your kid is low functioning, high functioning, aspergers, etc. But always remember the place where I am coming from. Severe, low functioning, non-verbal autism. Just remember this. I have an 8 year old son whose receptive & expressive language are at an 18 month old level and they have been for years. So that's the autism that I am writing about.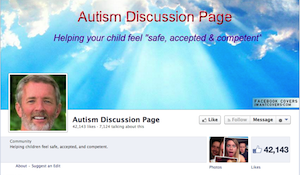 This page was developed by Bill Nason, MS, LLP to discuss tools that help children on the spectrum feel safe, accepted and competent. Although each child is different, with their unique strengths and challenges, there are some common strategies that can strengthen the social, emotion, and cognitive security for most children on the spectrum.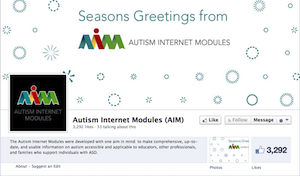 The Autism Internet Modules were developed with one aim in mind: to make comprehensive, up-to-date, and usable information on autism accessible and applicable to educators, other professionals, and families who support individuals with ASD.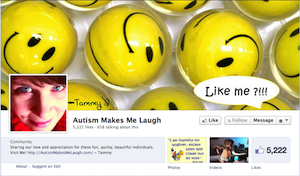 When you have a child with autism life can be stressful, isolating, scary, last-straw x1000, I'm-running-away-from-home difficult. It can also be hilarious, rewarding, never-a-dull-moment, joyous, intriguing, laugh-out-loud-funny. And THAT is what this website is all about.
A safe space for mothers of children with Autism to share their stories, ask for advice, and provide inspiration for each other. By finding common ground here, it can help provide strength and hope for the future.
Autism on the Seas organizes and staffs cruises for families with special needs. They are dedicated to serving the vacation needs of families and individuals with Autism, Asperger's syndrome, and all cognitive, intellectual and developmental disabilities, as well as (but not limited to) Cerebral Palsy and Down's syndrome.
ARI has convened meetings since 1995, for physicians, researchers, and parents committed to finding effective treatments for autism (formerly known as Defeat Autism Now! Conferences). Parents and clinicians who do not regard psychotropic drugs as the best or only means of treating autism welcome this chance to learn effective strategies from informed professionals, for addressing the health issues often associated with autism.
Upload your photo of someone you love with autism, or yourself, and caption it with something great about them. Help us show the world all the positive attributes of autism! Please be aware that this is a public page.
The Autism Society is the leading voice and resource of the entire autism community in education, advocacy, services, research and support. The Autism Society is committed to meaningful participation and self-determination in all aspects of life for individuals on the autism spectrum and their families
Autism Sparks offers information, ideas and resources to help you connect with your child using a discussion forum moderated by Autism professionals. Every month there is a different focus topic.
Autism Speaks aims to bring the autism community together as one strong voice to urge the government and private sector to listen to our concerns and take action to address this urgent global health crisis. It is our firm belief that, working together, we will find the missing pieces of the puzzle.
If Autism has touched your life in any way, shape or form then this is a site for you. It will provide you with daily inspiration, relatable stories, and maybe even a laugh or two.
Welcome to CafeMom's support community for parents of kids on the Autism Spectrum. Here you will mainly find recent news topics relating to Autism and people sharing their thoughts and stories.
Autism Support Network provides a free peer-to-peer global network of people helping people with autism. Our support community, which is free for anyone to join, is intended to further reduce the need to "reinvent the wheel" and collectively pool global knowledge and support from all those touched by ASD wherever they might live.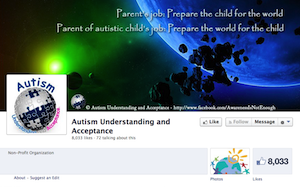 To upgrade Autism Awareness to a more complete Understanding and Acceptance. To ensure that people aren't just aware of Autism, but that they know what it really is.
Autism United is dedicated to raising Autism Awareness world wide. They work to help educate and bring information, research and specialist studies to one location giving you a highly researched, resourceful website for your Autism Awareness needs.
Autism Women's Network is dedicated to building a community of Autistic women of all ages, their families, friends, and supporters. It offers a place where all can share their experiences among a diverse, inclusive supportive and productive environment.
A page dedicated to sharing love with those who are affected by Autism. It is a place to share stories, show support, and express joy in the Autism community. It is a space where everyone can understand and learn from each other.
Birdhouse for Autism is a safe and secure care management platform for families raising children with Autism. Their Facebook page provides advice, support, and inspiration.
Dogs for Autism provides great news articles, especially relevant to pet therapy and other animals. It is an excellent place to find support for general Autism and support animals.

Connected with a book of the same name, this page explores a topic of concern, offering encouragement and guidance on common issues such as school, friendships, meltdowns, special gifts, family relationships, therapies and interventions. Having daughters on the spectrum presents unique and rewarding challenges and this book is packed with friendly advice and real life examples from a mother who has experienced it all first hand.
My Autism Network is a group of individuals dedicated to increasing the awareness of Autism and Asperger Syndrome. The goal is to inspire those impacted by Autism spectrum disorders to have a network to share common stories, ideas and information.
The mission of the National Autism Association is to respond to the most urgent needs of the autism community, providing real help and hope so that all affected can reach their full potential.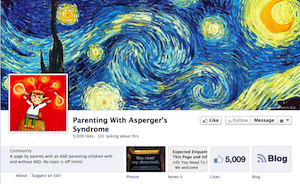 This page is run by parents with an Autism Spectrum Disorder parenting children with and without ASD. No topic is off limits for this page and all questions, stories, news articles are welcomed by the community. This page will hit on every age group and deal with issues faced by both males and females. All have something to learn from this page.
This page run by an International Non-Profit  aims to provide financial subsidy to public/private institutions that provide autism services and programs to children/adults having Autistic Spectrum Disorders (ASDs); To more effectively prepare ASD Children for independent life in today's society through education. This Facebook page contributes by providing news stories, information, and some inspiration.
By bringing together autism organizations all around the world, we will give a voice to the millions of individuals worldwide who are undiagnosed, misunderstood and looking for help. Please join us in our effort to make this possible.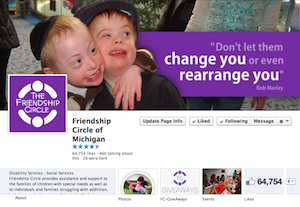 The Friendship Circle provides assistance and support to the families of children with special needs as well as to individuals and
 families struggling with addiction, isolation, and other crises. The Facebook page provides inspirational photos from programs, pertinent news articles, and trending posts from the Friendship Circle Resource Blog.