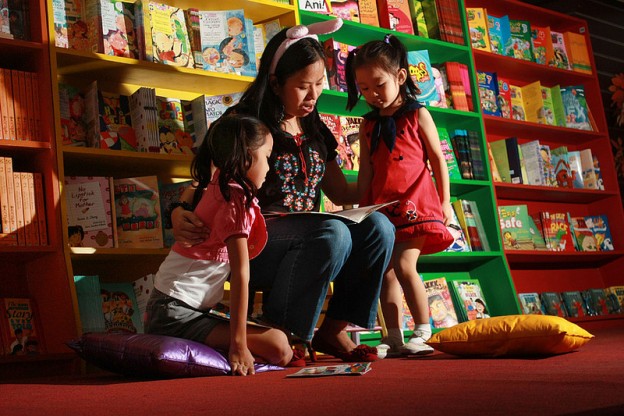 Parenting
,
Products
Four Books that can Spark Meaningful Parent-Child Conversations
Parents of children with special needs are often overwhelmed trying to meet all their responsibilities. Often it is difficult to squeeze in quiet times alone with a special child or his siblings. Sometimes there are topics you would like to discuss with a child and you don't know how best to approach the subject. One solution is to find a children's book that addresses what you want to discuss. Make time to enjoy the book together and you will see how easy it is for a natural discussion to unfold. The following children's books can open the door to meaningful conversations about being kind to others, living with Down syndrome, and the challenges of sensory processing disorder. If you are the caregiver of a child with autism, you will appreciate the series of four books I mention.
by Charmaine Hammond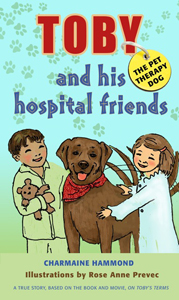 This is a children's picture book to convey how to be kind to others. The second book in this series,
Toby, the Pet Therapy Dog, Says be a Buddy Not a Bully
, came out in early 2013. The 36 page book for children 4 yrs. and up is a great book to read aloud with young child who can follow and enjoy the wonderful illustrations that transform the author's ideas to life. The colorful, realistic illustrations are accurate to the plot, characters, and setting. The reader and child will have lots of opportunities to stop and discuss real life situations that are similar to the topics in this book.  Older kids will be able to read the book alone and the detailed illustrations will help with the comprehension. . Once the book has been read, parents, teachers or caregivers can use the fourteen
"Questions to Enhance Children's Critical Thinking Skills
" found on the last page as a spring board to great discussions about hospital stays and treatments, about friendships, about one's fears, and about helping others.
Read the complete review of Toby, the Pet Therapy Dog, and His Hospital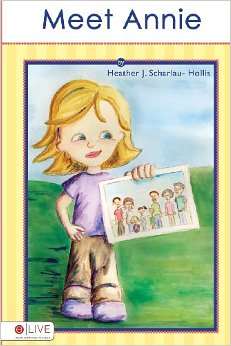 by Heather J. Scharlau-Hollis This is an adorable children's picture book to increase the awareness of children about
Down syndrome
. All children will love her 24 page story learning about all the things Annie enjoys, from her family, to her toys and mac and cheese. Then we are told Annie has Down syndrome and sometimes she gets mad because she looks a little different than others and she learns things a little different than them too.  On most pages the author has questions that make her young audience realize that they have the same feelings, likes and dislikes,  joys and difficulties as Annie.  These questions are great for a caregiver or a teacher to have discussions with their children/students about important topics not only in Annie's life but in theirs also.
Read the complete review of Meet Annie
by Michele Girffen, MOT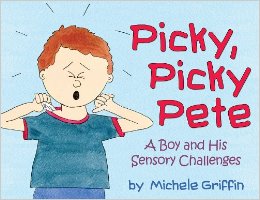 This is a 48 page picture book beautifully illustrated and written by Michele Griffin, a mom with a child with sensory processing disorder. It is a great resource for all families coping with Sensory Processing Disorder (SPD) and for all who want to learn more about SPD.  Ms. Griffen is also author and illustrator of a second book on the challenges of living with SPD,
It's Haricut Time!
Picky, Picky Pete
is written in easy to read language for beginner readers.  The words flow along with many rhyming couplets. To facilitate comprehension and read-alouds, Pete's words are written in RED, his mother's in PURPLE, and the narration in BLUE. Children with sensory challenges and their families can relate to every word Ms. Griffen has written:
"Put on my socks! Put on my shoes! Grass and sand give me the blues! But make sure that they are on just right, Seams in place and not too tight."
Read the complete review of Picky, Picky Pete.
by Ymkje Wideman-van der Laan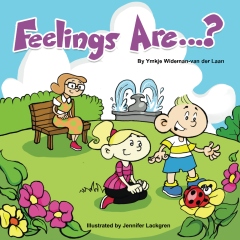 Ymkje Wideman-van der Laan is a grandmother with a mission! As grandmother and caregiver of her 7 year old grandson with autism she wrote these books to share what she had learned with others going through similar experiences. She hopes her books will provide beneficial information, encouragement, and help caregivers of children with autism explain things that can make their lives easier, safer, and more pleasant. Children with autism often do not sense the feelings of others, and can have difficulty recognizing or relating to abstract emotions. In an interview with the author she explained she wrote
Feelings Are…?
to help her grandson learn about emotions and respecting others' feelings. A few words on the three first books in this series:
Autism Is…?
Logan overhears his grandma tell her friend he has autism and he asks her, "Autism is…?" She explains it to him in this beautifully illustrated story.
Danger Is…?
Logan runs to a busy street and nearly has an accident! Once safely back inside, his grandma talks about the meaning of danger and teaches him ten important danger rules.
School Rules Are…?
Logan fails to finish his tasks at school, so he has a lot of homework to do. After his grandma reads his daily report, she teaches him some important school rules to help him do better.
Read the complete review of Feelings…Are?