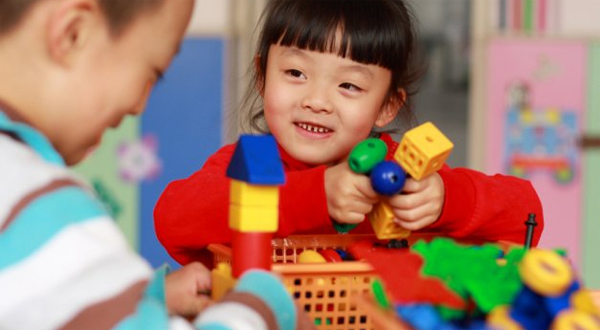 Products
5 Toys to Promote Problem Solving for a Child With Special Needs
Problem solving is an integral part of a child's success, confidence and independence. Problem solving helps children make discoveries about the world around them, learn the skills to relate to others and communicate effectively while achieving developmental milestones. Physical, cognitive, social/emotional, sensory and communicative learning skills are promoted through different ages and stages of development. These skills encompass different aspects of developmental processes and all of them include problem solving in one's lifelong learning journey.
Different types of Problem Solving
In our daily routine there are many different activities we take part in that require problem solving. Some examples are:
Completing a task
Engaging in academics
Participating in athletics
Interacting with peers
Choosing an outfit to wear
Playing with toys
Children have to problem solve simple to complex challenges on a daily basis. Learning to problem solve provides kids with the techniques and tactics to avoid conflicts, develop empathy towards others and learn how to interact successfully with people, places and things. Effective problem solving is essential for the development of a person's physical, cognitive, social/emotional, sensory, and communicative abilities and the capability to make qualified decisions for themselves.
Toys that Promote Problem Solving
Here are five games that can help a child with special needs develop problem solving skills.
uKloo turns a home into a game board! Reading is disguised during play honing pre-literacy   skills as kids read the clues to find the surprise (placed by caregiver) at the end of the treasure hunt. Kids must solve the problem in order to find the next clue to finish the game. Stuck on a word? The Picture Helper Poster will help lead the way!
Price:
$15.95
Company:
uKloo Kids Inc
Kids have the opportunity to work independently, competitively or cooperatively to play this fun and flexible game. Players are challenged to pick up the rocking fish while engaging balance, hand-eye coordination and patience simultaneously--all in an effort to catch these frisky fish.
Price:
Visit website for more information
Company: 
Weplay
An interactive hand-puzzle with interconnected curved segments that are rubber coated and fun to figure. Tangles can be twisted and rotated to keep active minds and finicky hands busy. Tangle Therapy is versatile and can be pulled apart to make and create new shapes!
Price:
$13.99
Company:
Tangle Creations
The wonders of yoga are explored in this fabulously fun game. Coordination and flexibility are enhanced while spinning through yoga poses, stretching and calming young bodies and minds.
Price:
$15.95
Company:
Upside Down Games
Is it a puzzle or a game? This puzzle game creates a new challenge to problem solve each time it's played. Match the tiles to the color board to uncover an abstract strategy game of puzzling perception.
Price:
$14.99
Company:
Endless Games
The Importance of Problem Solving
Problem solving is foundational to a child's learning capacity. Encouraging environments, creative caregivers and better yet, tempting toys help children build and enhance their problem solving skills. Toys provide convergent and divergent problems-- convergent problems allow for one solution or one specific goal like playing with puzzles and divergent problems offer multiple solutions like building with blocks. When children are encouraged to solve problems, they learn persistence, develop creativity and gain the confidence to think "out-of-the-box." The playful problem solving experiences that toys offer also teach the age old lesson of "try, try, try again." When the problem is not immediately solved, that's a lesson worth learning.