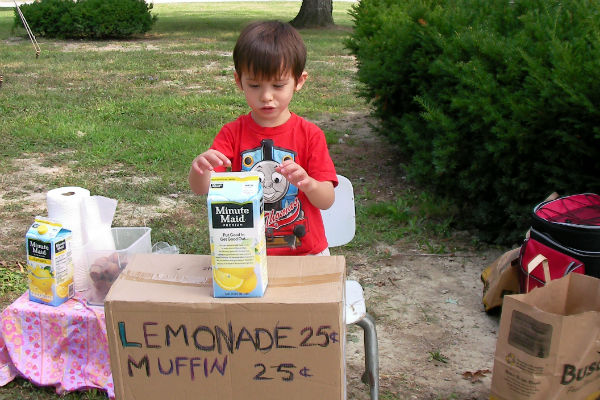 Resources
10 Activities For Practicing Life Skills This Summer
Summer vacation means a relatively relaxed daily routine.  For my family, it's the perfect time to model and teach life skills.  Here are 10 summertime activities that introduce concepts in social skills, communication, organization, self-care and respect for self and others.
1. Get a library card
Most public libraries have some type of summer reading program with incentives, so it's a good opportunity to get a library card and learn how to find and check out books, music and movies.
This means that your child will need to approach the librarian's desk in the library, ask for a new card and answer all of the questions that follow.  In most cities, the only requirements for a library card are being able to sign one's name and proof of residency from a guardian.
2. Lemonade Stand 
When my son got his library card, he immediately insisted on getting a wallet to keep it in.  Once he had his own wallet, he wanted spending money.  So he had to think of ways to earn money.
A neighborhood lemonade stand is an excellent way to encourage an entrepreneurial spirit as well as basic life skills.  Each customer must be greeted, lemonade must be poured carefully, money must be counted.
3. Clean out a closet
Cleaning out a closet is a positive rainy-day activity.  Put aside the outgrown clothing and neglected toys.  Arrange the closet to maximize accessibility.
You can also check out some more ideas for chores here.
4. Garage Sale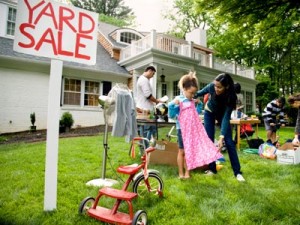 Now that you have a few boxes of stuff you don't need anymore, start planning a garage sale.  Multi-family garage sales are more successful with less work per person than single-family sales. We recently hosted a multi-family garage sale at our home to raise funds for a new playground at the local elementary school.  We had to talk about storing items before the sale, pricing items to make sure they were sold quickly, finding free advertising venues online, and how to organize the merchandise.  And then we talked to customers and made change all day!
5. Yard Work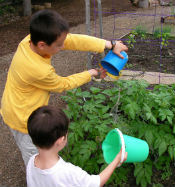 Occupational therapists strongly recommend "heavy work," that is, any type of exertion that puts pressure on the joints of the upper body, for individuals with special needs.  The benefits of heavy work are increased attention, arousal level, body awareness and muscle tone, as well as decreased sensory defensiveness.
Get out a rake and clean out the old leaves from under the shrubbery, dig up some weeds, pull out the hose and water some plants, use the wheelbarrow to carry mulch to the backyard and compost the yard waste.  Since yard work is a multi-step process with unique tools for each stage, you'll also be modeling organizational skills.
6. Pick fruit at a local farm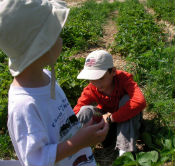 I haven't taken the leap to start a home garden yet, but my family does visit several local farms every summer to pick fruit.  It's a basic economics lesson to understand where the food comes from and the resources needed to grow the food.
My children also learn to identify which fruit is ripe enough to be picked, how to pull it gently off the plant without damage and how to handle food safely for the trip home.  At the cherry orchard I had each child count 100 cherries as they were picked.
7. Explore a new park 
Instead of going to the same park 5 minutes from your home, try a different one.  Challenge yourself and your loved one on the new playground equipment.  If there's a nature trail, pick up a map and find your way together.
8. Plan a picnic 
Let your loved one pack lunch for everyone on your next outing.  Write out a menu, count the water bottles, find the ice packs, and make sure the cooler isn't too heavy!
9. Hit the beach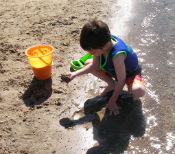 The beach offers a great incentive to learn self-care skills such as dressing and undressing, applying sunscreen and keeping a hat and sunglasses nearby.
The beach is also the perfect place to practice safety skills such as the buddy system and treading water.  Many beaches are now wheelchair accessible, so call first to ask if beach wheels are available.
10. Camping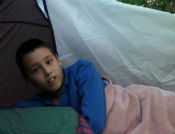 With all of my family's sleep and food issues, I was afraid to try camping for a long time.  An opportunity arose when our city sponsored an overnight family camp out at a local park.  We practiced pitching our tent at home first.
I decided that I wasn't ready to try outdoor grilling in addition to caring for my son, so we packed sandwiches, bagels and lots of fresh fruit to eat.  We took long walks in the woods all afternoon, and we roasted marshmallows and sang songs at the evening bonfire.  On the way home, my son was already planning our next camping trip.
Some state and national parks offer wheelchair accessible, air-conditioned cabins in scenic locations.  Other parks offer yurts with a wood-burning stove for a different type of rustic experience.  Whatever your comfort level is, there's something out there just for you.
How will you practice life skills this summer?