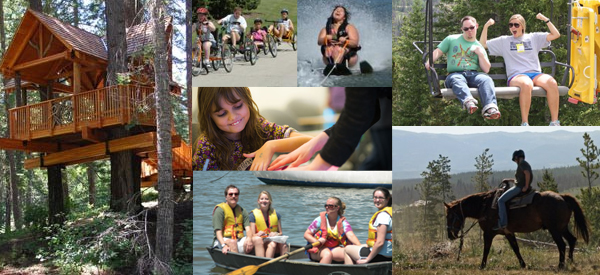 Resources
19 More Summer Camps For Individuals With Special Needs
Last week I wrote a post about some of the
most popular summer camps for kids and adults with special needs
. Due to high interest in summer camps I have compiled 19 more great summer camps for individuals with special needs.  Many of these are hometown favorites suggested by readers of this blog, and some are specialized for individuals who would not otherwise be able to participate in summer camp. Whatever your special needs are, there is a summer camp for you!
1. Deaf-Blind Camp of Maryland
The Deaf-Blind Camp of Maryland
 in West River, Maryland provides a barrier-free week of recreation for people with significant hearing and vision loss.  Communication is provided to meet the needs of each camper: sighted guides, braille, American Sign Language with tactile, spoken English, amplified sound and writing.  Camp activities include climbing walls, hiking, boating, canoeing, a cooking class and an assistive technology exhibit.
2. Center for Courageous Kids
The Center for Courageous Kids
 in Scottsville, Kentucky is a free camp for children with serious illnesses such as Spina Bifida, epilepsy, severe asthma, cancer, hemophilia, HIV, heart disease, kidney disease and more than 50 other rare and unique diagnoses.  In addition to horseback riding, woodworking, fishing, archery and a climbing wall, the camp offers 24/7 medical care in a fully equipped medical facility with a helipad.
3. Camp Roehr
The Epilepsy Foundation of Greater Southern Illinois hosts
Camp Roehr
for children and teenagers with epilepsy for one week every summer.  Because of the campers' medical needs, the counselors and medical staff outnumber the campers.  The camp director said, "We do everything at Camp Roehr!  We just do it with more supervision than you find at other camps."
4. Easter Seals Crossroads
Easter Seals Crossroads
in Indianapolis has Camp R.O.C.K.S at Bradford Woods – an overnight camp for kids with autism, Camp Ability, a day camp for kids with special needs, and Lose the Training Wheels, a week long day camp that teaches kids how to ride a bicycle on two wheels!
5. Camp Merry Heart
Camp Merry Heart
 in Hackettstown, New Jersey is offered by Easter Seals of New Jersey every year for children and adults with all types of disabilities.  The goal of the camp is to offer opportunities for self-determination and group participation, along with physical exercise. In addition, Camp Merry Heart offers fun recreational trips and excursions, and weekend getaways.
6. Camp Millhouse
Camp Millhouse
 near South Bend, Indiana has served since 1937 as a retreat for children and young adults with mental and physical disabilities.  The camp features an outdoor adventure course, an indoor sports arena, swimming, music therapy, heated cabins and 24 hour nursing staff.
7. Camp Winnebago
Camp Winnebago
 near Caledonia, Minnesota is a non profit organization dedicated to serving the recreational needs of adults and children with developmental disabilities. There is small group and 1:1 staffing available.  Activities include swimming, art, dances and campouts.
8. Camp Tall Tree
Camp Tall Tree
in Fenton, Michigan specializes in camp for children with autism, ages 7-14.  All activities are based on a social skills curriculum for children with anxiety and high sensitivity.  The daily rotation of activities includes swimming and water play, art, music, sports and creative games in a natural environment.
9. K.A.M.P. Doetail
K.A.M.P. Dovetail
 at the Rocky Fork Lake State Park in Highland County, Ohio is a volunteer run summer camp sponsored by Supplementary Assistance to The Handicapped ( S. A. T. H.) a non-profit organization. The camp is for children with disabilities in Highland and surrounding counties of Ohio.  Because most camp materials are donated and all counselors are volunteers, a fun, traditional camp experience is enjoyed at a very low cost to campers.
10. Muscular Dystrophy Association
The
Muscular Dystrophy Association
 operates summer camps in most states for children with neuromuscular disease and their siblings.  These camps - filled with horseback riding, swimming, adaptive sports, arts and crafts, camp dances - are offered at no cost to the campers' families.  Contact your local MDA office for more information about a camp near you.
11. Camp Trek Adaptive Sports Camp
Camp Trek Adaptive Sports Camp
 in Libertyville, Illinois is a week long summer day camp for children with physical disabilities or a visual impairment. Indoor and outdoor sports such as basketball, cycling, handcycling, kayaking, hockey, boccia, softball, water skiing, tennis, aerobics, & arts & crafts will be offered. The camp provides the opportunity to try out the latest and greatest adaptive sports equipment under the direction of experts in the field.
12. Camp Cheerful
Camp Cheerful
 in Strongsville, Ohio caters to children and adults with physical, developmental, medical and sensory disabilities in a barrier-free environment. The camp aims to encourage independence and confidence while improving quality of life with traditional and adapted recreational activities: therapeutic horseback riding, an accessible ropes course, hiking, swimming, fishing, canoeing, arts and crafts, nature study activities, games, campfire activities and music.
13. Camp Prime Time
Camp Prime Time
 in the Wenatchee National Forest near White Pass, Washington serves families that have a member who is disabled or has a serious illness.  The purpose of the camp is to offer families the chance to enjoy one another's company in an invigorating environment, surrounded by nature.
14. Easter Seals Houston
Easter Seals of Greater Houston
offers 3 different camps for children with disabilities and their siblings.  Camp Buckaroo is a weeklong day camp for children ages 6 to 14. Camp Smiles is a weeklong overnight camp for children with cerebral palsy ages 6 to 14. Camp Most is for graduates of Camp Smiles between the ages of 14 and 18.
15. Southhampton Fresh Air Home
The Southampton Fresh Air Home
 in Southampton, New York is a fully accessible residential camp for children with physical disabilities ages 8-18.  the camp has one counselor for every 2 campers, and a nurse is on duty 24 hours a day.  SFAH provides a typical camp experience with sports, arts and crafts, computers, cookouts, beach outings, sailing and a prom at the end of each session.  Activities are adapted for the abilities and degrees of dexterity of each camper.
16. Adam's Camp
Adam's Camp
 in Winter Park, Colorado offers specially staffed Adventure Camps for children, teens and young adults with developmental disabilities as well as intensive therapy camps for kids 1-13 and their families.
17. Camp Riley
Camp Riley
 in Martinsville, Indiana is an overnight camp for individuals with physical disabilities, ages 8-18. Student nurses reside in each cabin with the campers, and a doctor and nurse are on call 24 hours a day.  The ratio of child to camp staff is never greater than 3 to 1.  The camp's goal is to challenge campers' physical boundaries — taking independence, self esteem and enhanced living skills to new levels with swimming, camping, arts and crafts, nature projects and horseback riding.
18. Georgia Lions Camp for the Blind
At the 
Georgia Lions Camp for the Blind
 in Waycross, Georgia, children and adults with visual impairments ages 4 and up participate in traditional outdoor camp activities with the goal of socialization and rehabilitation.  Programs stress personal motivation, self-confidence, leadership and self-reliance in a fun-filled outdoor atmosphere.
19. Friendship Circle
Friendship Circles
around the country offer day camps for individuals with disabilities during winter and summer school vacations.  A teen volunteer is assigned to each camper.  Activities include sports, music and movement, swimming, entertainment, and field trips to local places of interest
What is your favorite summer camp for individuals with special needs?