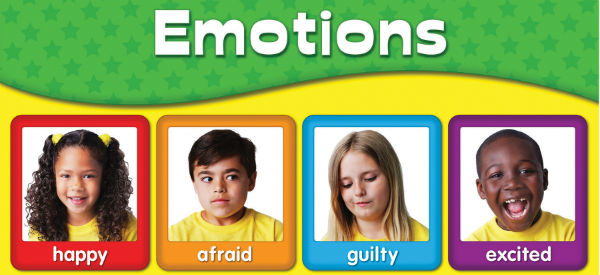 Products
16 Great Products for Learning Emotion Recognition
Parents, therapists and educators who buy emotion flash cards have high hopes. Face-blindness and an inability to recognize emotions are factors in some cases of brain injury, autism and other neurological conditions.  At this time, there is no known treatment for
face-blindness
, and results from teaching emotion recognition have been inconsistent. But we can still support our loved ones in these areas by teaching compensation strategies, modeling recognition behavior and learning the pre-requisites to emotion recognition, such as:
Learning and naming the parts of the human face
Learning that different people have different features
Learning that people carry many clues to their identity in and around the face
Learning that faces are important and that expressions communicate information
Learning that expressions change as emotions change
Today I am reviewing some of the products that may help with the development of these basic social skills.
Emotion Recognition Toys and Games
1. Mr. Potato Head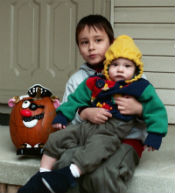 Did you know that Mr. Potato Head is both
a toy
 and
an app
?  This toy is a fun, inexpensive way to introduce concepts of facial features and other identifying features such as shoes, earrings and hats.  Individuals with face-blindness need to learn how to identify friends and family by features other than the face.
2. Eggspressions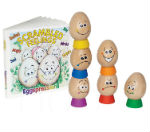 Eggspressions
 is a set of six wooden eggs, each with a different emotional expression, and a storybook titled "Scrambled Feelings."  Therapists and parents use the eggs to help children find words for their feelings and learn how to imitate the faces to express their feelings.
3. Funny Faces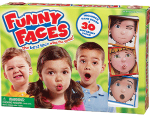 The
Funny Faces game
 is a simplified version of charades.  One player makes a face to match a picture card, and the other players guess which face it is.  This game is great for group speech therapy, social skills groups or a family game night at home.
4. Feelings In A Jar
The
Feelings in a Jar game
 is another charades game, but it's aimed at ages 8 and up - many of the emotions are beyond the grasp of younger children.
5. Expression Stampers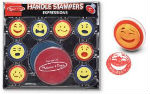 The
Melissa and Doug Expressions Stampers
 have 8 simple faces on foam stamps that can be used to decorate craft projects and stories.
Emotion Recognition Books
1. The Way I Feel
The Way I Feel
by Janan Cain names seven different emotions and gives a brief, specific example for each one, accompanied by a colorful illustration.  This book is a simple way to open up the door to verbalizing emotions.
2. My Many Colored Days
My Many Colored Days
by Dr. Seuss associates 11 colors with a full range of emotions.  This approach is helpful to people like my son who think and speak in metaphorical terms, not in literal terms.
3. LinguiSystems Workbooks
LinguiSystems, a publisher of materials for speech therapy, has workbooks on emotion
for elementary students
 and
adolescents
, intended for a group therapy setting.
4. How I Feel Series
The "How I Feel" series
by Marcia Leonard made a big impression on both of my sons.  Each book in the series focuses on one emotion with everyday examples and solutions.  The text is simple and straightforward - and instantly relatable.
Emotion Recognition Cards and Visual Aids
1. Webber Photo Cards
Most of my son's speech therapists have used the
Webber Photo Cards
 to teach emotion recognition.  The main problem with cartoons or simplified facial expressions is that they are too abstract and do not look like real human faces. The benefits of using the photo cards are that they show subtle changes on real faces, they are easier to imitate than cartoons and they can be used for all kinds of open-ended activities.  The problem with the photo cards is that some of the facial expressions are so versatile that most adults can't even figure out which emotion is being expressed!
2. Language Builder Emotion Cards
Language Builder Emotion Cards
by Stages Learning Materials  have 40 cards showing models against a white background with various emotional expressions and 40 cards showing models in emotion-provoking situations, such as visiting Grandma or not wanting to eat broccoli.  These scenario cards offer a more realistic way to identify people and situations for those who have difficulty with faces.
3. Little Folks Visuals
Little Folks Visuals
 makes an emotion set for felt boards with photos printed onto felt and accompanying single word labels.  The set comes with an activity guide and a song about feelings.
4. Emotion Software
LinguiSystems offers
Basic Emotion Recognition Interactive Software
, a program that teaches five emotions (happiness, sadness, fear, anger and surprise) through repetition.
5. ColorCards - Feelings and Emotion Sequences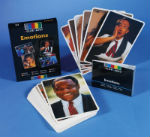 Speechmark Publications
ColorCards - Feelings
 and Speechmark Publications
Colorcards - Emotion Sequences
 are both  sets of 48 photographic cards showing children and adults in real-life situations.  Each image invites open-ended storytelling to understand the context of emotion.
6. Understanding Emotions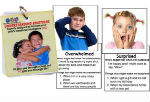 Natural Learning Concepts makes the
Understanding Emotions
 set of cards for elementary students.  Each card has a photo of a child's face and a brief explanation of what the emotion is, how it feels and a few examples of when people experience that emotion.
7. PECS Cards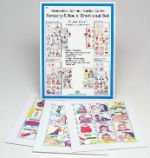 For individuals who communicate with PECS or other picture cards, the
School Specialty Sensory and Social-Emotional Interactive Communication Cards
 are standard 2 x 2 inch images that will fit right into the notebook you already use.
Have you found tools to help you or your loved one learn how to recognize facial expressions?  Please share your great finds in the comments below!