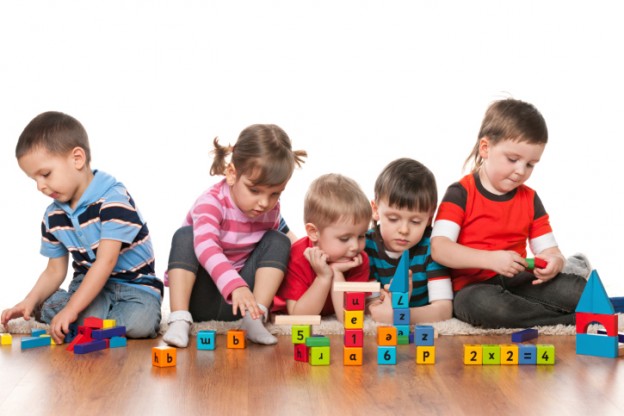 Products
8 Toys That Can Help A Child With Emotional Development
This is Part Three of a series of posts that will concentrate on the inherent benefits of play for children with special needs. In this post we focus on how toys and the experience of play help with emotional development. Part Two of the series was related to physical development and the growth of fine motor skills. Part One was devoted to toys and the development of gross motor skills.
Play: An Important Role in Emotional Development
For the average person the concept of play is considered helpful in assisting a child to grow, learn, develop and thrive. What many don't realize is that play is extremely helpful when it comes to physical, social, emotional and cognitive development.
Why is emotional development important?
When children play, they promote their social competence and regulate their emotions. During play children can practice their verbal and nonverbal communication, body language, release of emotions and build self-confidence. Playing with others can also help children respond to their peers' feelings, conflicts and points of view which all encourage emotional development. "
In our play we reveal what kind of people we are." Ovid (Roman Poet 427-347 BC)
. Emotional development provides children with the abilities they need to explore and interact with the world around them and develop the independence to understand, process, and work through their feelings appropriately as they grow into adulthood.
Here are 8 toy ideas that will a child with special needs develop emotionally.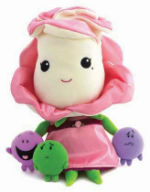 Kimochis means "feeling" in Japanese. The Kimochis characters each have their own personality, a
Feel Guide
with play suggestions, and 3 feelings pillows that introduce emotional concepts. Children are sure to find a character that fits their personality! Kimochis characters help children understand their feelings and encourage kids to identify and express feelings in a positive manner.
Price: $25.00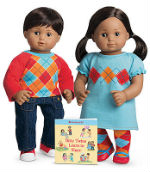 Dolls are a great tool to explore emotions and relationships in a safe way. American Girl provides girls with a doll that can be just like them! They are now offering more accessories and other customizable features like a Doll without Hair, hearing aids, EpiPen sack lunch or a therapy dog.
Price: $100.00+

Kids can use their imaginary play skills to care and nurture the little critters in the hospital at the critter clinic! This is a great way to explore the basis of empathy.
Price: $20.00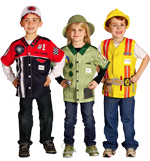 Kids love to explore the adult world through make believe and all the emotions inherent within it. The My First Career Gear collection offers many choices for kids to pretend play real life jobs. The costumes are easy to put on and take off for switching up pretend play in a jiffy!
Price: $15.00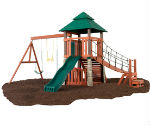 PlayCore offers many sizes, features and accessories to their outdoor playsets. Kids can pretend play almost anything using a playset as their guide! Outdoor play is a great way to learn turn taking and communication skills needed to increase their Emotional IQ.
Prices: Vary according to size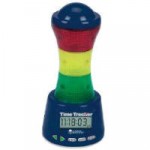 What kid doesn't want to have a meltdown when playtime is over? Using a timer, clock or app like
these timers
can help a child be more independent and guide their transition to the end of playtime…hopefully ending the emotional breakdown scenario.
Price: $0-70.00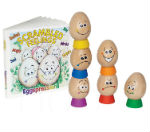 Reading others emotions is a valuable skill. Eggspressions provide kids with expressions! These little wooden eggs come with lots of faces and an idea book for role playing activities for younger kiddos ages 2-4.
Price: $20.00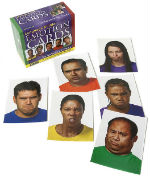 These emotion cards show real life examples of kids and adults of all ages making facial expressions along with scenario pictures. These cards invite discussion about feelings and why someone would feel that emotion. The cards come with an activity booklet with detailed activity ideas. The emotion cards are a great way to teach appropriate reading and relating to others feelings.
Price: $35.00
The Importance of Play
Children have opportunities for emotional growth while playing with friends, siblings and caregivers in many environments. Each child develops his emotions differently, but promoting play can assist the child to grow, learn and develop emotions. "Play allows children to use their creativity while developing their imagination, dexterity, and physical, cognitive and emotional strength," as stated in the American Academy of Pediatricians report,
The Importance of Play in Promoting Healthy Child Development and Maintaining Strong Parent-Child Bonds
.