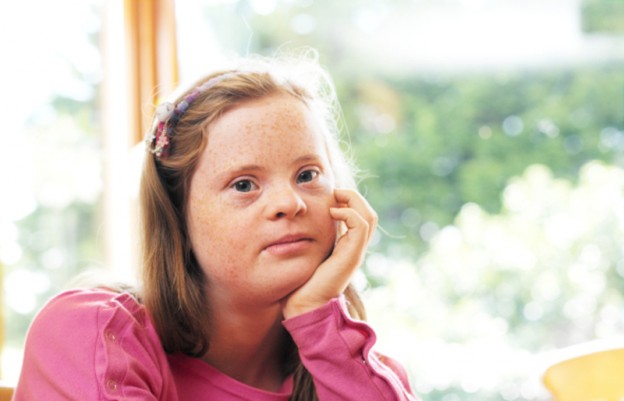 Parenting
When your special needs daughter gets her period
From the time my daughter was born with Down syndrome thirteen years ago, my biggest concern was what would happen when she got her period.  I have learned over the years that I am not alone when it comes to parental worry on this subject. Let me stress up front that I am not a medical professional in any capacity so what I am going to share with you should not trump your doctor's recommendations; I am simply sharing my journey and providing some helpful hints.
When your daughter gets her period
1. Learn your school's and nurse's clinic's menstruation policy
I know this sounds absolutely crazy, but this is huge. In our school district, the nurses will not provide pads or help your daughter put a pad on her underwear.  They will also not accompany your daughter into the bathroom for any reason, even if she has special needs. My dear friend learned this the hard way and has now spearheaded the new Menstruation Policy for the school district. Find out if your school outsources their nursing clinic, and if they do, what the legal restrictions are for their staff's interaction with your daughter. Our school district does outsource nursing services to a nearby hospital and was appalled to find out the hospital's policy on this issue, especially for kids with special needs.
2. Meet with the nursing staff
Meet with the nurse's clinic at your school and let them know if your daughter has or has not begun her period.  Keep in mind, typical girls will lie about starting their period when the nurse asks, so you can only imagine what our kiddos might do. Sit down and have a frank discussion with the nursing staff on what you want them to do for your daughter if she starts her period at school. This includes giving them the authority to go in the bathroom with your daughter. Write every detail down and have all parties sign the document.  You may need to address the issue in your child's IEP in order to safeguard your daughter.
3. Be prepared with pads
Leave pads in the office for your daughter.  Our school district no longer gives out pads because a family sued the school when their daughter had an allergic reaction to an Always pad.
4. Alert your child's teachers and nurse
I would also recommend emailing your nurse's clinic and your child's teachers on the weeks where your daughter is menstruating just so they are on alert. I also make sure my daughter goes to the nurse's clinic before or after lunch, regardless of necessity, to change in privacy and so they can help her.  Oh yes, and don't be afraid to keep your daughter home if she has cramps or is emotionally struggling with her period.
Should you put your daughter on birth control?
1. Prevention
This is a really sensitive issue so I'm simply going to give you some statistics, tell you what we did and leave it at that.  Google "Sexual Assault of people with disabilities". Depending on what you read, the numbers range from 40% to 83% of adult women with disabilities are sexually abused or raped.  In fact, statistics show that people with disabilities are four times more likely to be a victim of any crime. Those numbers scare me and although my husband and I will do everything possible to keep our daughter safe we wanted her to be protected from an unwanted pregnancy if something should happen.
2. Regulation
Another reason we decided to use birth control was so we would know when she would have her period.  This is critical in managing your daughter's chance of having an accident at school.  It also allowed me to teach her proper hygiene when she has her period.
3. Ask your doctor
Ask your doctor about the risks associated with taking birth control and what their opinion is on this option.  Because our daughter started so young, our doctor recommended this course of action.  Through use of "the pill" you can also take advantage of skipping periods which may prove beneficial for vacations, special events at school or if your daughter simply cannot mentally comprehend the demands of self-care.
Educate your daughter
Educate, educate, educate.  And even then, don't be surprised if your daughter doesn't understand what is happening to her body.  Our daughter attended classes at school about becoming a woman and we talked about it regularly at home.  Needless to say, when it happened, she was very upset and emotional about it, almost as if she had no idea what had just happened.
Hormones and Emotions
I have told more than one friend that PMS and Down syndrome are a deadly duo and question why young girls with Downs would have to also incur menstrual cycles.  Anyway, the emotions can get pretty difficult to navigate.  We are almost two years out from her first period and I feel like she is finally getting control of her hormones.  Try your best to be patient and understand she will need more alone time.   I have been known to keep her at home if she is really emotionally out of control. Unfortunately, for this subject matter, we have a limit on the length of our blogs, because there is so much more to share.  I would love to get some comments from readers with helpful hints so we can all learn together.