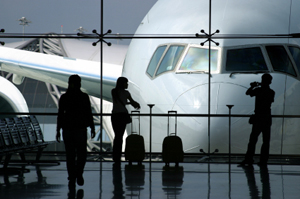 Resources
Airports and Special Needs Travel: A Complete Guide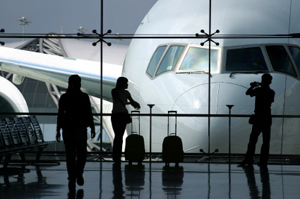 When travelling by plane, a good part of your trip is spent at airports. In fact, on many trips you spend more time at an airport than you do flying. When traveling with a child who has special needs every step you take needs to be very carefully planned. In previous posts of the Special Needs Travel Series we focused on
planning your trip
, finding a
special needs travel agency
, and
packing for the plane
. In this post we give you five steps to get through the airport as fast and efficiently as possible.
Step One: Airport Parking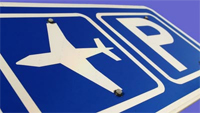 All parking lots have parking spaces reserved for individuals with disabilities. However if you do not have a Disabled Person Parking Tags or License Plates you are not allowed to park in these spots. Some airports provide free or discounted parking for cars with a disabled persons placard or license plate. A few select airports offer special parking accommodations to any traveler with special needs regardless if they have a special license plate.  Among the airports offering special parking options are
Atlanta Hartsfield - Jackson International Airport
 and 
Phoenix Sky Harbor International Airport
.
Check
 your airport's website for information about parking for individuals with special needs. Alternatively consider getting a ride to the airport and skip the parking hassle.
Step Two: Drop Your Bags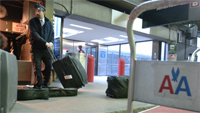 To save time you should
check in
and select your seats before heading to the airport, however you will still need to check your bags. Skip the long lines and check your bags curbside, Skycap will take your bags for your and print out your boarding pass. This will lighten your load and let you focus on your child.
Step Three: Security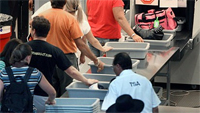 Going through security can be the most challenging part of the airport experience. Long lines, sensory overload and the need to take of shoes and other items can make this segment very stressful. Here are some tips that can help:
Prepare your child
Prepare your child as much as possible with whatever means possible.
Social Stories
, visuals, and
practice
will help your child know what to expect.
Special lines
All airports now have a
special line
that families can use. Use this line to avoid a longer wait and reduce the risk of a meltdown. If there is no such line or the line is too long explain your situation to a
TSA
officer and they should be able to accommodate your needs.
Know Your Rights
The Transportation Security Administration has a comprehensive section about
children with special needs
. Before you head to the airport make sure to read it. The site covers everything from security procedures for children with special needs, to medical equipment, medications and more.
Step Four: Walking to the gate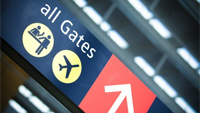 A few tips when heading to the gate:
Make a Pit Stop
This may be a good time to make a bathroom stop. Most airports will have a family bathroom in the main terminal area. Once you head to your gate it may not be so easy to find a family bathroom.
Light Displays
Some airports require you to go through an underground tunnel to get to your gate. Many of these tunnels feature a light and sound display. This may prove difficult for children with sensory issues. Some airports (
DTW
 is one), have a button that you can press to turn of the display for a period of five minutes. If your local airport does not have that option, it may be a good idea to prepare your child and bring
noise cancelling earphones
.
Shuttle Carts
Some airports can be miles long. To make your walk to the gate easier you can ask for special assistance for a ride to your gate. Some airports have golf cart-like vehicles that can shuttle you quickly to your gate. If your airport does not offer such a service a wheelchair will be offered instead. You can ask for this assistance when checking in or look for a airport information desk and ask for assistance there.
Step Five: Extra Time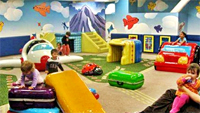 If you have extra time before your flight here are some useful tips.
Airport Play Areas
These days almost all airports have play areas. Some areas are small enclosed areas with toddler toys while others are large elaborate production that can keep your child busy for hours. Check your airports website to see where it is located in the terminal and if it is worth stopping by.
Airline Lounges
Airport Lounges used to be available only to frequent travelers and big important business people.  Times have changed and lounges are more accessible now.  Lounges usually provide comfortable seating areas, televisions, free snacks and a quiet relaxing atmosphere. All airlines offer day passes to their lounge for about $50 (each airline has individual policies about how many children you can bring in with you at no extra charge). So if your flight is delayed or canceled an airline lounge may be a good option.
Go for a walk
You will be spending a bunch of hours cramped in an airplane. Go for a walk around the airport and explore all the new sounds and sights.
Find an empty gate
Look for an empty gate with no other passengers. This will give you a chance to relax a little while giving your child some extra space to move around and be themselves. Park on the floor play a game and enjoy!
Bonus: Disability Pages for the Worlds Biggest Airports
Below you can find over 60 airport web pages for special assistance and accessibility information for travelers with disabilities.
Domestic Airports
| | | |
| --- | --- | --- |
| Atlanta, GA Austin, TX Baltimore, MD Boston, MA Charlotte, NC Chicago, IL (O'Hare) Chicago, IL (Midway) Cincinnati, KY Cleveland, OH Dallas/Fort Worth, TX Denver, CO Detroit, MI Fort Lauderdale, FL Honolulu, HI Indianapolis, IN | Kansas City, MO Los Angeles, CA Memphis, TN Miami, FL Milwaukee, WI Minneapolis/St Paul, MN Nashville, TN New Orleans, LA New York, NY (JFK) New York, NY  (LGA) Newark/New York, NJ Oakland, CA Orange County, CA Orlando, FL Philadelphia, PA | Phoenix, AZ Pittsburgh, PA Portland, OR Raleigh, NC Salt Lake City, UT San Antonio, TX San Diego, CA San Francisco, CA San Jose, CA Seattle, WA St. Louis, MO Tampa, FL Washington, D.C (Dulles) Washington, DC, (Reagan) |
International Airports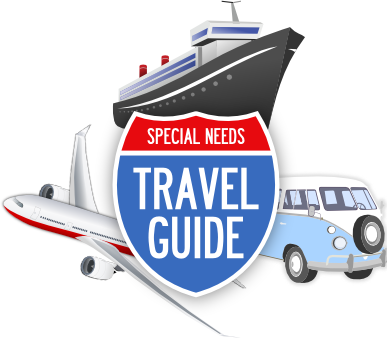 This above post is part of a nine part series on disability travel. Here are the other posts in this series.
1. 7 Travel Agencies for special needs travel
2. A Special Needs Pre-Flight checklist
3. 32 Vacation Destinations for Individuals with Special Needs
4. Packing For The Plane
5. A Special Needs Guide To Airports
6. Do You Have Your Access Pass Yet?
7. 70+ Tips and Tricks for Special Needs Road Trips
8. Your Rights as an Air Travelers with a Disability
9. Airplane Travel: 5 Books to help prepare your special needs child