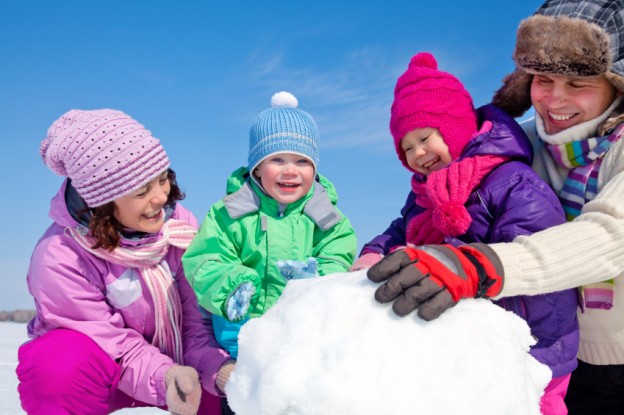 Featured
,
Resources
,
Therapy Tips
8 Sensory Suggestions for the Holidays & Winter Season
The holidays are a difficult time for children with sensory processing issues. The usual structured schedule at school and home is disrupted with holiday parties, shortened days and many changes in routine. Many children need a regular diet of sensory input to help them to adapt to these changes. With the winter weather fast approaching, a quick visit to the local park is not always an option to provide sensory input.
Below are some suggestions for other ways to provide sensory input during the long winter months.
Indoor:
Obstacle Course
Build an obstacle course out of couch cushions, pillows and blankets. Encourage your child to climb over and under to reach a goal, complete a puzzle or find hidden objects. This encourages motor planning, postural stability and fine and gross motor skills.
Therapy/Yoga Ball
A therapy or yoga ball is a great piece of equipment to have at home. Have your child lie on their stomach over the ball, bearing weight on their hands while completing a puzzle or playing a game. This promotes stability in the upper extremities, and improves fine motor control. Bouncing on the ball provides movement and activates core muscles. "Steamrolling" your child with the ball encourages body awareness and helps to lower an elevated arousal level.
Chair Activities
A rocking chair or computer chair can be used to provide vestibular input. Use a rocking chair for calming, linear input and a computer chair for alerting rotary (spinning) input. When providing rotary input, be careful not to overdo it. Spin your child 10 times to the right, wait a minute and then spin 10 times to the left. If your child seems too dizzy (i.e. pale, nauseous) have them jump in place, blow a horn or eat something sour.
Outdoor:
Sledding
Pulling your child on a sled provides movement as well as works on core stability if the child is sitting. Have your child pull you on the sled as well. This is an excellent source of "heavy work"!
Snowmen
Build a snowman. This provides heavy work rolling the large snow balls for the body. It also works on body awareness. Add as many body parts as possible, asking your child to identify where the eyes, ears, etc. should be placed.
Snow Drifts
Building up snow drifts and crashing into them are great sources of proprioceptive input.
Snow Angels
Making snow angels works on both bilateral coordination and motor planning. When they are done, they can see the results of their hard work!
Snowball Target Practice
Making snowballs works on fine motor skills. Have your child toss the snowballs at a target such as a tree to work on some throwing and ball skills. These are a few examples of simple, fun ways to implement sensory input into your day. Try to do something every day if possible. Providing a daily diet of sensory input can help your child to maintain that "just right" state through the bustle of the holidays. It can also help to liven up the long, dreary, winter days. Use these strategies to have a fun and successful holiday season.

About Amy
Amy Hengstebeck received her Bachelor's Degree in Occupational Therapy from Wayne State University. She has experience in pediatrics in the clinic and hospital setting. She joined the staff of the
Kaufman Children's Center
in December 2006. Amy has advanced training in Therapeutic Listening® and Samonas Sound Therapy. She is also trained in Bal-A-Vis-X, Kinesio® Taping, and American Sign Language. Amy has studied sensory integration, motor planning, and neuro-developmental treatment of the young child and baby, and also trained in oral-motor therapy, specifically Talk Tools®.