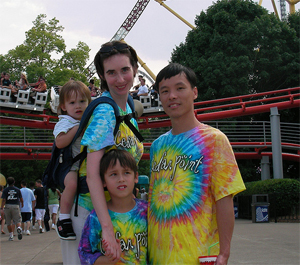 Resources
How To Enjoy an Amusement Park With Your Special Needs Child
Who would be stupid (or crazy) enough to visit an amusement park with a special needs child and an extremely fussy toddler?
ME!
I'm stupid and crazy! I'm married to a roller coaster enthusiast. I don't care for high-thrill rides myself, but it's not a question of "when" or "if" my family will be visiting amusement parks this summer. The question is, "Should we get a regular season pass or a Platinum Multi-Park Pass?" I knew the answer to that one before it was even asked. The follow-up question is, of course, "How on earth are we going to pull this off?" Allow me to explain.
Therapeutic Goals
I warmed up to the idea of taking my disabled son to amusement parks when I realized that the cost of one hour of physical and occupational therapy was comparable to one full day for our family at
Cedar Point
or
Kings Island
. Personally, I'd rather be having fun with my family than sitting in the waiting room at the therapy clinic.
Amusement parks offer the opportunity to work on many therapeutic goals:
physical stamina after lots of walking
matching the pace of a companion
turn-taking
verbalizing physical needs
anticipating patterns of activity
sharing emotion
joint attention
visual tracking and processing
proprioceptive and vestibular sensory integration
self-regulation
reducing sensitivity to noise and temperature and the big goal:
reducing anxiety while increasing a sense of trust and security.
My husband and I agreed that our older son would be allowed to watch the rides for as long as he wanted, and would not ride anything that made him nervous. We would ask the operator to stop a ride if he became frightened. Our younger son had a strong interest in watching rides but not going on them, and the best way to keep him calm was to wear him in a carrier -- the
Ergo Baby Carrier
is safe for children up to 40 pounds and the
Beco Butterfly carrier
up to 45 pounds. We did not want to be burdened with a stroller (we've seen far too many children crying in strollers while waiting in line), and we knew that the key to success would be frequent breaks. Once we understood our goals and our ground rules, the rest of the planning fell into place.
Parking and Lodging
Theme parks are often affiliated with a nearby hotel or campground. It may be a standard hotel with an upscale price, such as the
Breakers Hotel
inside Cedar Point, or something much more affordable --
Knoebel's Amusement Resort
in Pennsylvania has a campground directly adjacent to the park. A trick that we learned is that the dates with the lowest rates are typically the dates with the lowest expected attendance, so we avoid the largest crowds by booking the least expensive night on the calendar -- usually a Wednesday, Sunday or Tuesday, but some destinations such as Disney World report lower attendance on Saturdays. One of the fringe benefits of staying overnight in these accommodations is convenient parking. Sometimes resort guests receive other privileges such as early entry into the park in the morning before the general public, but the main advantage is having a retreat within walking distance or a brief shuttle ride away. We go back to our lodging several times during the day for rest and quiet time without re-paying the parking fee. When we do a day trip to an amusement park, we park near one of the alternate park entrances instead of the main entrance for quicker entry and exit, and this often puts us closer to the rides we wanted anyway.
The Guest Services Office
Once inside a theme park, the guest services office is the first stop for a disabled guest. Some parks, such as Disney World, may request a letter from a physician stating the nature of the disability before giving any privileges like a Fast Pass. Although many parks do not offer a Fast Pass to disabled guests, the Guest Services office can still assist families in identifying special care stations throughout the park -- usually a small air-conditioned building for nursing mothers and other guests who need extra assistance. The office can also clarify park policies for mobility-impaired individuals; for example, Cedar Point now allows a proxy to wait in line for a mobility-impaired guest, who may then go on a ride with a companion. Some rides may have requirements for physical strength or muscular development, and the Guest Services office can help identify the rides most appropriate for an individual's physical skills.
Plan A
Most theme parks have photos and descriptions of every ride and attraction on their websites. Most parks also have a thrill rating system of some kind to distinguish the serene activities from the terrifying. We use this information to create an illustrated booklet for our children, so that they can select what they would like to see or try. Armed with a map of the theme park, we save time by figuring out our path before our arrival. One parent can remain in the children's area while the other parent gets in line for one of the scary thrills, or each parent can take a group of children to different rides. Sometimes the best fun is just being together and watching everything that's happening around us. A memorable turning point in our older son's therapy was when we stood under Skyhawk, and he spotted his father swinging upside down far above us. In the middle of the noise and chaos, we found joy together.
Plan B
All of us reach our limits sooner or later. When the sensory input is overwhelming, nothing is fun anymore. My biggest surprise at theme parks has been the fact that, in the long run, even our failures turn into success. When I respond to my children's needs by removing them from a ride that is too frightening or cutting short our visit to a hot, crowded park, their trust in me increases. They learn that I will always protect them, so they become more brave and bold on the next visit. The results are much more positive than negative, and so we return every summer. At the end of a busy, noisy day, we can smile and say, "You tried something new. I'm proud of you."