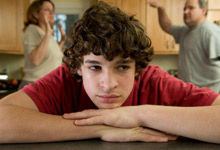 News
,
Parenting
80% Divorce Rate for parents with a child who has autism?
New studies debunk the frequently quoted statistic that 80 percent of parents with autistic children are divorced. The studies, conducted at the University of Wisconsin-Madison and the Kennedy Krieger Institute respectively, report findings much lower than the aforementioned percentage. The findings do not come without questions and a sense of frustration from parents of children with
Autism Spectrum Disorder (ASD)
. Brian Freedman is the clinical director of the team at the Center for Autism and Related Disorders conducting the study. Freedman's team used data from the 2007 National Survey of Children's Health, a nationally representative sample of 77,911 children ages 3-17. The study finds that 64 percent of children with ASD have two married biological or adoptive parents, while 65 percent of children who do not have an autism spectrum disorder had two parents, a statistically insignificant difference. But these findings are not without new challenges for parents of special needs children. Freedman's counseled families tell him they feel it's two hits at once: a child with autism and the doom of future divorce (in context of the 80 percent divorce rate figure.) Another study addresses marital longevity by looking at couples with ASD children over longer periods of time. Sigan Hartley, a clinical psychologist, leads a team of researches at the University of Wisconsin-Madison's Waisman Center to look at the age of an ASD child in comparison to a typically developing child of the same age, gender, ethnicity, and socioeconomic status. Findings of the UW study were significantly different than that of Freedman's; Hartley's team found that parents of children with autism spectrum disorder were 10% more likely to get divorced than parents of typically developing children: 24% chance of divorce for parents of autistic children, and 14% chance for parents of typically developing children. During the lifespan of the typical child, however, the risk of divorce is shown to decrease, "If parents can really survive the first few years of marriage when their children are young, their likelihood of divorce steadily declined until ... virtually no risk by the time a son or daughter was 30." Hartley said. While the risk of divorce for the parents of the autistic child did not decrease similarly, "For parents [with ASD children], they don't get the typical experience... there's still a high demand for day-to-day responsibilities." The two studies have been met with criticism.
Tracy Lynn Cook from the Examiner
responded to Freedman's study by saying "to disregard, or diminish how hard it is to logistically maintain a marriage  and a happy family while simultaneously handling a very stressful, and long term life altering situation is simply irresponsible." Geraldine Dawson, PhD, chief science officer of Autism Speaks and a research professor at the University of North Carolina, Chapel Hill, also
responded to Freeman's study on WebMD.
"I think [the 80 percent divorce statistic] may stem from the fact that we do know parents of children with autism are under tremendous
stress
." ''It's good news for families," Dawson says of the new study findings. "It really demonstrates that despite the fact that these families are going to be facing a lot of challenges, we don't have to assume that divorce is likely." Freeman's and Hartley's findings were very different, but the advice that sprung forth from both studies was unanimous:
It will be challenging, but do not assume divorce is inevitable.
Resources for Parents with Autistic Children
As Lynn Cook mentions in the Examiner: "Just like supermodel images are impossible for girls and women to maintain, so is this image of the 'super family', for whom burdens and worries are 'not an issue'. Fortunately, the studies and critics alike set forth a call-to-action for parents to utilize emotional support systems, in the community and through friends and family. Many community resources are available to the public anytime:
www.friendshipcircle.org
has a list of organizations in Michigan with resources for parents with autism and special needs. The Waisman Center has put together a comprehensive multimedia list containing information for parents of children living with ASD:
Download here.
http://onetoughjob.org
provides services specifically to maintain health and happiness of both parents and children. Resources are searchable by age.
http://www.Autism-Society.org
provides autism resources and links to national chapters that host local programs.
http://www.thearc.org
provides resources for long-term support, events, and respite services.